The Nightly Turbo: PokerStars New CEO, WSOP November Nine Odds, and More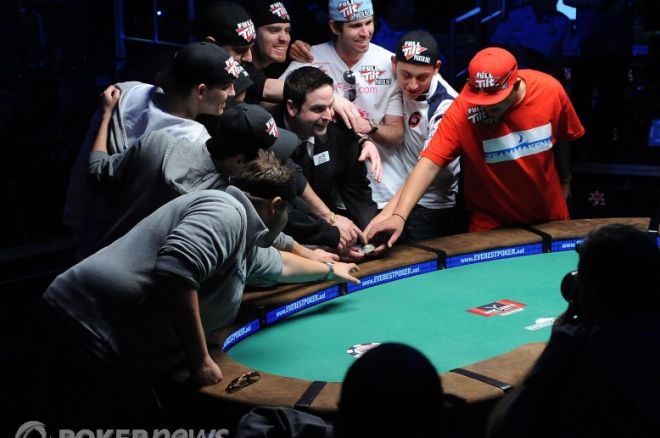 Wondering what's going on in poker today? Well we're here to tell you. PokerStars has appointed a brand new CEO, and we've got your November Nine odds. Go ahead, read on, you know you want to find out more. We'd also like to apologize for the email glitch yesterday when you all received the Nightly Turbo in your in-box. Technology failed us on that one, that's for sure. We're working on making sure that doesn't happen again. Don't get the Nightly Turbo in your in-box? There's a sign up link below.
In Case You Missed It
There's a hearing scheduled for Wednesday in the House Financial Services Committee to discuss Internet gambling. Find out more here.
We recently caught up with Tri "slowhabit" Nguyen to discuss poker, among other things. Check out the Online Poker Spotlight on Nguyen.
Now that the 2010 World Series of Poker madness is over, you can all get back to your regular lives, such as watching the poker shows you have on your DVR. In case you still don't have time for it, we've done it for you. Here's this week's recap of the Aussie Millions on GSN.
Welcome to PokerStars
PokerStars has a new CEO who will take office October 4. Gabi Campos has been appointed after leaving the business-to-business branch of 888's Dragonfish last month.
His new role doesn't begin officially until October, but he began acting as a nonoperational consultant on Monday. PokerStars founder Isai Scheinberg will stay in his chief technical officer role and his son, Mark Scheinberg will take over the position as chairman.
Mark Scheinberg wrote in an internal memo: "Both Isai and myself will continue to be closely involved in the company's strategic direction and building on the success we have all achieved together as a team over the last 10 years. We are excited about this new chapter in the PokerStars story, and look forward to Gabi's leadership in taking the company forward to continued success."
To find out more about this change to the PokerStars team, head on over to EGRMagazine.com.
What are the Odds?
The 2010 World Series of Poker November Nine is set, and knowing the degen in most of you, you're probably wondering what the odds are on each player to win. BetUS.com has released those odds, as well as odds on a top two finish for each player.
Michael Mizrachi is +500 to win, while your November Nine chip leader, Jonathan Duhamel is +275. The shortest stack going into November, Jason Senti is +1,600.
To finish in the top two, Duhamel is -110 and Mizrachi is at +175.
We're not known for relisting entire things that are already up somewhere else, so you'll have to click this for all the odds.
ESPN Inside Deal
Andrew Feldman, Laura Lane, and Bernard Lee are bringing you ESPN's Inside Deal one last time this summer from the Rio Convention Center at the 2010 World Series of Poker.
They bring you a November Nine preview and talk to Frank Kassela about Player-of-the-Year honors and potentially having to share the title with Michael Mizrachi.
And don't forget, tonight at 8:00 p.m. EST, a special WSOP Preview Show will air on ESPN. The preview will feature a roundtable discussion with Lon McEachern and some of the game's best player's, as well as memorable moments from last year's WSOP.
The Shawn Marion Foundation
This weekend in Las Vegas, NBA All-Star Shawn Marion will be hosting a charity poker tournament to benefit The Shawn Marion Foundation that he founded in 2008.
The First Annual Shawn Marion Foundation Celebrity Poker tournament will take place at the Palms Casino at 12 p.m. July 24. The foundation brings public awareness to and helps support single moms. "It is exciting to bring the world of poker and entertainment together while raising awareness to
help single parents," Marion said. "I know what it feels like to have nothing. My mom is a wonderful and strong woman who worked two jobs for a long time to put food on the table to feed us and my mission is to help other single parents in the same predicament."
Dwayne Wade, Mekhi Phifer, Michelle Williams, Annie Duke, Maria Ho, and David Williams are among the celebrities and poker pros scheduled to attend. Entry to the tournament is $250 and all proceeds will go to the Shawn Marion Foundation.
To find out more about the organization, click here.
Take 2
They bring you flawless videos day after day, but sometimes things happen thatGloria Balding, Lynn Gilmartin, and Kristy Arnett can't help. Here is the 2010 World Series of Poker blooper reel.
Your Facebook page can use another friend, so add us, and follow us on Twitter for up-to-the-minute news.