The Nightly Turbo: Zynga PokerCon, PokerStars' 60 Billionth Hand, and More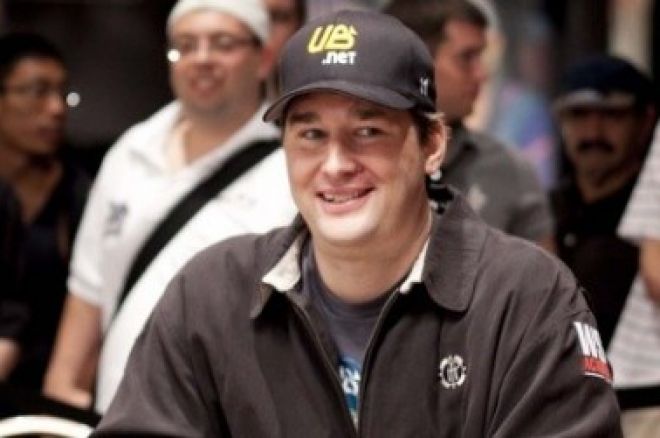 Most of you were probably too busy with March Madness and online poker tournaments to enjoy the first day of spring. Maybe by catching up on the latest poker news stories, you'll have a little bit of time to enjoy the second day of spring. Read on to find out the results from Zynga PokerCon's $100,000 guaranteed tournament, the next milestone PokerStars is upon, and the latest brag from Phil Hellmuth.
In Case You Missed It
We recently caught up with Joseph Cheong to talk poker, check out his grind station, and find out how life has changed since he became a member of the 2010 World Series of Poker November Nine. Check out the latest Sunday Grind for more.
FSN's coverage of the World Poker Tour continued on Sunday night with the second episode from the Borgata Poker Open. In case you forgot the outcome or missed the show, you can get caught up on all the action in our WPT recap.
The MiniFTOPS XIX finished up on Sunday night with the Main Event smashing its $1.25 million guarantee. Find out how many players took their shot, who won, and the results to the rest of Sunday's biggest tournaments in the Sunday Briefing.
The fifth installment of the PokerStars SuperStar Showdown kicked off on Sunday between Viktor "Isildur1" Blom and Daniel Negreanu. The outcome wasn't so great for one of the players and the match didn't even go the full 2,500 hands, but we're not going to tell you who got stacked, you're going to have to read the SuperStar Showdown recap to find out.
The action on GSN's High Stakes Poker continued on Saturday with one of the amateurs taking control. If you missed Saturday's episode and want to catch up on things, you can check out the HSP recap.
Zynga's PokerCon
Over the weekend, Zynga held its first PokerCon at the Palms Casino in Las Vegas. By Thursday, the day before the two-day event kicked off, it was sold out. There were poker seminars hosted by Annie Duke and Ali Nejad, and appearances made by some fan favorites like Doyle Brunson, Antonio Esfandiari, Scotty Nguyen, and more.
Zynga also hosted a $100,000 guaranteed poker tournament for the attendants of PokerCon. The tournament was divided into two flights of 250 players. The top three finishers from each flight moved on to the final table, and 54 players made the money. In the end, it was Aaron Alawen who outlasted the field and took home the lion's share of the prize pool.
If you want to find out more about the event, and check out some photos, you can do so by heading over to Zynga's Twitter page.
That's a lot of Hands
PokerStars has managed to deal 10 billion hands in less than a year. Back in September, the online poker site dealt its 50 billionth hand. Now, about six months later the site is poised to hit 60 billion hands and it wants to celebrate. And what better way to celebrate than handing out cold hard cash to the players?
There's approximately $1 million up for grabs during the 60 Billionth Hand celebration. The amount a player can win is dependent upon the VIP player points a player has won at the table, and prizes are awarded during milestone hands, or millionth hands (ex: 59,700,000,000). The winner of the 60 billionth hand will win at least $60,000.
It's going to happen in the next few days, so if you want to find out more, check out the PokerStars Blog, and if you want your shot at the money, sign up for a PokerStars account.
PokerStars Backing Nevada Internet Gaming Bill
Earlier this month we told you about a bill that the was introduced into the Nevada legislature that would legalize online poker in the state. According to a recent article in the Las Vegas Sun, former Nevada gaming regulator, Randall Sayre, is now a consultant for PokerStars, and the online poker site is backing the legislation.
"If we don't approach this in a rational fashion this legislative session, by the time we meet again in two years ... we will be left on the sidelines, which is not a good thing for the traditional gaming industry in Nevada," Sayre said.
The bill would establish Internet poker legislation, and prevent regulators from excluding PokerStars and other sites from a license simply because they accept bets from U.S. players now. PokerStars would also pay a 6.75 percent tax on the rake it collects, which is the same amount Nevada casinos pay on gross gambling revenue.
"We can show the feds that this is a product that can work in the U.S. That it's not the big taboo, mysterious, 'Wizard of Oz' approach to gaming that the feds have made it out to be," Richard Perkins, a former Nevada assembly speaker said.
There's plenty more on this issue on the Las Vegas Sun's website.
Iowa To Look Closer
In more Internet poker legislative news, Iowa Governor Terry Branstad said that he is planning on studying the bill that was introduced in the Iowa legislature and not "prepared to slam the door on an expansion into Internet poker."
"I'm certainly not advocating it," Branstad said. "This is kind of a new phenomenon and as I understand it, it's a pretty significant issue and one that I think deserves to be very carefully studied. I want to make sure the integrity of the state is protected in the process and we certainly want to prevent our citizens from being defrauded by unscrupulous activities."
Approximately 150,000 Iowans are playing online poker and proponents of the online poker bill have said that the state could collect at least $30 million in annual revenues if it was legalized in the state.
"It's usually my policy not to threaten veto on anything until I've seen it in its final form," Branstad said. "Things could change dramatically and I think it's important to learn as much as I can before staking out a position. I learned this a long time ago that it's important to have all the facts and all the information and not just make a snap judgment based on an inadequate amount of information."
To find out more, check out EasternIowaGovernment.com.
Honey! I Met the (Former) President!
It seems Phil Hellmuth is on a tour of recent United States Presidents lately. He was previously photographed with former President George W. Bush.
"I love my life! Gonna go hang out with President Clinton for an hour or two, then sitting on floor of Warriors game tonight vs Mavericks," he tweeted on March 16 and then on March 18, he tweeted a photograph of himself and former President Bill Clinton in San Francisco.
PokerNews' head honcho, Tony G is offering up $50 to the best caption for the photo, so head on over to the PartyPoker Blog and try your best.
Laura Parties in Snowfest
As you know, the PokerNews Team is in Saalbach-Hinterglemm for the PokerStars European Poker Tour Snowfest. If you checked out the recap from Day 1a of the event, you saw the lovely sights from the Austrian town. Now, new PokerNews hostess, Laura Cornelius gives you an inside look at the Welcome Party and talks to some of the pros.
Be sure to follow us on Twitter and like us on Facebook for up-to-the-minute news.
We have one more $15,000 Sunday Million Freeroll with PokerStars left to qualify for, with $1,000 to the winner and 260 tournament tickets, including 45 Sunday Million Tickets on offer.