High Stakes Poker Season 7: Ruffin Running the Show, Selbst Battling Back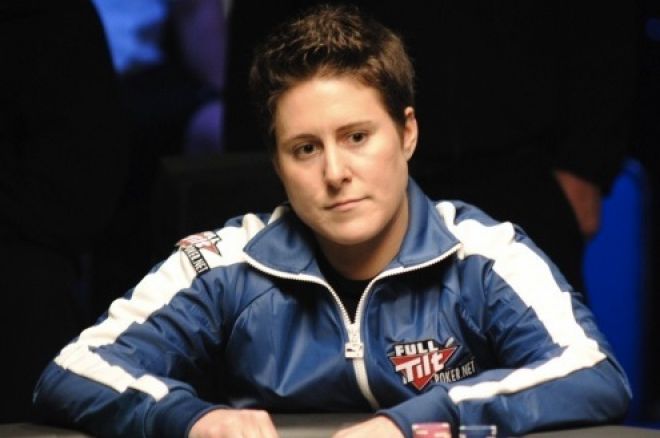 For the first three episodes of season seven of High Stakes Poker, Phil Ruffin crushed the game for around $400,000. He stacked fellow novice Robert Croak and won two massive pots against both Vanessa Selbst and David "Viffer" Peat.
Would the amateur's luck last during his fourth and final episode? Or will the sharks rebound and regain some of their loses?
SPOILER ALERT: If you are waiting to watch the HSP episode, read no further.
There was no graphic to start the episode, but host Norm Macdonald told us that there was over $3 million on the table.
Bringing a Gun to a Pillow Fight: David Peat limped in with
, and the action folded all the way around to Phil Ruffin who completed in the small blind with
. Bill Klein checked his option with
and the flop came down
. Ruffin quickly led for $20,000 into a pot of only $3,200 and his two opponents folded immediately.
"Wow," Macdonald commented. "That's like bringing a gun to a pillow fight."
Ruffin Through the Backdoor: On the next hand, the action folded to Phil Ruffin on the button who limped in with
. Bill Klein completed with
and David Peat checked with
. All three players checked the
flop and the
on the turn, but after the
fell on the river, Peat led for $1,000. Ruffin promptly bumped it to $20,000 with his flush, Klein mucked and Peat tank-called. Ruffin opened up his cards – much to the dismay of Peat – and raked in yet another pot.
Stack Sizes: Better late than never!
| Seat | Player | Stack Size | Win/Loss |
| --- | --- | --- | --- |
| Seat 1 | Doyle Brunson | $127,600 | -$72,400 |
| Seat 2 | Vanessa Selbst | $212,600 | -$187,400 |
| Seat 3 | Barry Greenstein | $27,000 | -$173,000 |
| Seat 4 | Antonio Esfandiari | $661,000 | +$461,000 |
| Seat 5 | Andrew Robl | $347,800 | +$47,800 |
| Seat 6 | Phil Ruffin | $918,200 | +$418,200 |
| Seat 7 | Bill Klein | $360,200 | -$439,800 |
| Seat 8 | David Peat | $410,300 | +$210,300 |
Ruffin Stacks Greenstein: Barry Greenstein opened to $3,000 from early position with
. Phil Ruffin called with
from the hijack seat, and David Peat also called, holding
.
Ruffin flopped the joint –
. Greenstein continued for $5,000, Ruffin smooth-called and Peat got out of the way. The
on the turn was a disastrous card for Greenstein, giving him the wheel and enough of a hand to stack off with. He moved in for his last $18,100 and Ruffin asked him if he "had any more" before snapping it off.
"That's all you have?" Greenstein joked upon seeing Ruffin's hand.
The river was a meaningless
, Ruffin raked in the pot, and Greenstein reached into his pocket for another $200,000.
Ace-High is Good: Phil Ruffin limped in first position with two red nines, David Peat limped behind with
, and Doyle Brunson followed suit with
. Vanessa Selbst popped it to $5,000 with two red eights, and Antonio Esfandiari re-popped it to $20,000 with
. Ruffin tried to call before Andrew Robl acted and then did once it was his turn. Everyone else folded except Selbst, and the three took a flop of
.
There was a beat and then Esfandiari plopped $45,400 in the middle. Ruffin snap-mucked his pair, but Selbst went into the tank. Esfandiari's continuation bet was good enough to ship the pot to him, after Selbst eventually folded the best hand.
"I thought it was going in," Esfandiari professed while stacking his new chips.
"I thought so too," Selbst agreed.
"I had ace-high, but I was calling," Esfandiari admitted.
Selbst laughed. "I had ace-high beat."
30 Seconds with Kara Scott: Rather than sit down with one player, Scott asked everyone at the table who would play them in a movie about their life. Here are the answers the players gave.
Andrew Robl – Matt Damon
Vanessa Selbst – Matt Damon
Phil Ruffin – Pierce Brosnan
Bill Klein – Robert Redford
Antonio Esfandiari – Michael Imperioli
David Peat – Jim Carrey or Danny DeVito
Greenstein Gets Some Back: Phil Ruffin limped in with
and so, too, did Doyle Brunson with
and Vanessa Selbst with
. Barry Greenstein decided to punish the limpers, raising to $5,100 with
, and only Ruffin came along.
The dealer fanned
and Greenstein immediately fired $7,000. Without hesitation, Ruffin raised to $20,000 and Greenstein called. The turn was the
and Greenstein slowed down, checking to Ruffin who quickly tossed another $20,000 in the middle. Greenstein called.
The river was the
, and it was Greenstein's turn to bet $20,000. Ruffin snap-called and both players opened their cards. It took Ruffin a second to see that he was beat, but Greenstein's queen played and won him a pot worth $132,600.
Soul Reading: Vanessa Selbst opened to $3,000 with
, Barry Greenstein flatted with
, as did Antonio Esfandiari with
. The flop was
, giving Esfandiari a flush draw, and Selbst led for $6,700. Greenstein quickly folded the best hand and Esfandiari called.
The turn was the
, giving Selbst a flush draw, too, and she checked to Esfandiari who bet $15,600. Selbst called.
The
spiked on the river and Selbst sneakily checked the nuts. Esfandiari fired a $32,400-bluff and Selbst check-raised to $101,800. For a moment it looked like Esfandiari was going to do something crazy, but he thought better of it and laid it down.
"I so wanted to re-raise you," Esfandiari said after the hand.
"How could you call me with eight-high of hearts?"
He said re-raise Vanessa, but props for the sick soul read.
High Stakes Legend: This week's tribute was to Texas-born rounder Jack "Treetop" Strauss, whose nickname referred to his six foot, six inch frame. Strauss was legendary for both his wit and his aggression, but his most famous achievement is winning the 1983 World Series of Poker Main Event after being down to a single chip. The feat gave birth to the saying, "all you need to win is a chip and a chair." Ironically, Strauss died in 1988 after suffering a stroke during a high-stakes cash game.
Klein Wins a Pot!: Vanessa Selbst raised to $3,000 with
and Andrew Robl three-bet to $11,000 with
. Bill Klein cold-called the three-bet from the small blind with
, Selbst tossed in the extra $8,000 and the flop fell
.
Klein checked his set of eights and Selbst bet $18,000. Robl mucked and Klein check-raised to a hefty $58,000. Selbst called.
The turn was the
and Klein led for $70,000. Selbst was forced to fold and Klein shipped his first pot in ages.
Klein couldn't resist saying his favorite line; "There's always a nine."
Oops: Doyle Brunson opened to $3,400 with
and Vanessa Selbst called with
. Everyone else folded and the flop came down
. Brunson checked to Selbst who fired $6,000, and Brunson check-raised to $21,000. Selbst called.
The turn was the
and Brunson led for $35,000 with just king-high. Selbst moved all in for $121,000 and Brunson quickly folded.
This episode was Phil Ruffin's last. He walked away with $336,000 in profits – a HSP record for an amateur player. Poker legend Johnny Chan will join the table next week so be sure to check your local listings and tune in to episode five of season seven of HSP.