Around the World with Lynn Gilmartin: Lima, Peru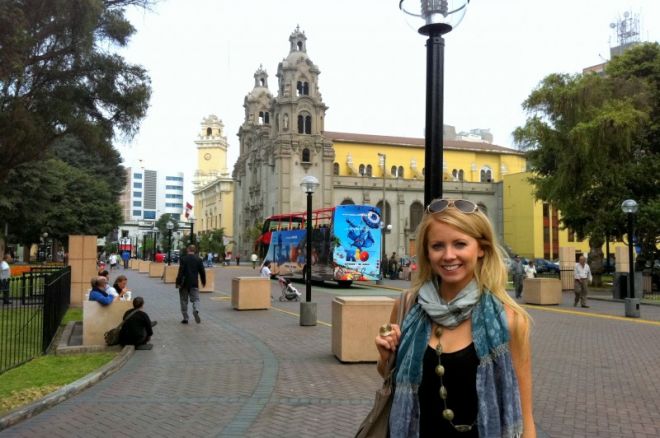 It's rare that I get to write my blogs while in the subject city, but this week I arrived in Lima, Peru, a couple of days early before jumping into a crazy working mode for the PokerStars.net Latin American Poker Tour. My initial goal was to squeeze in a quick trip to Machu Picchu, but it was harder to get to than I thought, so, unfortunately, those plans fell through. Nonetheless, roaming the stunning streets of Miraflores is certainly not a disappointing backup plan.
When I checked into my hotel, the Thunderbird Fiesta Hotel & Casino, I got my first pleasant surprise. My room, like all the others in the hotel, is a two-story loft with a kitchen equipped with a giant fridge ready to be filled with goodies from the 24-hour supermarket next door. Anyone who stays in hotels regularly knows that's an extremely rare treat! On top of that, the host venue for the LAPT is conveniently across the street. That is where I am right now, sitting in the media office of the Atlantic City Casino, a small but stylish casino, getting ready for the third stop on the LAPT's fourth season to get under way.
Miraflores is one of the most popular tourist destinations of Lima, set almost 80 meters above sea level, with some of the ritziest hotels and restaurants lining the cliffs of Costa Verde ("Green Coast"), overlooking the stunning ocean. It was here that I was lucky enough to eat at one of the prettiest restaurants I've ever been to, La Rosa Nautica (pictured below), a seafood restaurant set at the end of a pier with the waves crashing around you and a view of Miraflores atop the cliffs behind you as you eat. It was stunning! Surprisingly when the bill came it was relatively well priced for a gourmet meal in such a gorgeous setting, and considering the menu had no prices listed in it. That's usually my trusty indicator that I can't afford it!

On the cliffs above La Rosa Nautica sits Larcomar, a gorgeous three-story, open-air mall, overlooking the ocean, full of shops, restaurants and, what's said to be two of the best nightclubs in all of Lima. I've only been to one of them, Aura, and it was pretty awesome. It was here that I had my first "Reggaeton dancing experience." All I can say is that it's certainly different to the way we dance back in Australia! The only downside to Larcomar is that the complex is certainly not something typical of Peru, lacking the local culture. This is where you'll find the true Americanization of the area with Tony Roma's, Burger King, Pizza Hut and all that jazz tucked into what I call the "American Corner." If you ignore the corner and take in the stunning view, especially at sunset, then you will remember where you are again.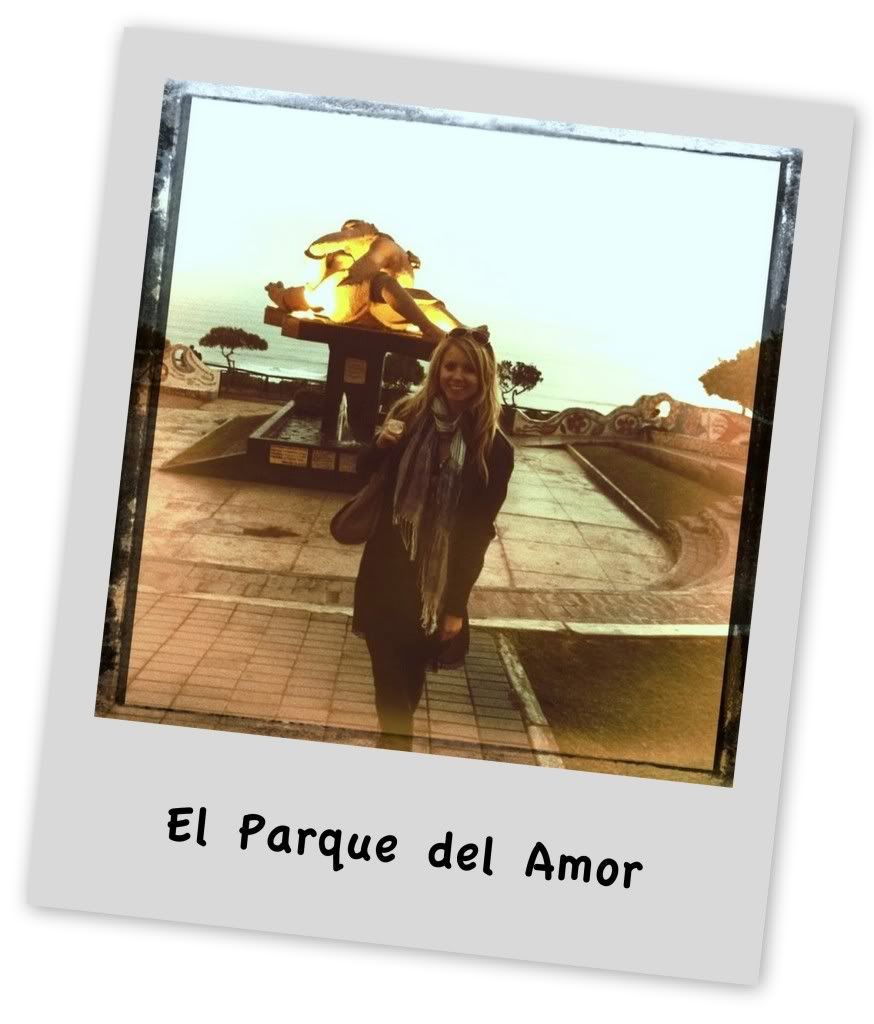 Speaking of sunset, the perfect place to watch it, if you've brought your girlfriend along, or picked one up on the way, is at El Parque del Amor (The Park of Love), just a 10-minute walk along the cliff side from Larcomar. Some say it's a poor smaller imitation of Gaudi's Park Guell in Barcelona with its rounded mosaic benches and romantic quotes tiled into the walls. In the middle of the perfectly manicured gardens is a giant statue of two lovers embraced in a kiss just to set the scene. Warning: skip this and watch the sunset elsewhere if you're feeling a little lonely — all the loved-up couples surrounding you will probably just make you cringe.
My last recommendation is to take a trip to downtown Miraflores, right by Parque Central, to enjoy a pizza at any of the restaurants along Calle de las Pizzas ("Pizza Street"). It's a quaint little street lined with bricked restaurants similar to something you would see around Europe. There are a few pubs and bars that fill up at night, so it's a great place to come for a drink or two. The biggest bonus? Free Wi-Fi! After a few minutes of heckling from various restaurant servers we decided on Mezzaluna Cafe & Bar for one of its specialty pizzas and my first sip of the popular local soda, Inca Kola. The Inca Kola was average (perhaps choosing the Diet option was to blame) but of course the pizza was delicious. Although much to my disappointment, the Wi-Fi wasn't working, so there went my opportunity for on-the-spot TwitPics.
This week my fellow Aussie Nichole Pickering joins us for her first gig with PokerNews! You can catch her on the PokerNews videos until Sunday and I will be hosting on PokerStars.tv.