The Nightly Turbo: Maria Ho and WinStar, World Poker Tour Player of the Year, and More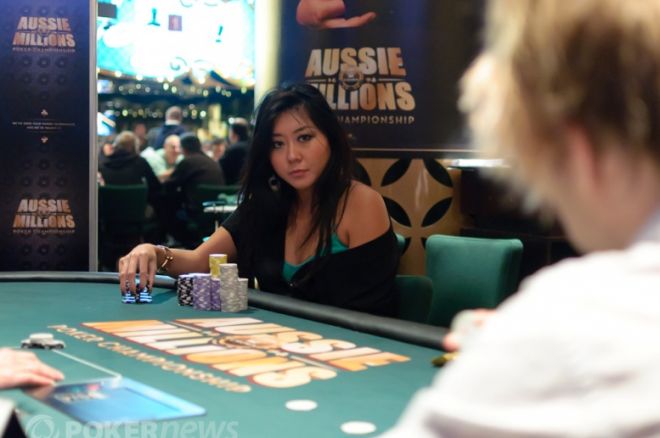 If you're wondering what Maria Ho has been up to recently, you're about to find out. Keep reading to see what her latest gig is, who won the World Poker Tour Player of the Year race, and more.
In Case You Missed It
In the wake of Black Friday, a number of online poker players are considering moving out of the U.S. to continue their online poker-playing careers. If you're one of the ones thinking about Melbourne, Australia, as your new home, check out the latest Around the World with Lynn Gilmartin.
The World Poker Tour World Championship is down to its televised final table of six. The six have a break on Thursday but will resume on Friday. This WPT recap will give you the scoop on who is leading.
How many players forked over the $100,000 to buy in to the World Poker Tour Super High Roller? Find out in our recap of the WPT Super High Roller action.
The 2011 PokerStars Spring Championship of Online Poker is chugging along and 81 events have crowned winners thus far. We know you've been keeping up with the results from all the events, so here is a look at the results from Days 10 and 11 of the PokerStars SCOOP.
Toby Lewis recently turned 21 and has been playing poker professionally since 2008. He has over $1 million in live career earnings.Naturally, we'd pick him as one of our rookies for this year's World Series of Poker.
WinStarring Maria Ho
The events of Black Friday didn't get Maria Ho down. It was just announced that she has signed on as a celebrity spokesperson for the WinStar World Casino.
"I'm really looking forward to this opportunity to work with WinStar. Their casino is like nothing I've ever seen before. I could stay there for days without ever stepping outside! From my past experiences, the people who I've met and played with at the tables have a warmth and love for the game that is refreshing and reminds me why I love to play. I'm looking forward to spending more time there," Ho said.
Ho joins Greg Raymer as one of the casino's two poker endorsers. She will appear in ad campaigns for the casino and play in poker tournaments and satellites at WinStar World Casino, including the annual River Poker Series.
"We are honored to have Maria Ho represent WinStar World Casino in the 2011 Guaranteed $3,000,000 River Poker Series. She is a well-respected and often emulated poker player who we feel will be relatable to our patrons and to players across the nation," said assistant general manager of WinStar World Casino Michael McEwan.
Check out WinStar World Casino for yourself.
WPT Player of the Year
The World Poker Tour World Championship the WPT Player of the Year was decided on Day 5 of play. When play began last Saturday, Andy Frankenberger was 100 points ahead of his closest competitor on the WPT POY leaderboard. Frankenberger was eliminated on Day 4 of play and had to sweat the finishes of Shannon Shorr and Sam El Sayed on Day 5. The man who finished higher than fifth place would take home POY honors.
Luckily for Frankenberger, Shorr was eliminated in ninth and El Sayed in eighth. With those two eliminations, Frankenberger officially became the Season IX World Poker Tour Player of the Year.
"THRILLED (!!!), humbled, and honored to be @WorldPokerTour Season 9 Player of the Year!!!," tweeted Frankenberger on Wednesday.
Inside Deal
ESPN's Inside Deal is back this week with a new episode. The trio of Jon Anik, Bernard Lee, and Andrew Feldman discussed the World Poker Tour World Championship and the players who were noticeably absent from the field. Daniel Cates then joined the crew to discuss the World Series of Poker, live after Black Friday, and what he's giving away this summer.
Celebrity Poker Championship
If you're in San Diego on Friday and want to rub elbows with the likes of New Orleans Saint Drew Brees and other athletes and celebrities then you should check out the Celebrity Poker Championship to benefit the National Multiple Sclerosis Society.
"It's just a lot of fun," Brees told SanDiego.com. "(The poker tournament) is an event that I think a lot of guys really look forward to. It's an addition to what is already a great golf event. You throw in a night of poker and it gives guys a chance to come in here and compete at something else and (it's) obviously a great fundraising mechanism."
The buy-in for the event is $500 and on top of cash prizes, first-, second-, and third-place winners will receive a Panerai watch and a week vacation in Mexico.
If you want to find out more about the Celebrity Championship golf and poker event, check out CelebrityChampionship.com.
Those Cameras Above Your Head Work
While we were Twitter-stalking Doyle Brunson earlier today, we saw that he retweeted Anjela Brunson. That's not out of the ordinary, however, the tweet was interesting.
"Playing @ the Aria & the guy @ the table next to mine got arrested by FBI agents as he is on the America's Most Wanted. It's good to know that."
Sure enough, just a few hours later, 8NewsNow reported that Jason L. Brown was arrested while playing poker at Aria. Brown was on the February 26 broadcast of America's Most Wanted for a sexual assault he allegedly committed in Atlantic City, New Jersey.
Score one for the good guys.

If you want to stay up-to-date on the top poker news stories, then you're going to have to follow us on Twitter and like us on Facebook.