Inside Gaming: The Linq, Hooters Casino Fights Foreclosure, & Sex and the City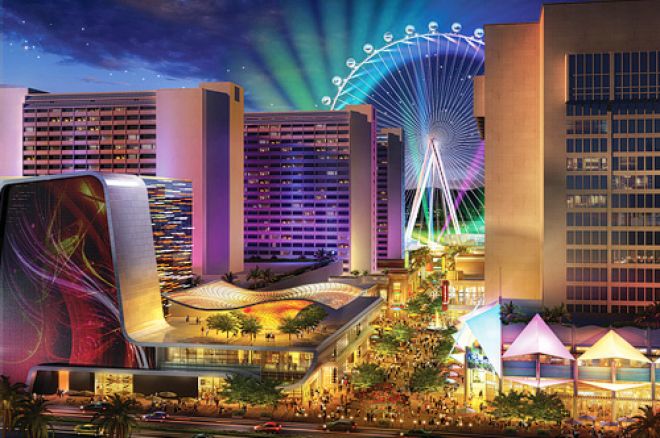 Las Vegas is buzzing about Caesars' plans to break ground on an outdoor entertainment complex and the world's tallest observation wheel. The development comes at a steep price, however. Forget about the $550 million price tag. We're talking about the destruction of O'Sheas! If that's not bad enough for lovers of the low rent, Hooters casino is in danger of disappearing if it can't pull a new financing plan out of its cleavage soon. But don't fret. IGT announced the launch of a sequel to its record-setting Sex and the City slot machines. And if that doesn't make your day a little brighter…
Caesars Moves Forward with $550 Million Las Vegas Entertainment Complex and Giant Observation Wheel
Caesars Entertainment Corp. executives unveiled the latest set of plans for a $550 million outdoor entertainment, shopping, and dining district near the Las Vegas Strip and are set to break ground next month. The development, called The Linq, will be built behind the Imperial Palace and Flamingo hotels and show off as its centerpiece the Las Vegas High Roller, the world's tallest observation wheel.
Caesars executives presented the plan during a media briefing at Pure Nightclub, a symbol, perhaps, of the "cool factor" Caesars hopes to recapture with the new project. As part of Caesars' overhaul of the Strip area just north of the Flamingo, it will completely renovate, re-theme, and rename the Imperial Palace. Caesars' lease on the Imperial Palace name expires next year. O'Sheas Casino will be demolished and incorporated into the new Imperial Palace.
Caesars says it plans to start digging next month to lay the foundation for the High Roller observation wheel. The attraction, modeled after the London Eye and the Singapore Flyer (but taller than both, of course) is slated to open in late 2013. It will have around 30 spherical cabins that each hold up to 40 passengers for the wheel's 30-minute revolution, making them prime locations (according to developers) for parties or weddings. "It would be the centerpiece of a trip for a lot of people," said Caesars CEO Gary Loveman in reference to the High Roller. "They're looking for the next thing to do."
Caesars shifted its plans for the land from another hotel and casino complex to "an experience" after the last several years have made clear that the Vegas hotel and condo market is beyond saturated. "What we don't need in Vegas is more hotel rooms and more casino capacity," Loveman said. Linq plans call for an open-air marketplace with 30 to 40 storefronts, about 70 percent of which will be restaurants and bars. Loveman told the media to expect tenants geared toward a younger crowd and aimed more at fun than high-priced luxury. There won't be "another Luis Vuitton and another Dior," Loveman said. "There are already dozens nearby."
A new development, albeit a re-imagined one, could be a sign of recovery for the Strip, some analysts have suggested. Unlike many of the construction projects discussed over the last several years, this one actually has the financing to start construction. It is fully funded by Caesars, and company executive Gary Miller assured, "The money is in the bank."
That puts Caesars far ahead of Nevada investor Howard Bulloch, who announced plans in May to construct a 500-foot-tall Ferris wheel on the Strip's south end, across from the Mandalay Bay. Bulloch said earlier in Aug. that he planned to continue with the $300 million Skyvue project but was still working on its financing.
Once you're done mourning the loss of O'Sheas, check out ABC News and CasinoCity.com for details on the new development.
Hooters Casino Fighting Foreclosure
Hooters Casino and Resort, the classy crown jewel of the area between the Las Vegas Strip and the airport, isn't ready to fold without a fight. The casino's parent company, 155 East Tropicana LLC, filed for Chapter 11 bankruptcy on Aug. 1 to forestall a foreclosure attempt by its primary creditor, Canpartners Realty Holding Co. IV.
Operators of the 696-room hotel are considering options including raising capital, a merger, or a sale to avoid having to close the property. Parent 115 East Tropicana asked for court permission to hire financial advisers to work on, "raising senior debt and/or junior capital for the company, including refinancing or recapitalizations; or a sale, merger or acquisitions of the company."
The Hooters Hotel and Casino is valued at $63.2 million including real estate and inventory and carries $177.8 million in debt and liabilities, according to a filing on Aug. 15. Canpartners, an affiliate of Los Angeles-based investment company Canyon Capital Realty Advisors, owns $162.2 million of that debt, which it purchased at an undisclosed discount.
Bankruptcy Judge Bruce Markell told Hooters' owners that the company needs to act quickly to find new capital or reach a restructuring deal or it will have to give Canpartners control of the property. Canpartners isn't inclined to be patient because it doesn't want to lose Hooters' cash collateral to months of operating expenses during a prolonged bankruptcy fight.
Read more about Hooters', um, assets, at VegasInc.com.
Sex and the City Slot Sequel
We know you've been on the edge of your seat waiting for the release of the Sex And The City Big Diamonds! slot machine. Well, wait no longer because International Game Technology (IGT) announced its launch last week. Whether or not you're ready to admit you watch reruns when no one is looking, Sex and the City is big business. IGT's original Sex and the City-themed machine is the "top performing premium leased game in North America" two years after it was introduced, according to the Roth Fantini Quarterly Slot Survey from Jan.
The slot machine sequel has a new, sleek and sparkly display and five progressive pick bonus levels, one for each of the leading ladies and Mr. Big. For example, Carrie's bonus is called "The Right to Shoes" while Miranda's is "Retail Therapy." Genius! A slot machine that encourages players to take their winnings straight to the closest casino boutique has to be a winner in the eyes of the house.
In less glamorous news, IGT could really use a boost from sales of the new game. Its stock dropped 9.67 percent last week as part of Thursday's stock market dive.
Read IGT's sunny Sex Sequel press release.
Follow us on Twitter for up-to-the-minute news.
*Photo courtesy of AccessVegasBlog.com