The Nightly Turbo: Full Tilt Lawyers Withdraw, Entraction Bans Players, and More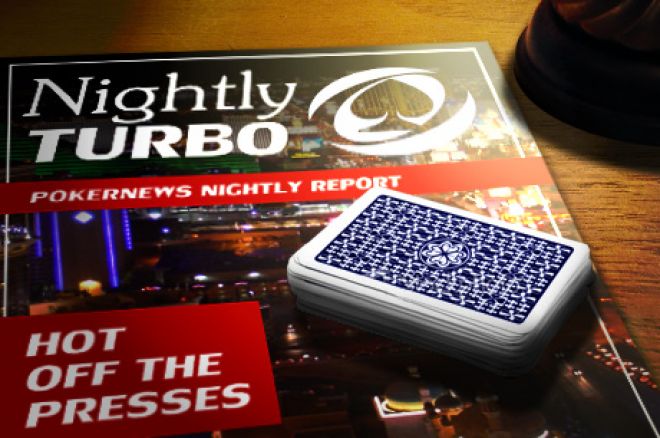 We made it to the weekend—finally. Want an icebreaker for that cute girl (or guy) at the poker table tonight? We can't give you that. But we can give you some topics to keep the conversation going. If you're going to talk poker that is. Two Full Tilt Poker lawyers are trying to withdraw from the class action lawsuit. We'll tell you why, which players the Entraction Network is banning, and more.
In Case You Missed It
Eugene Katchalov was attempting to win poker's triple crown Thursday night at the PokerStars European Poker Tour. We'll tell you that he went in with the shortest stack, but you'll have to read the EPT recap to find out if he was victorious.
Laura Cornelius and Kristy Arnett want to keep you in the know. In the latest edition of the PokerNews Weekly, they discuss EPT and APPT results, and get some insight insight from WCOOP Radio's Joe Stapleton.
There were $1 million swings again this week at the online high-stakes tables.Find out who added seven figures to his bankroll in the Online Railbird Report.
We know you've heard about Brandon Adams' Expert Insight, but do you know exactly what you'll get from the site's experts?We spoke with Adams to find out more.
Still working on your fantasy football draft? This week, Pigskin Diaries discusses wide receivers and tight ends.
Trying to Get Out
EGaming Review reported Friday that lawyers Jeff Ifrah and David Deitch are attempting to withdraw "as attorneys of record" from an ongoing class action lawsuit involving Team Full Tilt players. Ifrah and Deitch represent the eight defendants from Team Full Tilt.
"[C]ontinued representation of Defendants would create unreasonable difficulty for us to carry out our employment effectively and would result in an unreasonable financial burden to our law firm," stated the motion.
Ifrah and Deitch also filed a motion to dismiss the defendants and companies affiliated with Full Tilt from the class action lawsuit earlier this month, but according to eGaming Review the motion has not yet been acted on.
While Ifrah is seeking withdrawal from the class action lawsuit, he will continue to represent Full Tilt Poker, as well as its CEO Ray Bitar.
Read more at EGRMagazine.com.
Banned
It was announced Thursday that the Entraction Network will begin blocking players from Canada, Israel, Norway, Russia, and Turkey. The ban will go into effect on Sept. 29. Players in those countries will no longer be able to play on the network that houses sites like Devilfish.com, VictorChandler.com, and Betsson.com.
Earlier this year, the Entraction Network was acquired by International Game Technology, one of the leading companies in computerized gaming development. In May, Entraction CEO Peter Åström was quoted saying that the acquisition would "[strengthen] Entraction's opportunities for success when the US market opens."
No reason on why the five countries would be blocked has been given.
Read more at Donkr.com.
Re-examining Things in D.C.
According to the Washington Times, three council members in Washington, D.C. announced their intention to re-examine the $38 million lottery contract that was set to launch the nation's first online poker system.
Two former Cabinet officials requested an investigation of the contract; however, Inspector General Charles J. Willoughby has not yet acted on the request. The investigation was requested to take a look at "irregularities in the underlying lottery contract and the oversight activities of Chief Financial Officer Natwar M. Gandhi."
"People are concerned about the lottery procurement, period," said council member Muriel Bowser. "I've always been uncomfortable with the contract. If Mr. Gragan [one of the former Cabinet officials who requested the investigation] said it was highly unusual the way it was passed, then I agree."
The contract was approved in a supplemental budget bill without public approval. "It should have been introduced as a free-standing bill; then we would have had the necessary hearings. Since that's not what happened, we're trying to play catch-up by holding hearings after the fact," said council member Jack Evans. Evans has not taken a stand for or against online poker.
WashingtonTimes.com has more.
NHL and Poker for Charity
The first annual NHL Faceoff is set to shoot off on Sept. 10 in Kahnawake, Quebec. The event will take place at the Playground Poker Club and run through Sept. 12 and will benefit the Jodi Taiger Lazarus Fund for Hereditary Breast Cancer Research at McGill University.
"Montreal is known as the worldwide capital of hockey and Playground Poker Club is Canada's premier poker destination. It only made sense that we would host an event like this with some of Montreal's biggest current hockey stars along with some of the biggest names to have ever played the sport," said Playground COO David Montour. "It wasn't hard to get the NHLers or any of the poker pros on board for such a great cause."
The event will be made up of 10 teams, captained by an NHL player and a poker player. The event is a team event, as well as an individual event. The buy-in is $250 and rebuys and add-ons will be $125. The winning team will participate in a winner-take-all $5,000 freeroll.
Erik Cajelais, Pascal Lefrançois, Antonio Esfandiari, Will Molson, Jennifer Leigh, Gavin Smith, Michael Mizrachi, Jeff Madsen, and Trishelle Cannatella are among the poker players who are confirmed for the event. As for the NHL players, you can expect to see Carey Price, Mike Bossy, Guy Lafleur, Peter Mahovlich, and Petr Svoboda among others.
You can find out more about the charity event at PlaygroundPoker.ca.
Prop Betting 101
Ever wondered how prop bets are formed? Kristy Arnett spoke with Lex Veldhuis in Barcelona to find out. Veldhuis lays out the steps to making the prop bet and then discusses his upcoming fight bet with Bertrand "ElkY" Grospellier.
Follow us on Twitter for up-to-the-minute news.