Jonathan Duhamel Gives Advice for the 2011 WSOP November Nine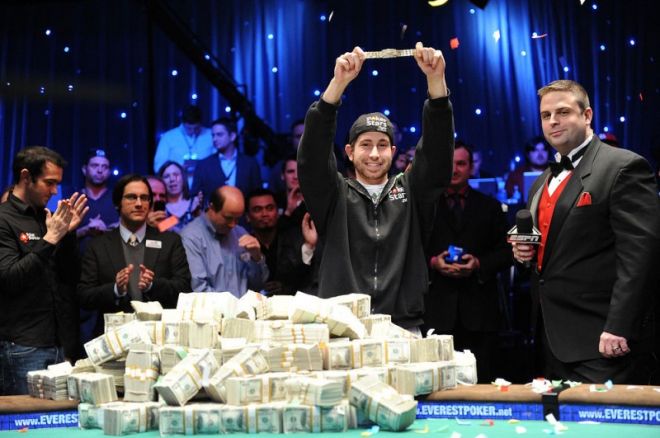 Last year, Jonathan Duhamel took down poker's greatest tournament by winning the World Series of Poker Main Event. Just like the November Niners of 2011, Duhamel had to endure a three-and-a-half month hiatus from the tournament.
PokerNews has been catching up with all of this year's finalists in our Preparing for the 2011 World Series of Poker November Nine series, but we thought we should talk to the current champion to see what advice he had for the November Niners, whether he would have done anything different with his experience, and who is his pick to win.
Have any of the November Niners asked you for any advice?
Not personally, not directly. I've talked with a couple of them, but we didn't get too deep into strategy. It was more of, 'What's the feeling? How's the atmosphere and how's that going to affect my game?' rather than 'How should I play in certain spots?'
I think all the media attention, all the cameras and all the spectators might put some pressure on some of the guys and that's what scares them a little bit more than just the actual play. I mean, they know how to play the game.
At the end, all the stacks are pretty even, and I think it's anybody's game now. I think it's going to make for a very, very good show.
As last year's champion, what advice would you have for the 2011 November Niners going into the WSOP Main Event final table?
I would say just have some fun because it's such a big experience — a life-changing experience. Just have some fun and enjoy it. And just for the rest of it, for whatever happens, it's a win for all the guys to be there already. Enjoy the moment because it might be the last time you do a big final table like this, so just enjoy it.
What advice would you give to the future champion of the event?
Even though you may not be too at ease to do interviews, again, just find a way to have fun doing it because you're going to be doing so many of them. It's an amazing experience. It's going to be one crazy year, but after that, it goes down a little bit. So just for that year, try and enjoy the most of it. You're going to have a very busy schedule, so sleep whenever you can and take care of yourself.
Looking back on your win, was there anything you would have done differently before the final table or during it?
Well, it's tough to say because I won, so I don't want to change anything. To be honest, I was pretty happy because every single break I just went with four or five of my best friends in poker and talked strategy, relaxed and stuff like that. That just helped me to keep my focus and stuff.
During dinner break, I just went back to my room. A friend of mine, a girlfriend of one of my buddies, gave me a good massage and I had a good dinner and relaxed.
I think that's the most important part about it is just relaxing. Keep in mind that it's just a poker tournament. I know it's the World Series, the Main Event, but again, it's just a poker tournament with your stack, some big blinds and some stack sizes. You've got to remember, that's it. You make your talking the way you're playing, so it's just important to keep your focus at all times and never lose it, no matter what can be happening at the table. If you're able to do that, some good things may happen.
Who is your pick to win with the bracelet?
I don't know, it's a tough one. It's a very tough final table. All the chip stacks are pretty close. It could be anybody's game, but I guess "USCphildo," Phil Collins. [Matt] Giannetti also, but it really could be anyone.
Ben Lamb is certainly one of the favorites, for sure. Just have to see if he still has some run-good because it's going to be a three-month break, but he's a very good player, so we'll have to [keep an eye on] him.
It's two years in a row that it's a pretty tough final table, I think. It has pretty good players almost everywhere. Everybody knows how to play the game, so it's going to make for some big pots and an entertaining show.
The WSOP final table kicks off Sunday, Nov. 6 at 1130 PDT (1930 GMT) and PokerNews' worldwide-leading Live Reporting Team will be there for all of the action. Make sure you're there, as well.
For up-to-the-minute poker news, follow our Twitter stream.