PokerNews Debate: Paying More or Fewer Players in a Tournament Field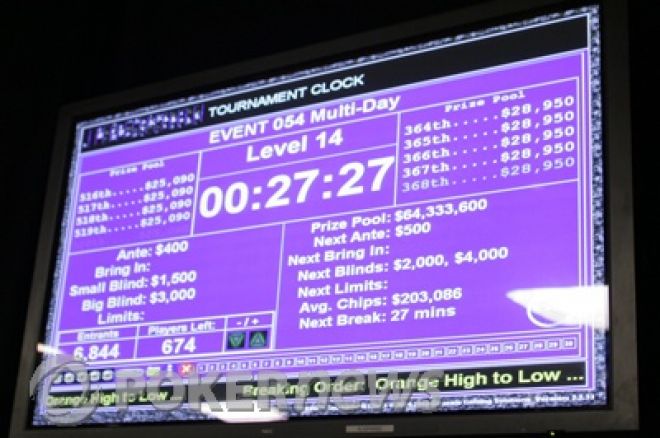 Last week, the World Poker Tour drew the ire of many poker pros when the 2011 Doyle Brunson Five Diamond World Poker Classic drew 413 players. Although that wasn't a problem in and of itself, the fact that the tournament was slated to payout 25 percent of the field if 400 players entered, a standard practice for the Bellagio for a few years now, was the real problem.
Had the WPT Five Diamond World Poker Classic gotten just 399 entrants, fewer players would have gotten paid and first place would have earned $986,926, if it reached 400, the plan was to pay 100 spots with first earning $794,624. This year, many poker pros took to their social media outlets to express their displeasure with so many players being paid, a sharp contrast to the industry standard of paying out 10 percent of the field; for instance, Kevin MacPhee was one player who was none too happy:
Just realized that they paid 25% of the field in the Bellagio WPT. What a joke! Glad I've never played a Bellagio tournament in my life.

— Kevin MacPhee (@KevinMacPhee)
The issue of paying out more or fewer players in a tournament seems to be a hot-button issue these days, with some players advocating the payout structure, while others prefer earning more for their buck when they go deep in a tournament. PokerNews' Live Reporting Manager, Donnie Peters, and Senior Writer, Chad Holloway, have different perspectives on the topic and square off in our latest debate.
Donnie Peters believes it's better to pay out fewer players in a tournament field.
Poker tournaments provide players with a great opportunity for competition. This isn't your third-grade talent show where everyone gets a ribbon for competing, this is poker. All players are adults (at least by age) and don't need to be coddled by awarding them a greater chance of cashing in a poker tournament.
Poker players don't play tournaments to simply make their money back. Paying out more places forces the prize pool to be spread out thinner. In the recent case of the World Poker Tour Doyle Brunson Five Diamond World Poker Classic held at the Bellagio, the top 100 spots were paid from a starting field of 413. James Dempsey was awarded a first-place prize of $821,612, but it could have been a lot more. In fact, if a more normal payout structure was used, all of the places would have added a lot more weight to the money finishers' pockets.
One argument that often comes from the host when paying more spots than normal is that it actually benefits the venue or site that is holding the event. Take PokerStars for instance. On the European Poker Tour, it makes sense to pay a little bit larger amount of the field than normal because the payouts are often deposited into the player's online poker account. Prior to cashing that money out, those players have a very high chance of spending some of it on the site in the available games. When it comes to live events, such as at the Bellagio, this doesn't seem to make much sense.
The players who fight and scratch for a minimum cash aren't going to be the ones taking their very small profit and shooting off in the pit. It's just not going to happen. They're going to take that money and leave the casino, happy to turn their $500 satellite win into a nice, little payday. Going back to Dempsey and his win, I believe it's much better to be able to have a $1 million first-place prize rather than have an extra 50 players walking away saying they cashed in a Bellagio WPT. Wouldn't you rather have the headline read James Dempsey wins WPT Five Diamond for $1,000,000?
It also seems to take away from the spirit of competition. It's not supposed to be easy to make money playing poker tournaments and the good players and professionals want to win the most money possible. This isn't going to be happening when prize pools are spread very thin when a quarter of the field is being paid out. In the minds of the pros, just making the money isn't even worth it in this spot.
And in a sick, twisted sort of way, poker players secretly want the money bubble to really hurt. When making the money is worth two times or more the original buy-in, bubbling a tournament can be very painful mentally and emotionally. Deep down, poker players love this feeling.
Chad Holloway believes it's better to pay out more players in a tournament field.
The Bellagio is one of the most popular destinations for poker players, both for cash games and tournaments. The latter have proven exceptionally popular, and always draw satisfactory fields; in fact, the venue plays host to the World Poker Tour several times a year, including the $25,000 World Championship. I think one of the reasons the Bellagio has proven so popular, at least in terms of tournament poker, is its generous payout structure.
When playing a tournament, the first goal on every player's mind is to win; however, another goal on most players' wish list is to make the money, which is easier to do when more spots are paid. I know I'd be more likely to plop down $10K to play in a big tournament if I knew 25 percent of the field was paid. Even earning a min-cash or getting my money back (which is what happened in the WPT Five Diamond as 100th-51st essentially earned the same amount) would alleviate a lot of pressure, allowing me to prep for a deep run in the event from that point forward.
Deep payout structures remind me a lot of PokerStars 50/50 Tournaments, where players earn double their buy-in once half the field has been eliminated. Such tournaments have proven quite popular online and I wouldn't be surprised to see a similar format adopted at a live event, though this would be the extreme of any generous payout structure. Pros are always looking for that big score, but the average poker player would be thrilled to double their money.
I'll admit that the standard 10 percent payout is more amenable for poker pros, but I believe the 25 percent payout structure is more appealing to the poker masses, at least in big buy-in tournaments. Let's face it, there is a direct correlation between the size of a tournament and the buy-in. Usually the higher the price, the fewer players there are. By paying out more spots, more players will be enticed to enter as they'll no doubt think it easier to be one of four to cash rather than one out of ten. Given the economic hardships faced by many, and the lackluster poker economy, this is not a time to turn a blind eye to any policy that could possibly attract more players.
Playing tournament after tournament and never cashing can be very demoralizing and discouraging. By easing the criteria to cash, some players may be more apt to play. If they do and get their money back, they're more than likely going to invest it in another tournament down the road. This is good for everyone involved as players get to play more events, the entries will be up, and the venue will get even more entry fees. Also, let's not forget about those who satellite into tournaments. To them, a min-cash usually feels like a win in itself and I bet the majority of satellite qualifiers would prefer a 25 percent payout structure.
I don't believe paying out 25 percent of the field should become the new industry standard, but I do think it is an agreeable option and should be utilized at various stops. Times are tough across the board, and a deeper payout structure is a simple tactic to adapt to a downtrodden poker economy.
Stay up to date on all the latest news by following us on Twitter and liking us on Facebook.