Off the Felt with Christina Lindley
Danielle Barille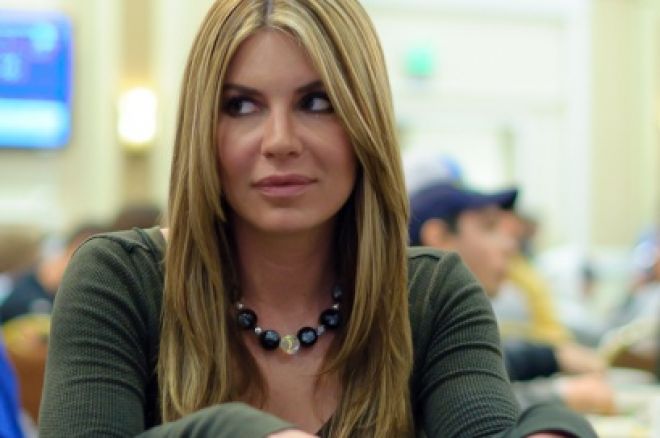 Off the Felt is interviewing your favorite people in the poker industry to find out more about their lives — you've got it — off the felt. We recently sat down with Christina Lindley to talk a little poker, fitness, and making people laugh.
How did you start playing poker?
I was acting and modeling professionally my entire life, and three years ago there was a writer's strike in Hollywood. It completely shut down the industry for an entire year. During my hiatus, I went home to visit my father, who took me to a casino in Tunica to play poker. It was literally love at first sight. For the first time in my life, I found something that I was more passionate about than acting.
Where is your favorite tournament spot?
I think I would actually have to say Legends of Poker at the Bike is my favorite tournament spot. The first $10k I ever played in was literally six months after I had gone home to visit my Dad when he made the original introduction of poker to me. I lived in L.A., and went to the Bike to try to win a seat into Legends. I was successful, and it was one of the most exciting days I had ever had up to that point in my life because I was so psyched about poker.
I know all of the players in L.A., and got my start there. Ironically in August of 2011, I had the deepest run of my professional career to date in a major live poker tournament, at WPT's Legends two years later, finishing 15th.
What is your poker schedule like the next few months before the WSOP?
My poker schedule is all over the place. I recently came back from living in Mexico for two months, living abroad to play online. That really broadened my horizons, perspective wise. The last few weeks I have been grinding cash in Vegas, which I love. Cash has dramatically improved my post flop game.
As far as my pre-WSOP schedule, I will be playing the $10k WPT Ft. Lauderdale stop mid April. I am flying with my Vegas roommate Lauren Kling, and we are both really looking forward to the tournament. In May I am going to Ireland for almost the entire month, where a friend has a house on the beach just outside of Dublin, to grind SCOOP online.
Where is your favorite place to play in Vegas?
My favorite place to play cash in Vegas is actually Red Rock. The games are really soft, and not reg infested. Although, that may change after this interview. [Laughs]. I love tournaments at Bellagio and the Venetian. On certain nights, I go to grind cash at Aria, as the weekends are really good there.
What is the best part of living in Vegas?
The best part of living in Las Vegas are the shows. I can not tell you how many hilarious world class comedians I have seen in person here. I am a huge music fan, and every great comes through Vegas for a show at one time or another. The restaurants are a sick range merge of the best east and west coast restaurants, all of which have a chain or version here.
What are some of your hobbies away from the table?
My hobbies away from the table are diverse, and completely mood dependent. I work out almost every day. I love going hard running, and training with weights. It was ingrained in me with my fitness modeling background, and has really just become a way of life. I hike at Red Rock quite a bit. I am a bit of a wine connoisseur. I enjoy art immensely, and frequently visit all of the museums everywhere I travel. My best friend Lolo Siderman is a sick artist, and she has recently taken up teaching me how to paint. We'll see how that goes. Anything involving spending time with animals, I am there.
Can you tell us about the most ridiculous prop bet you've participated in?
The only prop bet I have ever participated in is with my neighbor and good friend Sorrel Mizzi. During the WSOP this year, we had a standing bet that for every day we were playing in a tournament, we had to do cardio for a minimum of 45 minutes. The penalty was paying $100 dollars per day that we missed. Needless to say, I won. Although he has since really taken to fitness, and I am very proud of him for that.
What would who rather have: A closet full of clothes or a closet full of shoes/purses?
A closet full of purses and shoes wins hands down. I am a huge fan of both. I don't really spend much money on clothes, but I have a weird obsession with Giuseppe Zanotti shoes, and python handbags. My mom would never let me have a pet snake as a kid, so now I collect snake bags. Take that mom!
Do you have any hidden talents?
I was a member of the Groundlings, in Los Angeles. They are an all improv sketch comedy group that the majority of the alum from Saturday Night Live comes from. Performing there taught me to think quickly on my feet. Making people laugh when they least expect it is my favorite hidden superpower. There are a few more, but if I told you they wouldn't be hidden now would they.
What's the most memorable moment in your poker career so far?
My most memorable moment in poker is when I banged off a $127k score in the $320 USA COOP in November of last year on PokerStars. I'll never forget that day. I had been running on no sleep, and decided at the last moment to jump into it when I found out the levels were 20 minutes, which is forever for an online tournament.
I must have drank two pots of coffee. I was wired out of my mind on caffeine, and played all night from 4 p.m. in the afternoon until noon the next day. Some of my friends who were sweating me actually went to bed, then woke up the next morning around 11 to rail me. I was getting tons of needles via Skype and AIM about what a great night of sleep they had. Heads up began at noon, against the other most aggressive player at the final table. When I finally won, I couldn't even sleep because I was so excited.
What's the most interesting story you've ever heard at the poker table?
The most interesting story I ever heard at a poker table was by a well-known pro at a WSOP event. He told the entire table, basically saying that the first time he ever was intimate with a girl in his life, at a very early age (12), she got pregnant with his first child. The whole table was laughing and pretty amazed at his candor, and he just laughed saying he must be very fertile.
What would you be doing if you weren't playing poker?
If I wasn't playing poker, I would be performing with the Groundlings, and continuing to do film and television in L.A., with a focus on comedy. Saturday Night Live was always a destination I had my eye on, until my true love, poker, snap-derailed me. The best things in life always seem to happen that way. "The road of life can only reveal itself as it is traveled" is one of my favorite quotes. It has been one hell of an adventure.
Follow PokerNews on Twitter for up-to-the-minute news.