The Weekly Turbo: Mike Sexton Rants, Tiger Woods' Charity Poker Tournament, and More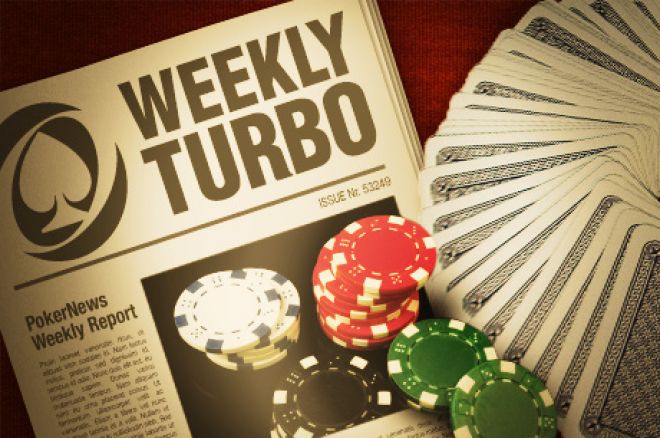 Did you miss any of the top poker news stories this week? Well you've come to the right place to get caught up. We're covering Mike Sexton's rant about the lack of professionalism in poker, Tiger Woods' charity poker tournament, and more.
Poker Players
Mike Sexton Calls For Change
Should poker players be forced to adhere to dress codes at televised events? Hall of Famer Mike Sexton thinks so — and he's not alone.
Sexton took to his blog on Wednesday to discuss a number of issues he believes need to be addressed in the poker community. The always-dapper Sexton says he's "disgusted" with the lack of professionalism by some poker pros who live in their "own little worlds."
"At a recent WPT final table, I looked at the six finalists and saw four wearing T-shirts and another in a sweat shirt," wrote Sexton. "At other final tables this season, I've seen players wearing shorts and flip-flops. Look, I played poker for a living for a long time. I understand wanting to be comfortable while you're playing, etc. Is it too much, however, to expect players to wear collared shirts, long pants, and shoes and socks on a televised final table?"
Sexton's blog echoes the opinions stated by Matt Glantz in a blog titled Responsibility in Poker. Glantz singled out the "young guns" of poker who need to take more responsibility for their actions which ultimately reflect poorly on the entire community.
Read Sexton's full blog at PartyPoker.com.
Tiger's Poker Night
Golf legend Tiger Woods will be hosting a charity poker tournament at Mandalay Bay Resort and Casino in Las Vegas on Friday, April 27, 2012. The event will benefit the Tiger Woods Foundation, a program which raises college scholarship money for underprivileged youth.
The $10,000 entry fee includes a seat in the poker tournament plus a guest to attend Tiger's Poker Night, one suite at THEhotel at Mandalay Bay for Friday and Saturday nights and two VIP tickets to attend Tiger Jam, featuring Jon Bon Jovi and Friends on Saturday, April 28.
The event will bring out the best of the best as Phil Hellmuth will emcee the poker tournament and Doyle Brunson will also be on hand to take part in the action. That's 21 World Series of Poker titles right there; Tiger has 14 Major Championships of his own.
The winner of the tournament will receive a foursome (of golf) with Tiger Woods. Other prizes include a putting lesson with Woods, Pro-Am spots at PGA TOUR events, golf rounds at exclusive courses across the country, autographed memorabilia items, and a Nike Golf custom club-fitting.
For more information, check out the Tiger Woods Foundation website.
Poker Business
AGCC Hearing on Full Tilt Poker License
Laurent's Tapie's goal to re-launch Full Tilt Poker by the end of this month may have been a pipe dream. But his vision might not be far off.
Over the past few months, Tapie has been working with the Alderney Gambling Control Commission (AGCC) to resurrect FTP's operating license. On Thursday, the AGCC set a public hearing for a Category 2 license application submitted by Full Tilt Poker subsidiary Orinic Limited. Orinic had its non-operating Category 1 license suspended for six months last year. A Category 2 license would allow the new Full Tilt Poker to operate a gambling business.
The hearing will take place on Thursday, May 3 at the Braye Beach Hotel in Alderney.
With the pending deal between Groupe Bernard Tapie and FTP growing closer by the day, many are wondering what Full Tilt Poker will look like under new management. Daniel Negreanu gave his take on the latest news over at Full Contact Poker on Thursday.
For more on the license hearing, check out the story at PokerNews.com.
Advantage: PokerStars
The legal battle between PokerStars and data-mining website PokerTableRatings.com has apparently come to a close. On Wednesday, Poker Table Ratings announced in a blog that it will fully comply with the cease and desist order issued by PokerStars. All PokerStars player profiles and statistics have been removed from the website, and searches are met with the following message:
"Stars has requested that you not view your poker player profile on PokerTableRatings.com. Please contact Stars support if you would like to see your profile made public again on PTR."
The decision ends a multi-year war between the two sides. PTR tracked millions of hands on PokerStars and provided data that gives its users an advantage at the online poker table. After it failed to block PTR's data mining at a technical level, PokerStars enforced legal action against PTR, which resulted in the decision to adhere to the cease-and-desist order.
Read more at PokerNews.com.
Judge Accepts John Campos' Guilty Plea
On Wednesday, U.S. District Judge Lewis A. Kaplan accepted the guilty plea of Utah banker John Campos, one of the 11 men indicted by the Department of Justice on Black Friday. Campos pleaded guilty to a single misdemeanor bank gambling charge last month, but Kaplan refused to accept the plea until the prosecution explained why they let Campos plead guilty to a misdemeanor rather than a felony.
The judge accepted the plea agreement after prosecutors submitted a letter saying Campos' involvement in illegal online poker transactions was minor. Campos was facing six charges and up to 35 years in prison, but he entered a last-second plea agreement with prosecutors in March.
Campos is the sixth Black Friday defendant to enter a guilty plea. The others are Absolute Poker co-founder Brent Beckley and payment processors Ira Rubin, Ryan Lang, Bradley Franzen, and Chad Elie, who was set to go to trial with Campos this month.
Read more at the Salt Lake Tribune.
Layoffs at Bodog
Reports surfaced early this week that around 70 employees had been laid off by Bodog. On Wednesday, Bodog confirmed those reports to PokerNews, citing the moves as part of a restructuring effort in the U.K.
"In the U.K. we have undertaken a long period of market analysis and we are now starting to adapt our product to fall in line with those findings," a Bodog representative told PokerNews on Wednesday. "We feel we now have a better understanding of what the U.K. customer wants and the focus now is on re-structuring our business to be better placed to put that information into practice."
It's been a long, trying year for Bodog. In March, the company shut down its operations in Costa Rica after its founder Calvin Ayre was indicted for money laundering and operating an illegal gambling enterprise in the U.S. Ayre set up Bodog headquarters in Costa Rica, where the company handled billions in online gambling transactions. All Costa Rica-based employees were let go and assured they would be given their full proper severance, according to CalvinAyre.com
Betsson to Acquire NordicBet
The online gaming world saw another major acquisition take place on Wednesday. Swedish gaming company Betsson announced it has purchased rival gaming provider Nordic Gaming Group (NGG) for an initial price of €65 million, giving Betsson ownership of brands such as NordicBet, Tobet and Triobet.
Betsson says it is acquiring NGG from a number of individuals, including both the founders of the company, members of management and employees, as well as from external investors.
"Through this transaction, Betsson continues to strengthen its Nordic operations and its leading position amongst the private gaming company alternatives in the Nordic region," said Betsson President and CEO Magnus Silfverberg. "In addition, Betsson's brand portfolio is strengthened significantly within the betting segment, as NGG receives approximately fifty percent of its revenues from sportsbook."
The announcement comes just a few days after Unibet purchased Bet24. Unlike that deal, in which Unibet plans to re-brand Bet24's products, NordicBet will continue its day-to-day operations under its existing name.
Read more in Betsson's press release.
Poker Tournaments
Self-made Millionaire
On Friday, the inaugural HKD$1,000,000 ($129,000) buy-in Manila Millions Super High Roller took place at Resorts World Manila's Genting Club in the Philippines. The prestigious event attracted 30 players, including poker pros Tom Dwan, Phil Ivey, JC Tran, Johnny Chan, Nam Le, John Juanda and Joe Hachem.
Surprisingly, all of the aforementioned pros busted out before the money bubble, where the remaining five players were left battling for a top prize of $13,080,000 (USD $1.685 million). After American pro Keith Gipson busted out in fifth place, Macau regular Richard Yong exited in fourth place. According to Poker Portal Asia, Yong was all in preflop with pocket eights against Allan Le's pocket queens and was unable to improve on a king-high board.
China's Sun Sheng was the next to bow out, leaving Le and Devan Tang competing for the title. A swingy heads-up match ended when a short-stacked Tang shoved on the button for 800,000 with
and Le called with
. The
brought no help to Teng, who collected just over USD $1million for his runner up finish. Le's USD $1.7 score is far and away the largest of his career.
Manila Millions Results
| Seat | Player | Prize |
| --- | --- | --- |
| 1 | Allan Le | HKD $13,080,000 (USD $1.685 million) |
| 2 | Devan Tang | HKD $8,175,000 (USD $1.053 million) |
| 3 | Sun Sheng | HKD $4,905,000 (USD $632,000) |
| 4 | Richard Yong | HKD $3,597,000 (USD $463,430) |
| 5 | Keith Gipson | HKD $2,943,000 (USD $380,000) |
For a closer look at how the Manila Millions played out, visit Poker Portal Asia.
Another Day in Paradise
One of the most impressive final tables in the history of the Heartland Poker Tour played down to a champion at the Palms Casino Resort in Las Vegas on Monday. The final six players — Phil Collins, Dan O'Brien, Steve Gross, Matt Marafioti, Leo Wolpert and Terry Presley — boasted around $20 million in lifetime earnings, plus a handful of prestigious titles from around the world.
Nearly 200 players put up the $1,650 buy-in when the event kicked off last week. A handful of notables made deep runs in the tournament, including Randy Dorfman, Michael Craig, Christina Lindley, and Dutch Boyd, who bubbled the final table in seventh place.
When the dust settled, Collins walked away with the title and $71,556 in prize money. Collins, who earned $2,269,599 for a fifth-place finish at last year's WSOP Main Event, defeated Marafioti heads up. Gross, best known for his exploits online as "gboro780," placed third.
HPT Nevada — Palms Casino Resort Results

| Place | Player | Prize |
| --- | --- | --- |
| 1 | Phil Collins | $71,556 |
| 2 | Matt Marafioti | $41,570 |
| 3 | Steve Gross | $25,897 |
| 4 | Leo Wolpert | $22,489 |
| 5 | Dan O'Brien | $17,173 |
| 6 | Terry Presley | $14,666 |
Two one-hour episodes from the final table will air in June. More information is available at HPTpoker.com.
Jia Liu Wins Borgata Spring Poker Open
The 520-player 2012 Borgata Spring Poker Open $2,500 Championship Event concluded Thursday and walking away with the title was Jia Liu, who began the final table as the chip leader. Along with the title, Liu earned himself his largest victory ever worth $312,483. Although many of poker's biggest names may be down in Florida or over in Europe right now, Liu had himself plenty of tough competition at the final table including notables Chad Batista, Matt Woodward and Cliff "JohnnyBax" Josephy.
The last player standing in the way of Liu and the win was Larry Abrams. On the final hand, Liu set Abrams all in for his last 750,000 holding the
with the blinds at 60,000/120,000/10,000. Abrams made the call with the
looking to double up. After the flop gave Liu the lead when the
rolled out, the
on the turn and
on the river left Abrams with the losing hand and a second-place finish.
Borgata Spring Poker Open Final Table Results
| Place | Player | Hometown | Prize |
| --- | --- | --- | --- |
| 1 | Jia Liu | Brooklyn, NY | $312,483 |
| 2 | Larry Abrams | Fairlawn, NJ | $175,700 |
| 3 | Russ Dykshteyn | Brooklyn, NY | $112,950 |
| 4 | Robert Pardo | Mt. Vernon, NY | $89,733 |
| 5 | Cameron Cornell | Interlaken, NJ | $70,280 |
| 6 | Chad Batista | Fort Lauderdale, FL | $57,730 |
| 7 | Cliff Josephy | Queens, NY | $45,808 |
| 8 | Matt Woodward | Las Vegas, NV | $35,768 |
| 9 | Michael Borovetz | Pittsburgh, PA | $25,100 |
| 10 | Mike Meskin | Belmont, MA | $16,315 |
Prior to this victory, Liu had $158,913 in career tournament earnings and his largest score was $42,734. This is also his first victory on the felt since November 2009.
For more information, visit the Borgata Spring Poker Open blog.
Baguley Wins UKIPT Nottingham
Day 3 of the PokerStars UK & Ireland Poker Tour (UKIPT) Nottingham took place on Sunday. Only 76 players of the 1,625-player field remained to begin the day, and by the end of play, the final table of eight remained. Leading the final eight was Iqbal Ahmed, a young British player who captured the chip lead early on Day 2 and never looked back.
It took almost two hours for the first elimination to occur on Day 4. Ian Senior was eliminated at the hands of Grant Pirie in a cooler. Pirie held kings and Senior held queens, but found no help on the board. About four hours after the first elimination of the day, a winner was crowned. Robert Baguley defeated Iqbal Ahmed heads up for the title.
UKIPT Nottingham Results

| Place | Player | Prize |
| --- | --- | --- |
| 1 | Robert Baguley | £210,400 |
| 2 | Iqbal Ahmed | £125,000 |
| 3 | Grant Pirie | £96,700 |
| 4 | Barry McMahon | £79,600 |
| 5 | Hasmukh Khodiyara | £62,500 |
| 6 | Nick Woodward | £45,500 |
| 7 | James Cummings | £34,000 |
| 8 | Ian Senior | £22,750 |
For all the action, check out the PokerStars Blog.
Follow PokerNews on Twitter for up-to-the-minute news.