The Weekly Turbo: Ivey Eyes Player of the Year, Antonius Promotes Poker Site, and More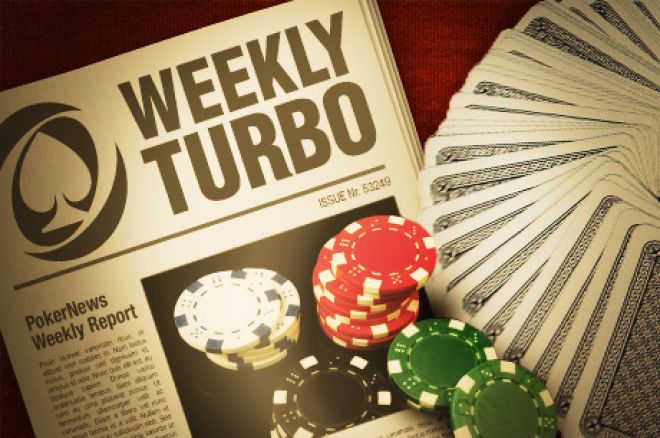 Did you miss any of the top poker news stories this week? Well you've come to the right place to get caught up. We're covering Phil Ivey's run at Player of the Year, a new sponsorship deal for Patrik Antonius, and more.
Poker Players
Here Comes Ivey
There were no changes atop the 2012 Global Poker Index Player of the Year rankings on Wednesday, meaning Jonathan Duhamel occupied the top spot for the 16th straight week. But Duhamel better beware — poker's most formidable figure is now in his rear-view mirror.
Phil Ivey vaulted into the top 10 this week after a fantastic start to the 2012 World Series of Poker. Ivey took seventh in event No. 15 and then finished runner-up to Andy Frankenberger in Event No. 16, collecting $275,559 in the process. He began the year with a victory at the Aussie Millions Poker Championship $250,000 Challenge for more than $2 million, and followed that up with a 12th-place finish at the Aussie Millions Main Event.
Duhamel, meanwhile, has just one cash since March, a 21st place finish in a $1,500 no-limit hold'em event at the WSOP this month. But the Canadian pro's astonishing run to start the year gave him a comfortable lead right out of the gate and he has yet to relinquish control. He's followed in the top five by Dan Smith, Marvin Rettenmaier, Andrew Badecker and Steve O'Dwyer.
Here's a look at the Top 10 of the Global Poker Index Player of the Year standings:
| Place | Player | Total Score | Change in Rank |
| --- | --- | --- | --- |
| 1 | Jonathan Duhamel | 595.68 | -- |
| 2 | Dan Smith | 582.60 | -- |
| 3 | Marvin Rettenmaier | 560.13 | -- |
| 4 | Andrew Badecker | 513.82 | -- |
| 5 | Steve O'Dwyer | 489.14 | -- |
| 6 | Jason Koon | 485.09 | +3 |
| 7 | Sam Chartier | 478.70 | -1 |
| 8 | Bertrand "ElkY" Grospellier | 454.84 | -- |
| 9 | Noah Schwartz | 475.28 | -2 |
| 10 | Phil Ivey | 450.29 | +110 |
The Global Poker Index Player of the Year, presented by PokerNews, honors the player who has the strongest performance in live tournaments during the calendar year, according to the USA Today Global Poker Index point system.
For the full GPI Player of the Year standings, head on over to EpicPoker.com.
The Patrik Antonius Heads-up Challenge
Former Team Full Tilt Poker member Patrik Antonius is the new face of online poker site iGame. Antonius is the first Team FTP member to sign on with another online poker room since the controversial poker site was shut down last year.
As part of his new deal, Antonius will face off against one qualifier in a pair of heads-up matches that will be streamed live at iGame.com. If the qualifier beats Antonius in both matches, he or she will walk away with €20,000.
Antonius has been spotted in Las Vegas this summer playing high-stakes pot-limit Omaha, but we likely won't get to see him sporting a new patch until the World Series of Poker $50,000 Poker Player's Championship later this month. He's also put a deposit down for the Big One for One Drop event, which kicks off on July 1.
Find out more about Antonius' heads-up challenge at iGame.com.
Jen Harman's Team Poker Tournament
Poker pro Jennifer Harman will be hosting a charity poker tournament on Nov. 10 at the Atlantis Casino Resort Spa in Reno, Nevada. The event will raise funds and awareness for local charities, with 100 percent of the net player entry proceeds going back to all the charities involved.
The Jennifer Harman Charity Poker Tournament will feature a unique ten-player team format with a buy-in of $250 per individual ($2,500 per team). Among the pros expected to take part include Harman, Marco Traniello, Karina and Chip Jett, Linda Johnson and Jan Fisher.
"I love animals and all the joy and love they bring into our lives," said Harman. "My teams will be playing for the Nevada SPCA who ensures these once abandoned and abused animals are cared for, adopted, or live humanely in Nevada SPCA's no-kill shelter for the rest of their lives. I am looking forward to raising much needed funds for these special animals."
For more information on the event, visit CharityKnockout.com.
Poker Tournaments
Tony G Is Committed — To Basketball
Last week, the World Series of Poker announced that 42 of the 48 spots had been filled for next month's $1 million buy-in Big One for One Drop event. However, one extra spot has opened up now that our very own Tony G has pulled out of the event.
Guoga recently removed his name from the list due to his duties with the Lithuanian basketball team. The Lithuanian club will be playing exhibition games in Houston next week and will then travel to Venezuela at the beginning of July. Tony is the manager of the national team and says he's taking a short break in poker to pursue his other passion.
Who will fill Tony's spot in the One Drop event? Mike Sexton, Phil Hellmuth, Jean-Robert Bellande and Ben Lamb have announced their intentions to play but we won't know for sure until an updated list is released by the WSOP. Be sure to follow this space for updates!
For a look at the confirmed entrants in the Big One for One Drop, check out WSOP.com.
Another Big Series Down Under
Crown Casino in Melbourne has announced the schedule for the 2013 Aussie Millions Poker Championship. The series will feature 26 events from Jan. 17 through Feb. 3, including a $10,000 Main Event, a $25,000 High Roller and a $250,000 Challenge.
The Aussie Millions has been one of the top poker destinations in the world since 2008. Organizers anticipate around 4,000 guests from around the globe during the summer festival. They'll all be vying for a piece of the anticipated $20,000,000-plus prize pool.
"It's the place I keep coming back to, for the poker, the Australian Open tennis, the atmosphere, the staff and the Australian people," said 2007 Aussie Millions Champion Gus Hansen. "The exquisite effort by Crown to make it a great event for the novice, the aspiring amateur and the high-stakes pro keeps you coming back time after time."
We have the full schedule of 2013 Aussie Millions events right here at PokerNews.com.
Setting The Date
The details of Bernard Tapie's International Stadiums Poker Tour (ISPT) have been sketchy since we first came across an impressive advert for the poker tour late last year. But it appears an official date has been set for the first event next summer.
According to the ISPT website, the first event will take place from May 31 through June 6, 2013, at Wembley Stadium in London. The event will feature a €4,500 buy-in with a €20 million guarantee, and the organizations claims that 2,119 players have already registered.
The tournament itself will begin with up to 30,000 players competing a shootout format using electronic pads offered to them from their seats in the stadium. Then, after the first round, the remaining players will move to actual tables laid out on the Wembley lawn and play until a champion is crowned.
For more information, including the tournament betting structure, visit ISPT.com.
Poker Legislation
Wynn, Playtech Apply for Nevada Licenses
Casino giant Wynn Resorts and gaming software company Playtech are the latest companies to apply for an online gaming license in Nevada, bringing the number of applicants to 30 ahead of the state's potential online gambling market.
Applications from both companies have been filed with the Nevada Gaming Control Board. Last year, Wynn formed a strategic alliance with PokerStars to help assist in the passing of federal online gambling legislation. However, that partnership fell through when PokerStars was forced to exit the U.S. on Black Friday.
Now, the company is reportedly in discussions with Zynga about a potential online gambling partnership. Rivaling casino giants Caesars (888) and MGM (bwin.party) have already formed collaborations with online gambling operators.
In addition to applying for a Nevada license, Playtech announced it has made significant progress in launching a social gaming platform. Playtech, which owns and operates the iPoker Network, has successfully completed the purchase of €95 million worth of assets and businesses from the company's founder and largest shareholder, Teddy Sagi. The deal will allows Playtech to license real money gaming software, social gaming and real-money mobile software from Skywind Holdings, a company linked to Sagi.
"Social gaming offers exciting growth opportunities for real money gaming organizations to apply their technological and marketing expertise," Playtech CEO Mor Weizer said in a statement. "The Skywind software license delivers a cost effective entry into social gaming, expanding Playtech's real money offering, especially its market leading mobile capabilities."
Reuters has more.
California Pulls the Plug
According to the Sacramento Bee, a hearing on a bill that would legalize online poker in California was pulled by Sen. Roderick Wright on Tuesday.
Senate Bill 1463 was scheduled for a vote in the Senate Governmental Organization Committee, but the Bee reports that Wright announced to a crowded room at the start of the hearing that he decided to pull the bill from the agenda. According to sources, most of those in attendance left the room upon hearing the announcement.
Several amendments were made to the bill last week in anticipation of Tuesday's hearing. New revisions call for the bill to allow only poker at first, and operators must apply for a five-year license instead of the original 10 years.
If passed into law, the bill is expected to generate hundreds of millions of dollars annually for California, but state residents and Indian Tribes have been split on the issue since it was first put on the table.
Read more at the Sacremento Bee.
Progress in Delaware
A bill that would allow Delaware residents to gamble online passed in the House this week by a vote of 29-8. The bill will next move onto the Senate for discussion.
House Bill 333 calls for a centralized online gambling platform to be regulated by the state Lottery Office. Delaware casinos have been struggling to compete against casinos on the East Coast, and the Department of Finance estimates HB 333 would generate $7.75 million in revenue for the state next fiscal year. The state is also attempting to partner with other states to create a multi-state platform similar Powerball and Mega Millions.
If passed, the bill would permit the offering of games like poker, blackjack, digital slot machines. Online lottery tickets and limited sports betting would also be available.
Business Week has more.
Poker Business
Bally, Aristocrat Prepare for Nevada's Online Poker Market
On Tuesday, Bally Technologies Inc. and Aristocrat Technologies Inc. announced a business-to-business partnership with Shuffle Master to create a joint iGaming platform ahead of legalized online poker in Nevada.
Under the agreement, Shuffle Master's Ongame interface will be integrated into Bally's iGaming platform. Shuffle Master purchased Ongame from bwin.party for €19.5 million back in March with plans to expand into the U.S. online poker market.
"We are confident that this relationship between Shuffle Master, Ongame, and Bally will create the opportunity for gaming operators to control their data, establish liquidity, and ensure their suppliers are truly committed to a B2B model," said Shuffle Master CEO Gavin Isaacs. "It is relationships such as this that made us truly excited about bringing Ongame into the Shuffle Master family and opportunities like this only build momentum before the pending closing of our acquisition."
Bally and Aristocrat teamed up earlier this year to offer a third-party platform for online poker providers once the activity is legalized in the U.S. Under the strategic alliance, the two have been working to secure arrangements with leading poker providers that will then be added to Bally's and Aristocrat's iGaming platforms.
Last week, Bally met with the Nevada Gaming Control Board and was given a unanimous recommendation to receive an intrastate online gaming license. The company will next meet with the Nevada Gaming Commission on June 21 for final license approval.
Read more in the press release at BallyTech.com.
Going Once, Going Twice...
Pinnacle Entertainment is the new owner of the Heartland Poker Tour and Federated Sports+Gaming Inc. after putting up the highest bids at a bankruptcy auction this week.
Pinnacle, along with William Hill and a few other companies, appeared at the United States Bankruptcy Court for the District of Maryland to make their bids on the two Chapter 11 companies. The highest bid for the HTP was $4.2 million, and FS+G's assets went for $300,000. Those assets include the Epic Poker League, Global Poker Index, the EpicPoker.com website.
The Epic Poker League was formed by FS+G in June 2011 as an exclusive tournament series for the game's top pros. However, before even finishing the first season, FS+G filed for Chapter 11 bankruptcy after racking up more than $7 million in debt with more than 100 creditors. Now under new ownership, the future of the EPL is in up in the air.
Read more in the article at PokerNews.com.
Follow PokerNews on Twitter for up-to-the-minute news.