The Nightly Turbo: Black Friday Processor Forfeits $6M, MicroMillions II Begins, and More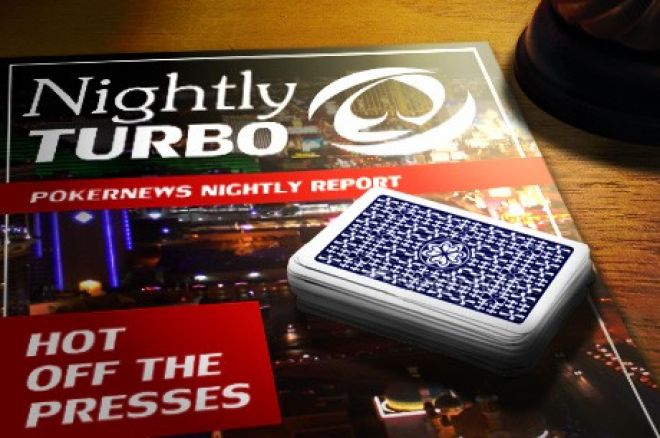 This week, we've seen a handful of Black Friday stories make headlines. The latest involves a payment processing company for PokerStars, Full Tilt Poker and Absolute Poker. We'll cover that story, plus the start of the MicroMillions II, in this edition of the Nightly Turbo.
In Case You Missed It
Ryan Eriquezzo collected his first bracelet in the WSOP National Championship on Wednesday. Read about that and Day 2c of the Main Event in the WSOP Day 46 recap.
Need a new book to read at the tables? Chad Holloway reviewed Jonathan Duhamel's new book, Final Table.
2011 November Niner Sam Holden made another Day 3 in this year's WSOP Main Event. Holden spoke with PokerNews' Sarah Grant about how to get through the day.
Matt Affleck joined the PokerNews Podcast crew on Wednesday. Affleck talked about running deep in the Main Event, his poker attire, and more.
Looking for a fun, behind-the-scenes perspective of life at the WSOP? All Mucked Up has daily stories from inside the Rio, so check it out!
The Straddle: Week 6
Kristy Arnett brought us her final World Series of Poker edition of The Straddle on Wednesday. This week's video has cameos from David "viffer" Peat, Phil Laak, Jen Tilly, Greg Raymer, and Ryan D'Angelo.
Follow PokerNews on Twitter for up-to-the-minute news.
Onnit's Last Sticker Standing
Onnit Labs, a health and fitness company specializing in vitamin supplements, will give away $5,000 to the winner of the Last Sticker Standing promotion for the World Series of Poker Main Event. Twenty players were still wearing the Onnit logo on Thursday when Day 3 began.
All qualifying players are wearing an Onnit patch during the event. Among those taking part in the last-longer challenge, WSOP bracelet winners David Diaz, Leo Wolpert and Chris Tryba.
Here's a look at the chip counts of the 20 Onnit players entering Day 3:
| Place | Player | Chips |
| --- | --- | --- |
| 1 | David Diaz | 337,900 |
| 2 | Leo Wolpert | 247,000 |
| 3 | Aaron Lim | 181,800 |
| 4 | Charlie Lacause | 158,400 |
| 5 | Kahlil Qaqish | 154,200 |
| 6 | Gordon Jones | 136,800 |
| 7 | Gregory Heimann | 136,500 |
| 8 | Liutauras Armanavicius | 136,200 |
| 9 | Yik Chiu | 131,600 |
| 10 | Matthew Beisner | 119,100 |
| 11 | Sassine Ghazale | 111,500 |
| 12 | Kyle Cheong | 106,100 |
| 13 | Jen‐Yue Chiang | 85,500 |
| 14 | Dan Natarelli | 72,200 |
| 15 | Michael Smith | 69,000 |
| 16 | Bryan Lanoix | 46,000 |
| 17 | Donald Fujita | 39,400 |
| 18 | Michael Marder | 33,000 |
| 19 | Daniel Rohde | 28,500 |
| 20 | Chris Tryba | 28,300 |
We'll provide an update of the Last Sticker Standing contest on Monday. Want to focus on your poker game? Get Onnit.
Las Vegas Revenues Down
The Gaming Control Board announced Thursday that revenue on the Las Vegas Strip dropped 18 percent in May from the same time last year, and that revenue in Nevada was down 10 percent.
In Las Vegas, casinos collected almost $475.1 million in May, down from $580.4 million in the same month a year ago. Nevada reported collections of $885.1 million in May, down from May 2011 when casinos collected $984 million.
The declines are a bit of a surprise, considering that Las Vegas saw a 2.4 percent jump in the number of visitors in May, compared to the same month a year ago. The Las Vegas Convention and Visitors Authority reported that 3,451,394 people visited Sin City in May 2012, bringing the total number of visitors for 2012 to 16,532,440.
For a closer look at the numbers, visit the Las Vegas Convention and Visitors Authority website. http://www.lvcva.com/stats-and-facts/visitor-statistics/
Who Wants Ongame?
Last week, we brought you a story involving social gaming giant Zynga and its interest in purchasing the Ongame Network from bwin.party. On Tuesday, bwin.party announced in a statement that there are six potential purchasers of Ongame, and that further updates will be provided in due course.
The announcement follows the collapse of the deal between Shuffle Master and bwin.party last month. In February, Shuffle Master signed a definitive agreement to buy Ongame for €19.5 million ($24.5 million). But due to what Shuffle Master called "worsening industry conditions" in Europe, the deal fell apart. Bwin.party is shopping Ongame again, saying that it is "re-engaging with other third parties that have expressed an interest in acquiring Ongame."
Bwin.party also stated that it plans to transfer Bwin's poker liquidity over to PartyGaming's PartyPoker platform by the end of the year. "The sale of Ongame represents a further significant step in our process of integrating bwin and PartyGaming and moving to a single technology platform," said bwin.party co-CEOs Jim Ryan and Norbert Teufelberger.
Bwin and PartyGaming joined forces in 2011, creating the largest publicly traded online gaming company in the industry.
The full statement can be found at bwinparty.com.
100 Tourneys in 11 Days
Normally, Andre "acoimbra" Coimbra can be found grinding the high-stakes sit-and-gos at PokerStars. But for the next 11 days, the Team PokerStars Pro will be challenging himself at the micro stakes during the MicroMillions II tournament series.
Coimbra will attempt to play all 100 events in the popular series from July 12 through 22. Events will run around the clock, culminating with a $22 MicroMillions Main Event with a $1 million prize pool on Sunday, July 22. The series features affordable buy-ins as low as 11 cents, with a wide variety of games and formats like turbos, rebuys, shootouts, knockouts, and big-ante events.
Coimbra will be updating his progress in a daily video blog at the PokerStars Blog. Here's a look at his first entry, which he posted before the challenge began:
Read more about Coimbra's MicroMillions II challenge at the PokerStars Blog.
Poker Processor Settles for $6 Million
A Texas payment processing company has agreed to forfeit $6.27 million to the U.S. government for its involvement in illegal online poker transactions.
LST Financial, located in San Antonio, is alleged to have processed transactions for PokerStars, Full Tilt Poker and Absolute Poker before the three online poker sites were seized by the Department of Justice in April 2011. The company was 50 percent owned by Ryan Lang, one of the 11 men indicted by the DOJ on Black Friday. Lang, 36, pleaded guilty to conspiracy back in March.
Lang was accused of facilitating the illegal transfer of funds from online poker sites to players in the U.S. Lang operated as a payment processor out of Canada from 2007 to 2010, assisting financial brokers who made false statements to the banks to trick them into processing payments for the aforementioned poker sites.
According to the New York Post, LST has admitted no wrongdoing and claims it was duped into processing the illegal transactions.
Read more at the New York Post.