The Weekly Turbo: Republican Party Backs Online Poker Ban, Lederer's Request, and More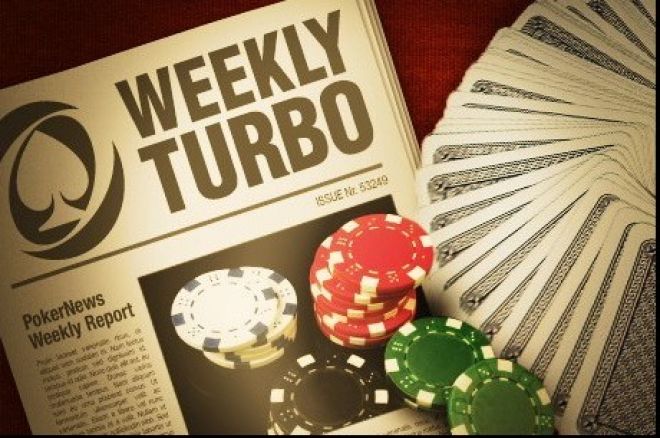 Did you miss any of the top poker news stories this week? Well you've come to the right place to get caught up. We're covering the Republican Party calling for a ban on Internet gambling in the U.S., Howard Lederer requesting a status conference with the federal court, and more.
Poker Legislation
GOP Against Online Poker
During Tuesday's Republican National Convention in Tampa, Fla., the GOP approved an official platform that contains a plank calling for a ban on online poker. The 54-page document opened with a warning that the "American Dream" of equal opportunity is at risk, and goes on to state its opposition toward Internet gambling.
"Millions of Americans suffer from problem or pathological gambling that can destroy families," the platform reads. "We support the prohibition of gambling over the Internet and call for reversal of the Justice Department's decision distorting the formerly accepted meaning of the Wire Act that could open the door to Internet betting."
Last December, the Department of Justice changed its position on the Wire Act of 1961, finding that the Wire Act only applies only to sports betting. The decision was considered a huge victory for poker, but it could be for naught if the GOP reclaims the White House from the Democrats later this year.
"As we all know, the DOJ decision the plank calls for reversing is the very one that determined that the scope of the Wire Act does not include poker," Rich Muny, Poker Player's Alliance vice president of player relations, said Wednesday. "Also, as we all know, our opponents are including poker in 'gambling' activities they seek to ban. Some have even taken to calling the activity 'poker gambling.'"
GOP Presidential candidate Mitt Romney has gone on record saying he strongly opposes online gambling because of the "social costs and people's addictive gambling habits." Ironically, though, you may recall Romney proposing a $10,000 bet against Rick Perry during the GOP debate late last year.
For more on the GOP platform and what it means for poker, check out Matthew Kredell's article here at PokerNews.com.
Lederer's Last Stand?
The ongoing saga involving Full Tilt Poker's executives continued this week as Howard Lederer, Chris Ferguson and Rafe Furst requested a status conference with the federal court to discuss last week's federal ruling that poker is a game of skill.
Lederer's attorneys argue that, in light of the case of United States v. DiCristina, many of the charges against him do not have legal basis. His attorneys have requested a conference status to discuss the potential impact of the case in which Judge Jack B. Weinstein ruled that poker does not constitute illegal gambling and, thus, does not fall under the Illegal Gambling Business Act.
"How the government approaches a potential amended complaint, and how the defendants approach moving for its dismissal, are both matters which can be more efficiently handled if the parties have an opportunity to make the Court aware of their plans and views in light of DiCristina," an attorney for Lederer wrote to Judge Leonard B. Sand.
The government responded Thursday by saying that it disagrees with the verdict of the DiCristina case and that it doesn't believe a status conference between Lederer and the court is necessary at this time.
The letter sent by Lederer's lawyers to Judge Sand came two weeks before the government can decide to amend the civil complaints against Lederer, Ferguson and Furst. The deadline is Sept. 10, 2012.
For more, read the story here at PokerNews.com.
Illinois Rejects Gambling ... For Now
An Illinois bill that would have expanded gambling in the state was vetoed by Gov. Pat Quinn on Tuesday. The measure would have increased the number of casinos in Illinois from 10 to 15, including a first casino in Chicago.
Quinn said the bill lacked sufficient regulatory oversight and urged legislators to work with him to improve its defects.
"Illinois should never settle for a gaming bill that includes loopholes for mobsters," Quinn said in a statement announcing his decision.
Quinn has been a supporter of gambling and bringing more casinos into the state but is a strong proponent of strict ethical standards. He argued Tuesday that, under the language of the bill, the Illinois Gaming Board wouldn't have the same regulatory authority over Chicago's city-owned casino that it holds over other casinos in the state.
"It's one thing if you had to make some technical changes here and there," Quinn said Tuesday. "This bill just falls way short of what the people of Illinois need when it comes to ethics in government."
Reuters has more.
Poker Players
Trickett Endorses ISPT
High-stakes poker pro Sam Trickett is the newest ambassador for the International Stadiums Poker Tour (ISPT) ahead of its inaugural tournament at Wembley Stadium in London next May.
Trickett, who is the U.K.'s all-time money leader with more than $16.4 million in live tournament winnings, joins Michael Mizrachi as an endorser of the Europe-based poker tour. The two men are considered among the best in the game today and will certainly add credibility to a tour that has been highly debated since it launched last fall.
Trickett announced his partnership with the ISPT via Twitter on Tuesday.
I just want to announce that I will be an @ispt_poker official ambassador. Will be one of the Biggest tournaments ever held May 31, 2013

— Sam Trickett (@Samtrickett1)
The first ISPT event is scheduled to kick off on May 31, 2013. Organizers are expecting the tournament to begin with 30,000 players in the stands of Wembley Stadium playing an online tournament from their seat. From there, the top 3,000 players will advance to the live tournament, which will be played right on the Wembley Stadium field. The event has a €20,000,000 guaranteed prize pool and will be broadcast on television via six channels.
"As a poker player, I have to be associated with such an enormous event," Trickett told Poker Channel Europe on Tuesday. "Being part of this tournament means being part of the history of poker."
Read more at UK.PokerNews.com.
Isildur1: The Man, The Myth, The Legend
Why is Viktor "Isildur1" Blom such a formidable opponent at high-stakes cash games? According to fellow nosebleed player Phil Galfond, it's because Blom plays for the love of the game and genuinely doesn't care about money.
In his latest blog, the always-insightful Galfond examines The Man, The Myth, The Legend known as "Isildur1." Galfond says he's played more hands against Blom than any other player of the length of his career, and he got to know the cagey Swede pretty well during the World Series of Poker this past summer.
Over the past three years, Galfond has examined Blom's strengths and weaknesses as a player. But it wasn't until he actually meant Blom that he really understood what makes him one of the game's greats.
"Viktor's passion for the game is his biggest strength as a player," Galfond writes. "He told me that he likes to play most with whoever he thinks is the best in the world. I guess if you're going to challenge yourself, you might as well REALLY challenge yourself.
"When you start thinking about the money involved, it inhibits your ability to play your best. People who approach poker purely as a job, for the financial reasons, will have a very hard time becoming the best of the best (though they may make plenty of money). To actually be great, you need to love the game. You need to have fun playing. Viktor has these covered and then some."
We highly recommend you check out Galfond's full blog at PhilGalfond.com.
Kyllönen's Hefty Downpayment
One of online poker's biggest winners of 2012 is spending some of his hard-earned profits on a trip into space.
Following in the footsteps of billionaire entrepreneur and poker enthusiast Guy Laliberté, Finnish poker pro Jens "Jeans89" Kyllönen recently told CardPlayer Europe that he has paid €160,000 to reserve a seat aboard Virgin Galactic's space flight. Kyllönen says he'll probably make the trip in 2014 after the testing stage is complete.
Kyllönen will spend three or four days training for the flight at SpacePort America before the two-hour flight aboard Sir Richard Brandon's space vessel.
"I've always been fascinated with space and now that I have the opportunity to be within the first people going I just felt like I had to do it," Kyllönen said.
As of last week, Kyllönen was up $1,628,538 playing high-stakes cash games at PokerStars this year. He was also one of 48 players to post the $1 million buy-in for the Big One for One Drop at the World Series of Poker this past summer. Kyllönen was the third player eliminated after losing a key hand to French businessman Frederic Banjout.
Hopefully, his pricey trip to space provides a more rewarding experience.
CardPlayer Europe has more.
"Stop Being Nits"
Daniel Negreanu has certainly had issues with the powers that be at TwoPlusTwo.com. A few months after receiving a one-day ban from the site for "spamming," Negreanu has taken a shot at the forum again, this time involving a deleted thread regarding a charity benefitting the 22Q Foundation.
For a long time, TwoPlusTwo has had a policy to not support charities. Reasons for that haven't been made public, but the site has had issues with scammers taking advantage of fake charities in the past. This particular charity is being supported by several poker players who will be participating in a 50-hour poker podcast show beginning on Sept. 3 to raise money for children who suffer from 22Q.11 deletion syndrome.
Shortly after a thread about the benefit was created at TwoPlusTwo, it was shut down. Once Negreanu found out, he posted his thoughts in a thread at Full Contact Poker.
"Have a heart. It's for charity. Stop being such nits," Negreanu wrote. "I get along fine with David Sklansky and feel like he really isn't too involved with all this crap, but Mason Malmuth and that kook moderator are greasy, slimy, nerdy, nutcases and they make me sick."
The "kook" Negreanu is referring to is the same TwoPlusTwo moderator that banned him in March when Daniel was trying to post his Weekly Rant in the News, Views and Gossip forum. Negreanu was warned about spamming because the video included an ad for iSeriesLive, and he was subsequently banned when he tried to post the video a second time.
The Examiner has more.
Online Poker
PartyPoker's Transformation
On Friday, online betting firm Bwin.Party Digital Entertainment PLC reported a significant decline in poker revenue during the first half of 2012. The company's primary poker offering, PartyPoker, has struggled to keep pace with industry leader PokerStars of late, dropping 43 percent in real-money cash game traffic since this time last year, according to PokerScout.com.
Nevertheless, Bwin.Party co-CEOs Norbert Teufelberger and Jim Ryan say they are determined to make PartyPoker the world's favorite poker room all over again.
"Poker is a key area of focus and we are determined to return it to growth through execution of a detailed plan that includes pooling our poker liquidity as well as repositioning our flagship PartyPoker brand," the co-CEOs said in a joint statement. "We expect both initiatives to have a positive impact on our performance, along with our recently launched FastForward Poker product."
As part of its resurgence plan, Bwin.Party plans to relaunch PartyPoker with new software early next year. Said the company in a press release, "Having last relaunched PartyPoker in 2009, we have been working on the next generation version that will be rolled out during the first quarter of 2013. Comprising many new features and a new look and feel, our objective is to once again make PartyPoker the world's favorite poker room and return poker to growth."
Bwin.Party is also preparing for a launch in the U.S., where it has partnered with MGM Resorts International and Boyd Gaming in an "anticipatory" move for legalized online gambling in Nevada. Bwin.Party is expected to be one of the key players in the U.S. market, but its share of the market could slide if PokerStars returns, as expected.
The full press release can be found at BwinParty.com.
PokerStars WCOOP Radio
With the return of the World Championship of Online Poker (WCOOP) this weekend, PokerStars has announced the revival of the popular PokerStars Radio for a second year. The daily broadcast will bring poker fans live coverage of the series from Sept. 2 through 25.
PokerStars Radio will accompany the action on the felts each night at 20:00 BST (15:00 EST). The interactive show will also include quizzes, competitions, interviews, live phone-in discussions, Twitter posts and exclusive online tournaments for listeners, with more than $25,000 up for grabs.
"We saw last year with the WCOOP radio show that poker players and fans love the format and really connect with the live interactive elements," said WCOOP radio host Joe Stapleton. "It provides a way for the growing poker community worldwide to share in the excitement of the most important festival in online poker."
Stapleton will be joined by co-hosts Nick Wealthall and Matt Broughton, and they'll be visited on the air by members of Team PokerStars Pro and Team PokerStars Online, as well as past and present WCOOP winners.
The 2012 PokerStars WCOOP will award more than $30 million across 65 tournaments this month. For the full schedule of events and satellite information, visit PokerStars.com.
Follow PokerNews on Twitter for up-to-the-minute news.