The WSOP on ESPN: Sylvia Goes from Short Stack to Chip Leader on Day 7; October Nine Set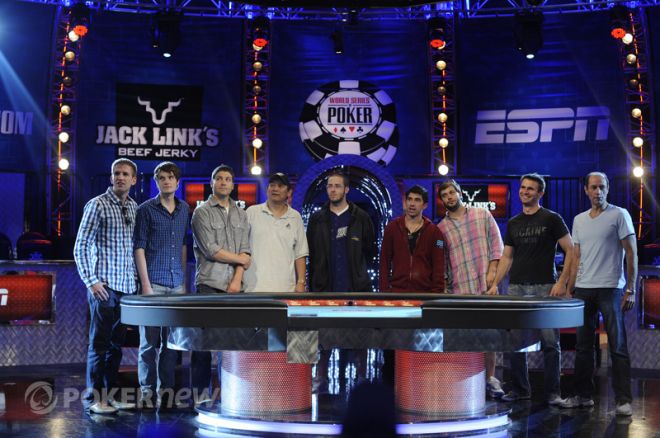 The final two episodes of the 2012 World Series of Poker — before the October Nine — aired on ESPN Tuesday night. Last week, the broadcast ended with 14 players, from the original 6,598-player field, still in contention to make the final table of nine and win the $8,527,982 first-place prize.
Five players needed to hit the rail in the second half of Day 7 to get to the prestigious final table. The man most likely to secure a spot was 21-year-old Jacob Balsiger, who was the chip leader at the top of the broadcast with 22,925,000. Others with big stacks included Russell Thomas, Greg Merson, Michael Esposito and Marc-Andre Ladouceur. Here's how the final 14 stacked up at the start of the first episode:
| Player | Chip Counts |
| --- | --- |
| Jacob Balsiger | 22,925,000 |
| Russell Thomas | 22,860,000 |
| Greg Merson | 20,030,000 |
| Michael Esposito | 19,475,000 |
| Rob Salaburu | 19,325,000 |
| Steve Gee | 17,800,000 |
| Marc-Andre Ladouceur | 17,605,000 |
| Jeremy Ausmus | 15,305,000 |
| Scott Abrams | 14,820,000 |
| Elisabeth Hille | 11,275,000 |
| Andras Koroknai | 9,190,000 |
| Jesse Sylvia | 8,115,000 |
| Gaelle Baumann | 1,915,000 |
| Danny Wong | 1,570,000 |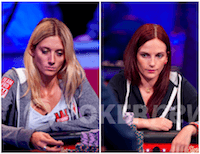 Looking to Make History: The only other time two women made the final two tables of the Main Event was in 2000 when Kathy Liebert and Annie Duke did it. Gaelle Baumann and Elisabeth Hille became the second pair to accomplish the feat, but both were intent on making history and becoming the only woman to make the final table since Barbara Enright did it in 1995.
Here Comes Sylvia: Rob Salaburu opened for 550,000 holding
and received a call from Steve Gee, who held
on the button. A short-stacked Jesse Sylvia, who began the day 12th in chips, then moved all in for 8.085 million with
from the small blind. Salaburu moved all in over the top, and Gee got out of the way. Both players were on their feet as the flop came down
. Sylvia hit his king but tempered his celebration until after the
and
appeared on the turn and river respectively, giving him a double to 17.17 million. Not long after, Sylvia's stack grew to 22.88 million after he took a chip-lead grabbing pot off Jacob Balsiger.
Two Bracelet Winners in Contention: The last bracelet winner to win the Main Event was Chris "Jesus" Ferguson in 2000, but two men — Steve Gee and Greg Merson — had a chance of equaling the feat. Gee won a bracelet in 2010 when he took down a $1,000 no-limit hold'em event, and Merson captured gold just days before the 2012 Main Event in the $10,000 Six-Max No-Limit Hold'em tournament. Interestingly, Merson had played 11 consecutive days between that event and the Main Event.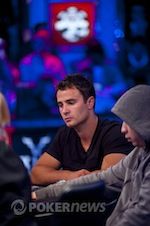 Heartbreak for the Canadian: Marc-Andre Ladouceur opened from the cutoff for 480,000 holding
and was met with a three-bet to 1.255 million by Andras Koroknai, who held
in the small blind. Ladouceur responded with a four-bet to 2.15 million and then called when Koroknai moved all in for 8.925 million. There was a 99 percent chance there would be a split pot, but the
flop gave Koroknai a flush draw and a 33 percent chance of winning outright. The
turn made that happen, and after the
was put out on the river for good measure, Koroknai doubled to 18.3 million; while Ladouceur lost 64 percent of his stack and was left with 5,025,000.
Wong is Gone: In the last hand of the first episode, Marc-Andre Ladouceur opened for 480,000 from the hijack only to have a short-stacked Danny Wong move all in from the cutoff for 1.92 million. Greg Merson then moved all in over the top from the big blind, Ladouceur folded, and the cards were turned up.
Showdown
Wong:

Merson:
Ladouceur had folded
, so Wong was drawing thin. He had only a 23 percent chance of surviving the hand. That percentage dwindled to zero as the board ran out
and Wong was sent to the rail in 14th place for $465,159.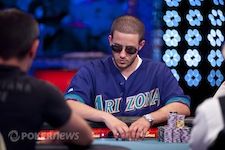 Merson Dispatches Ladouceur: In one of the first hands of the second episode, Greg Merson opened for 500,000 from the cutoff with
and then snap-called when Marc-Andre Ladouceur moved all in from the big blind for 4.265 million holding
. It seemed as if Ladouceur was primed for a double when the
appeared in the window, but it was followed by the
and
to give Merson a flopped full house. Neither the
turn nor
river helped Ladouceur, who shook hands with Merson before departing in 13th place ($465,159).
The Big One: Russell Thomas opened for 500,000 with
and received a call from Steve Gee holding
on the button. Jesse Sylvia came along from the small blind with
, and Scott Abrams called from the big with
. The four players saw a flop of
. Sylvia checked his set, and Abrams did the same with top pair and a flush draw. After Thomas checked, Gee bet 1.45 million with his inferior flush draw, Sylvia woke up with a check-raise to 3.4 million, and Abrams came in with a raise of his own to 7 million. Both Thomas and Gee folded, Sylvia moved all in, and Abrams called off for 20.255 million — creating a pot worth 44.14 million!
Abrams was the one at risk and was a 3-1 dog. The
turn meant Abrams needed a diamond on the river that wasn't the queen, but it was not meant to be as the
peeled off. Sylvia rushed over to his rail to celebrate while a dejected Abrams made his exit in 12th place for $590,442.
Last Woman Standing: Andras Koroknai, the 30-year-old former computer engineer from Hungary opened for 605,000 with
and was met with an all-in three-bet to 3.465 million from Elisabeth Hille, who held the
. Koroknai made the call and Hille was racing for her tournament life. Hille needed some help to stay alive but was left wanting on both the
flop and
turn, though she did pick up a Broadway draw. Much to her dismay, the
blanked on the river and she was sent home in 11th place with $590,442. "Good luck, I hope you make the final table," Hille told the last woman standing, Gaelle Baumann.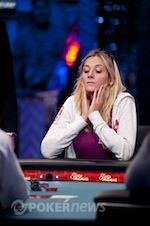 The October Nine Bubble: Speaking of Gaelle Baumann, she entered the final 10 as the short stack but managed an early double to 4.66 million when her
held against the
of Greg Merson after the board ran out
. She was still the short stack, but the crowd, which was clearly in favor of witnessing history, erupted in cheers after the hand.
A few hands later, Baumann shoved all in for 5.2 million from the hijack with
and action folded to Andras Koroknai, the man who benefited from a very controversial hand against Baumann earlier in the tournament. Koroknai thought for a while before calling with the superior
and was a 69 percent favorite. The
flop opened up some chop options, as did the
turn, but the
river put a dagger through Baumann's heart and made her the final table bubble girl in 10th place for $590,442.
"It's been great. It's just been awesome," Baumann told Kara Scott in her post-elimination interview. "They have been awesome. I'm really proud to have been so far, even if it's probably the worst place. I mean not the worst place to end in, but I'm disappointed right now, but I'm still very proud of what I've done. I'll be fine."
With Baumann's elimination, the October Nine was set.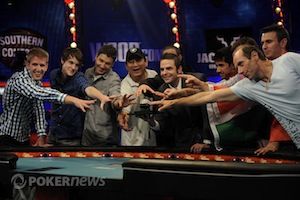 | Seat | Player | Country | Age | Chip Count |
| --- | --- | --- | --- | --- |
| 1 | Russell Thomas | USA | 24 | 24,800,000 |
| 2 | Jacob Balsiger | USA | 21 | 13,115,000 |
| 3 | Jeremy Ausmus | USA | 32 | 9,805,000 |
| 4 | Steven Gee | USA | 57 | 16,860,000 |
| 5 | Greg Merson | USA | 24 | 28,725,000 |
| 6 | Jesse Sylvia | USA | 26 | 43,875,000 |
| 7 | Robert Salaburu | USA | 27 | 15,155,000 |
| 8 | Andras Koroknai | Hungary | 30 | 29,375,000 |
| 9 | Michael Esposito | USA | 43 | 16,260,000 |
Tune in Next Week: The WSOP will continue on Monday, October 29 at 8 p.m. EDT on ESPN2 as the final nine play down to the top three. Then, on Tuesday, October 30 at 9 p.m. EDT, ESPN will air the finale of the 2012 WSOP Main Event. Who will become the 2012 WSOP Main Event champion and claim the $8,527,982 first-place prize? Be sure to either check your local listings or come back next week for our recap of the action.
Don't forget to follow us on Twitter and like us on Facebook.