The Nightly Turbo: A-List Celebs Play Poker Tourney, New Jersey iGaming Bill Advances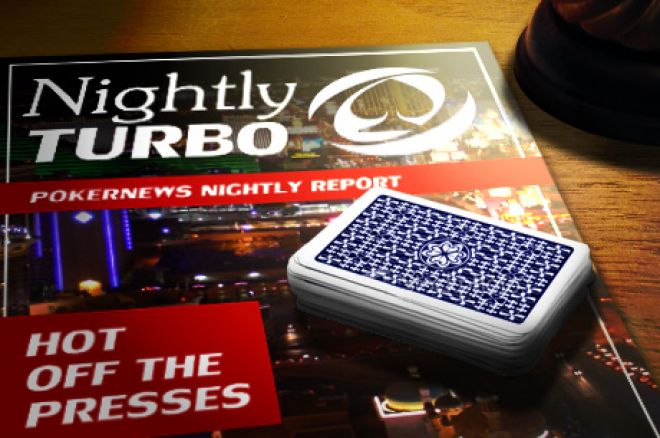 Looking for the day's biggest poker stories? You've come to the right place. In this edition of the Nightly Turbo, we're covering a poker tournament featuring some of the world's most famous celebrities, an online poker bill advancing in New Jersey, and more.
In Case You Missed It
Respected poker media member and author Lou Krieger passed away this month after a long battle with cancer. Chad Holloway took a look back at Krieger's many contributions to the poker world.
The 2012 World Poker Tour Prague Main Event kicked off on Monday. More than 150 players came out to play, and Pasi Heinanen led the way after Day 1a.
The Full Tilt Online Poker Series (FTOPS) resumed on Monday. Take a look at the winners in our FTOPS XXI Day 2 recap.
Need advice about moving up in stakes? CardRunners video instructor Peter Jennings, also known as "Marshall28" online, offers some hand analysis and tips in his latest training video.
A final table was reached at the 2012 DeepStacks Poker Tour Mohegan Sun National Championship on Monday. Read about the six remaining players in our daily recap.
Do you think you're a fantasy football expert? Well, DraftKings is giving you an opportunity to prove it. The DraftKings Main Event is on Dec. 23 and features $250,000 in total prizes, with a life-altering $100,000 going to the overall winner.
Celebs Earn $300,000 in Charity Poker Event
Mel Gibson, Jodie Foster, Robert Downey, Jr., Sean Penn, and Gene Simmons – unfortunately, it's not the cast for an epic new film. Instead, it is the list of major Hollywood celebs who convened for the "Four Kings & An Ace" celebrity poker tournament benefiting Mending Kids International.
The event took place Dec. 1 at the London Hotel in West Hollywood and raised $300,000 for the organization. Mending Kids International is one of L.A.'s non-profits that sponsor critical surgeries for children around the world correcting congenital heart defects, orthopedic abnormalities, severe scoliosis, and cranial facial deformities.
The event came with a $10,000 ticket donation, which came with perks like dinner at Gordon Ramsay's restaurant, poker lessons from World Poker Tour commentators Vince Van Patten and Mike Sexton, and round-robin style poker with each one of the celebrity hosts — all for a noble cause to benefit the children in need.
Great time at poker charity event last night w/Mel Gibson, Jodie Foster, Sean Penn, Robert Downy Jr., & many others.

— Mike Sexton (@MikeSexton_WPT)
The event included performances from The Commodores, Dominic Scott Kay, Nia Peeples, American Idol winner Lee Dewyze, and featured other celebs like Danny Trejo of Machete, Linda Thompson, and Camille Grammer.
The Hollywood Reporter has more.
Progress in New Jersey
An amended bill that would allow intrastate online gambling in New Jersey could be back on track after it was approved by the New Jersey Assembly on Monday.
The bill allows for licensed casinos located in Atlantic City to offer authorized games — including poker — to residents of the state. Supporters of the bill believe it will help boost Atlantic City's casinos which suffered the biggest revenue drop in the country last year at 9.5 percent. Casinos in neighboring Pennsylvania and Delaware have been siphoning business from New Jersey since 2006.
According to NorthJersey.com, State Sen. Ray Lesniak predicts a bill vote by the Full Assembly on Dec. 17, followed by a state Senate vote on Dec. 20.
"It's still not too late for Atlantic City to become the Silicon Valley of Internet Gaming," Lesniak told supporters Monday.
Lesniak, one of the leading sponsors of the measure, originally hoped for the bill to pass through the Senate in March, but it didn't have enough Democratic votes to be addressed. Lesniak blamed the delay on opposition from the racing industry, as well as Gov. Chris Christie's wavering in his support of the bill.
Read more at NorthJersey.com.
Lobbying for Federal Online Poker Bill Continues
The American Gaming Association (AGA) has launched a campaign pushing Congress to pass a federal online poker bill before Congress' lame-duck session ends.
Earlier this year, Senate Majority Leader Harry Reid and Minority Whip Jon Kyl created a bill that would legalize online poker but would ban other forms of Internet gambling like slots or baccarat. The bill was created by a new interpretation of the Wire Act that reversed the 1961 law that bans wagering over telecommunications lines — applying it only to sports betting.
Frank Fahrenkopf Jr., president and CEO of the AGA, leads the lobbying efforts urging Congress to pass the bill to prevent the gaming's expansion on a state-by-state basis. "Without swift congressional action, the U.S. will soon see the largest expansion of legal gambling in its history," Fahrenkopf said in a statement this week. "And without any federal guidelines in place, the result will almost certainly be inadequate oversight that creates a world of unnecessary risk and problems for law enforcement and U.S. consumers."
Senator Kyl is also set to retire after the session, another reason why it is necessary to push for legislations now. "Kyl is critically important in convincing other conservatives that something must be done," Fahrenkopf added.
The bill, entitled the Internet Gambling Prohibition, Poker Consumer Protection and Strengthening UIGEA Act of 2012, would establish a framework to license and regulate Internet poker companies, and to assist in the growth of a US-based online poker industry while targeting companies such as Full Tilt Poker and PokerStars, which violated The Unlawful Internet Gambling Enforcement Act of 2006.
"Congress must establish federal minimum standards that address consumer protection, prevent underage gambling, promote responsible gaming and provide help for those with gambling problems," Fahrenkopf said. "It must also provide a regulatory structure allowing for Native American casino operators — who will never agree to be regulated by the states—to be involved, and clarify and restore federal law so that law enforcement communities have the tools necessary to prosecute illegal online gambling operators."
The AGA's statement followed the release of a video that outlines the reasons for federal online poker legislation.
The Las Vegas Review-Journal has more.
Microgaming Rebrands
On Tuesday, Microgaming announced that it has officially re-branded its poker network as MPN, adding another major change in its transformation efforts over the past two years. Previously known as the Microgaming Network, MPN has undergone significant changes since January 2010, including modifications in layout, game selection and design.
"The re-brand of the network to MPN and the launch of the network website are both significant milestones for Microgaming poker," said Lydia Melton, head of network games at Microgaming. "We are approaching our 10th year in operation, and we are stronger than ever before. However, we will not be resting on our laurels. What we have done with all these changes is build the framework for a scalable and sustainable network. Now that the framework is in place, we are more flexible, resilient and adaptable to any changes that this turbulent industry can throw our way."
Among the new changes at MGN include anonymous tables, an HTML 5 client, a new Flash client, and Blaze Poker, a fast-paced format similar to Rush Poker and ZOOM Poker. MGN is also preparing to roll out a new poker lobby, designed for both beginner and advanced players, in the coming months.
MGN recently added Betsson to its online poker network. The Stockholm-based company previously ran its poker offering on the Entraction/IGT Network, but was forced to find a new home when Entraction/IGT closed its poker network in September. In addition to Betsson.com, other operators such as Paf, iGameMalta Ltd, 24h Poker, and BetVictor Poker, will be joining MPN, with more operators expected to join MPN before the end of the year.
For the full story, check out PokerFuse.com.
Sunday Million Highlights
Another well-known poker pro took down the PokerStars Sunday Million this weekend. Kevin "iacog4" Iacofano outlasted more than 7,000 players and collected $197,052 after a heads-up chop. Amazingly, it came less than six months after he finished runner-up in the same event. Check out the highlights of his win, courtesy of PokerStars.tv:
Get all the latest PokerNews updates on your social media outlets. Follow us on Twitter and like us on Facebook today!