Let MagicHoldem Be Your Personal Poker Coach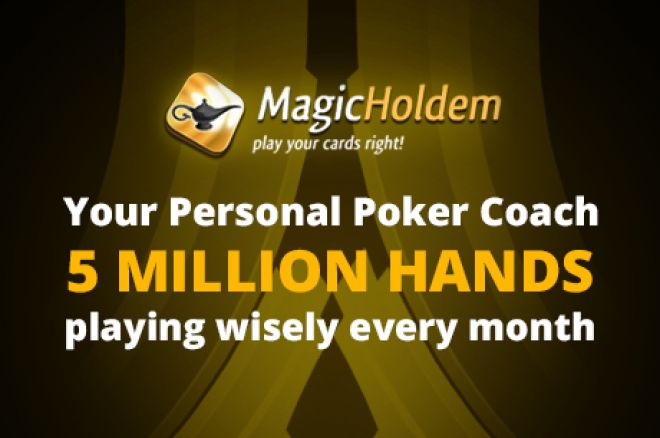 In order to be successful in poker you have to find an edge and once you have discovered your edge, you need to maximise it. One way to gain an edge over your opponents is be able to profile them quickly and accurately, but this can be a difficult task. That is unless you are using the amazing MagicHoldem software.
A group of software and business professionals who shared the common goal of helping poker players to learn the game, play poker to a higher standard and to enjoy the game of poker more created MagicHoldem in 2009. After months of hard work and programming, MagicHoldem came into the world and gave players an easy to use yet extremely powerful online poker tool.
There are three main features of MagicHoldem, Pre-Session, In-Session and Post Session. These three components work in unison to give poker players the ultimate poker tool.
Pre-Session
The Pre-Session features include analysis of your poker playing profile along with tips and weak spot analysis. While In-Session is where you will find the poker odds calculator, heads-up display (HUD) and a bankroll management tool. Last but not least, during Post Session you can see a summary of your play and your playing statistics along with being able to analyse your session playing profile and find any leaks from your session.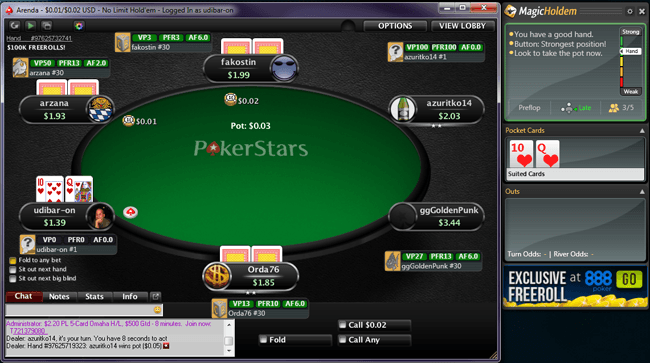 In-Session
As you will spend the majority of your time playing poker, you will probably find the In-Session features the most useful when you start to use MagicHoldem, especially the poker odds calculator. As you play in a cash game or tournament, MagicHoldem automatically detects your tables and attaches itself to them. Here, it calculates and present a plethora of statistics such as win odds, out odds and how many outs you have in real time, allowing you to focus on other areas of your game such as strategy and the all-important decision-making.
In addition to the poker odds calculator, MagicHoldem also evaluates your hand strength on every street (preflop, flop, turn and river) in both visual and text commentary, meaning you can see at a glance how your hand fares in the grand scheme of things. Add this hand strength and commentary section to the poker odds calculator and it is easy to see that you have a very powerful poker tool readily available as you play online poker.
Furthermore, MagicHoldem comes with a simple yet effective heads-up display (HUD) so you can instantly profile your opponents. As soon as you have played 10 hands against an opponent, the MagicHoldem HUD displays your opponent's playing style in real time, along with notes on what each statistic means in addition to a description of how MagicHoldem rates your opponent.
Post Session
MagicHoldem provides you with a plethora of statistics about your play so you can find leaks in your game and plug them so that your profits can potentially soar. The software is extremely easy to navigate, which makes learning about your play a simple task.
Instantly see where you are going wrong and what elements of your game are solid and receive recommendations based on your playing style. You'll wonder how you ever functioned without MagicHoldem.
MagicHoldem operates within the terms and conditions of online poker sites such as PokerStars, 888poker and iPoker skins bet365, Poker770, William Hill, Titan Poker and Winner Poker, giving you a wide selection of sites to use MagicHoldem at.
PokerNews' very own Tony G says of MagicHoldem, ""If you're not learning at poker then you're losing. The MagicHoldem Personal Poker Coach is like having me next to you at the table as you improve your game hand by hand, session by session"
Jon Squires, CEO of iBus Media Ltd, the parent company of PokerNews, said of the new partnership:
"Roy and Eran have delivered a great product for those people looking to start their poker career. MagicHoldem is a fun and inventive tool which has the backing of several of the top rooms and we expect our newer players to have some real success with it."
Eran Loewenstein, MagicHoldem's CEO is delighted to have partnered with PokerNews:
"I am tremendously excited to launch MagicHoldem's strategic partnership with PokerNews. Together, we bring to market a comprehensive poker education and training experience, fulfilling a growing need of the online poker ecosystem."
What are you waiting for? Download MagicHoldem today and instantly transform your game. It could pay for itself in one online poker session!
Get all the latest PokerNews updates on your social media outlets. Follow us on Twitter and like us on Facebook now!