WPT Alpha8 on FOX Sports 1 Florida Part II: What Parents Think, a Gross Nitroll, & More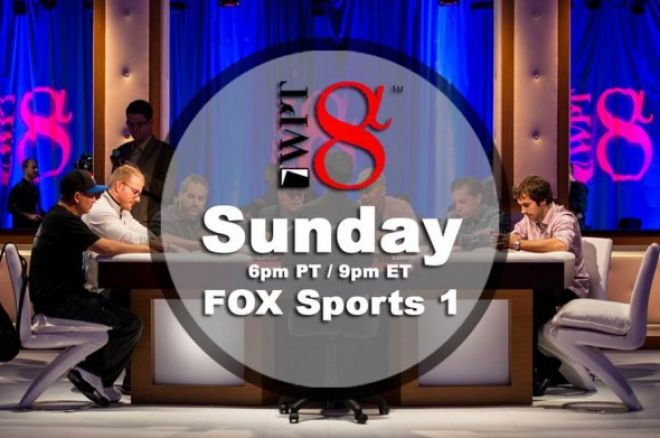 At the end of March, the World Poker Tour Alpha8, a series of high buy-in events located at exotic locations around the world, premiered on Fox Sports 1. The first of these events, which attracted 21 entries, took place at the Seminole Hard Rock in Florida and featured a $100,000 buy-in.
I wrote a recap of the premiere in which I talked about the news commentating team Ali Nejad and Olivier Busquet; highlighted the first hand ever played on an Alpha8 broadcast; and had a behind-the-scenes look inside Jason Mercier's pad.
Below is my recap of Part II of the WPT Alpha8 Florida starting with a look at feature table at the top of the broadcast (please note Daniel Perper, Isaac Haxton, and Daniel Alaei opted to reenter the tournament):
| Player | Count |
| --- | --- |
| Jason Mercier | 382,200 |
| JC Tran | 234,800 |
| Jeff Gross | 134,300 |
| Bill Perkins | 132,600 |
| Isaac Haxton | 115,200 |
| Chris Klodnicki | 99,400 |
| Daniel Perper | 98,400 |
| Matt Glantz | 47,500 |
The Macau Big Game: It's well known that the biggest cash games in the world take place in Macau, especially after my recent interview with Tom Hall, who just so happened to be playing the Alpha8. Unfortunately Hall, who hopes to play the Big One for One Drop this summer, was the first player eliminated without the option to reenter. Hall, who admitted he was on a bender the night before the tournament, officially bowed out in 16th place.
A few minutes later, Team PokerStars Pro Jason Mercier admitted that he had never been to Macau, which I thought was surprising. He's considered one of the best players in the world, but then again that consideration applies mainly to tournaments.
Sound Effects: In one hand when Bill Perkins sent his cards to the muck, a little "zip" sound effect was added. "WTF was that?" I asked myself. It was obvious and out of place. I didn't like it one bit.
JC Tran vs. Bill Perkins: These two players played quite a few hands against one another, including this one where they both flopped a two-way straight draw. Check out the clip:
A Gross Nitroll: Remember last week when I gave Matt Glantz kudos for taking a bad beat well? In this week's broadcast I have to chastise Jeff Gross for nitrolling poor Chris Klodnicki.
The hand began when Gross opened for 5,200 under the gun with the
and then called when Klodnicki made it 13,500 from the small blind. The
flop gave both players top pair, and Gross ended up calling a bet of 12,000 from his opponent. The
turn saw Klodnicki bet 17,000, Gross call, and the
complete the board on the river. Klodnicki moved all in for his last 28,900, and Gross did not snap-call. Instead, he double checked his cards and began talking aloud.
"We probably could have gotten this over preflop," Gross said. "So sick. The guy has a monster."
Eventually Gross, who thought his opponent had aces, made the call and Klodnicki confidently tabled his hand. Gross then showed him it was no good, and the look on Klodnicki's face said it all…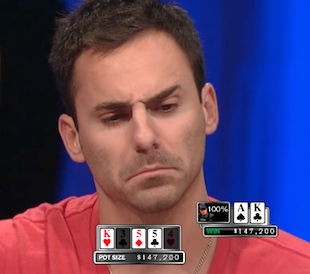 Likewise, Bill Perkins seemed stunned…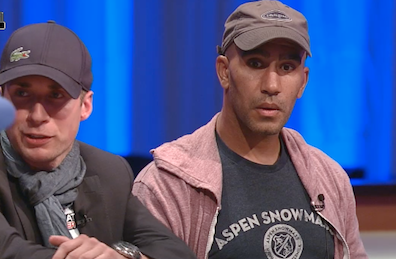 "I almost folded, I swear to god," Gross explained after Klodnicki departed. It wasn't anything malicious like an intentional slow roll, but still a soul crushing loss for Chris.
Friends with Phelps: It's well documented that Jeff Gross is good friends with Olympian Michael Phelps, and in a sit-down interview with Lynn Gilmartin – which took place in a cabana – Gross revealed that he and Phelps had actually met at a poker table nine years ago.
What Do Your Parents Think?: The WPT asked the players what their parents think about what they do, and here are some of their answers:
Isaac Haxton: "My family are pretty used to the idea of me playing poker for big money. At this point I've been doing it for a few years. They get it, that this is what I do for a living, and they're not too stressed about it."
Daniel Alaei: "They just know it's part of the job and they support me as I go."
Bill Perkins: "They think it's a little crazy, but they also think it's fantastic."
Jeff Gross: "I mean my parents love poker. My dad, that's like one of his favorite hobbies and he likes following along, so they're really supportive.
Steven Silverman: "My mom likes to follow along and to calculate how much I'm winning or what my stake is in the tournament."
Joseph Cheong: "I just try not to tell my mom, she'd have a heart attack. So yeah, I don't tell them anything."
It's Time for the Perky-lator: In the last hand of the broadcast, Isaac Haxton raised to 10,000 from the button holding the
. Bill Perkins looked down at the
in the big blind and moved all in for 82,000, which prompted a call from Haxton. Perkins knew even before the cards were turned over that he was in trouble, but he seemed to "perk" up when the
gave him some options.
"A very choppy board," Haxton commented. Indeed, there was a 60% chance to chop as any card over an eight would do it. However, those hopes we diminished when the
turn actually gave Haxton two pair. "That works pretty well," Haxton concluded.
The
river spelled the end of the road for Perkins, who shook hands with everyone at the table.
Tune in Next Week: On Sunday, April 13, FSN will air Part III of the Alpha8 Florida $100K, so be sure to check your local listings. If by chance you miss it, check back next week for the latest recap of all the action here on PokerNews.
*Pictures courtesy of World Poker Tour.
Get all the latest PokerNews updates on your social media outlets. Follow us on Twitter and find us both Facebook and Google+!