Five Thoughts: Crumpling Cards, the Seminole Hard Rock $10 Million Guarantee, and More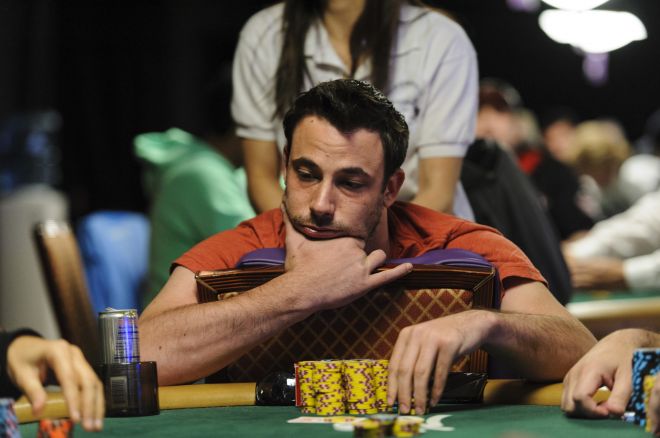 While the players were approaching the bubble in the Season XII WPT World Championship a few weeks ago, I stumbled upon an interesting conversation on an outer table between amateur Cathy Dever and professionals Scott Seiver and Tony Dunst.
"I've been doing this every day for 10 years," Seiver told Dever. "Anyone who says that they don't hurt is lying."
The players at the table were discussing the effects of bad beats, and Dever seemed comforted that Seiver, who has over $10.7 million in career live tournament earnings, could still be bothered when the best hand didn't hold up. On the surface, Seiver and other young pros can come off as robotrons – copyright Colson Whitehead – and continue seemingly unaffected after being dealt a horrific beat.
"Oh yeah," Dunst agreed, joining the conversation. "Just losing in general [hurts]."
Ironically, Dunst had kings cracked by David Grandieri's
the very next hand, but he remained calm. After cutting out enough chips to send across the felt to Grandieri, he rebounded and eventually finished third for $452,729 – the biggest score of his career.
In my five-plus years of covering poker, I've witnessed some terrible bad beats in pots worth hundreds of thousands – if not millions – of dollars in equity. There's Matt Affleck's elimination in the 2010 World Series of Poker Main Event, which happened just hours after Filippo Candio hit a miraculous straight against Joseph Cheong. During Phil Ivey's fifth final table appearance at the 2012 WSOP, he had pocket eights cracked by Samuel Golbuff's six-deuce. Last year, Jason Mercier, who like Ivey tends to field a lot of bracelet bets, was the victim of a two-outer for 20 percent of the chips in play with 16 players remaining in Event #44: $3,000 No-Limit Hold'em.
Viktor Blom binked a one-outer against Joe Cassidy in the 2012 $50,000 Poker Players' Championship, and who can forget this gem during the 2011 WSOP Main Event between Shaun Deeb and Max Heinzelmann.
Some of the players who lost these pots were understandably emotional. Affleck was crushed, doing his best to hide tears after having his dreams shattered in an instant. After a frustrating summer of close calls, Ivey stewed at the table with his last few big bets and basically sprinted out of the Mothership the second the final card was dealt in his elimination hand. Cassidy couldn't stop yelling "oh my god" after being crippled by Blom, holding onto his blue LA Dodgers cap for dear life.
Bad beats sting. Experiencing a surge of anger and disappointment – especially when you're deep in a tournament – is natural. The best players are capable of suppressing these negative emotions, or at least masking them, and moving on to the next hand. As Seiver explained earlier, the pain never leaves.
It's completely unacceptable to act out of line when dealt a bad beat, and none of the losing players in the hands I listed did so. None of them berated players. None of them berated the dealer. None of them threw cards. None of them knocked chip stacks over. There was none of that nonsense, and there never should be. It's embarrassing.
This past weekend, during Day 1 of the PARX Big Stax VI 1500, Ryan Eriquezzo was dealt a bad beat. Instead of moving on to the next hand, he crumpled his cards and allegedly threw them. He also allegedly berated the dealer. In turn, the PARX Poker tournament staff disqualified him from the event. I'm still not sure if this was the right decision or not, but I am certain that Eriquezzo acted stupidly, and a more thoughtful approach to the game would've saved us all from this silly controversy.
1. Crumple Cards, Hit the Exits
"Life happens, and we only have a short time on this planet, so we should try our best to enjoy it and find the things in our lives that we have to be grateful for. I have many things to choose from, as I'm very blessed. A poker hand should never make me lose perspective on that again."
Eriquezzo wrote those words a little over a year ago on his blog. He later admitted in the same post that he "lost his temper a bit" after losing a race to a player in a recent tournament, and was given an orbit penalty for berating a player for "a few minutes." He went on to win the event.
In a completely fair world, Eriquezzo's past wouldn't have played a role in this specific PARX ruling, and it shouldn't play a role in future transgressions. Unfortunately we don't live in a completely fair world, and people make decisions based upon perception and prejudice all of the time. If a person walks into a job interview looking like Chris Anderson – Mohawk, crazy tattoos, earrings – and is as equally qualified and says the exact same things as a straight-edged Poindexter, then the more "normal" looking individual is going to get the job more often than the Birdman. It may not be fair, but it's reality. Eriquezzo's blowups precede him.
Likewise there is other history between him and Amanda Musumeci. Again, people are capable of change and shouldn't be judged solely by past mistakes, but go take a look at Mike Vick's Twitter mentions and you'll see that not everyone is willing to forgive.
If anything, Eriquezzo's past makes it difficult to talk about the actual issue – should a floor staff be able to disqualify a player from a tournament for crumpling cards?
My heart says yes. There is no room for crumpling cards in poker. It's destruction of property. It shows a lack of respect for your peers and the staff. It's something a child does after losing a game of Monopoly. Every floor staff should have the right to protect the integrity of the game and disqualify anyone who crumples cards or excessively berates their opponents, the dealer, or the staff.
The issue is that there is a severe lack of consistency in poker rooms across the world. The Poker Tournament Directors Association has tried to combat this by creating a standardized set of rules for poker tournaments, but not all rooms use the TDA. According to PARX Poker Ambassador Matt Glantz, PARX follows most of the TDA rules, but omits some like first card off the deck. Other festivals like the World Series of Poker have their own set of rules altogether. The lack of consistency allows for complications like this one.
There's also the fear of absolute power. Floor staffs make mistakes too – plenty of them, in fact – so granting them total authority is out of the question.
In the end, as it often does, it comes down to the players. If you don't act like a jackass, then you don't have to deal with the consequences. It's really that simple. This entire mess began when a player opted to throw cards rather than take a deep breath and move on to the next hand. The staff didn't make a mistake or insight an incident, all they did was react to a player who was completely out of line.
I still don't know if PARX was right or wrong after spilling all of that digital ink. In fact, this is how I feel at this very moment:
2. Seminole Hard Rock Posts Dates for $10M Guarantee
If you want to play both EPT Barcelona and the Seminole Hard Rock Poker Open $10 million guarantee, have no fear.
On Tuesday, the Seminole Hard Rock in Hollywood, Florida released the dates for the 2014 Poker Open, and the $10 million guarantee kicks off on Aug. 28 – two days after the completion of EPT Barcelona. The Florida festival – you can find the entire schedule here – also features a $100,000 super high roller.
It is uncertain whether or not the super high roller will be an Alpha8-branded event.
This move by Ray Stefanelli, along with whoever else is involved in the decision-making process at the Seminole Hard Rock, is brilliant. Initially, the dates for these two festivals conflicted, but in order to make sure that Americans who traveled to Spain and Europeans who want to play in the $10 million guarantee can do both, Stefanelli and company made the necessary switch.
It's a fairly simple business decision, but it's very refreshing to see after the World Poker Tour and PokerStars butted heads in April. There were a few players who bounced around from Florida, New Jersey, Italy, and Monaco, but for the most part players either stayed in America or Europe. With a $10 million guarantee, the Seminole Hard Rock can't take that chance, even though they nearly cleared the guarantee by $2 million in 2013.
The $10 million guarantee was an extremely fun event to cover last year. It generated a significant amount of buzz, and thanks to a very good structure, the last three or four tables were filled with big-named pros. The event ended up being a launching pad for Mukul Pahuja, who finished in third and went on to win the Season XII WPT Player of the Year even thought that wasn't an official WPT event, and it was a harbinger of things to come for the winner, Blair Hinkle.
Hinkle earned over $1.7 million for the victory, then a few months later he found out he was finally going to get another million dollars back from Full Tilt Poker.
It will be interesting to see if more European players make the trip this year now that it's after EPT Barcelona, and they won't have to jump on a plane and fly back immediately. The super high roller on property may also entice more players to make the trip as well.
3. SCOOP in the BOOKS
The 2014 Spring Championship of Online Poker is done and dusted, and the winner of the $10,300 Main Event was Ivan "vandir4rek" Soshnikov. The Russian defeated Peter "Se7enTr3y" Akery heads-up after a three-handed deal, winning $1,048,000. Akery walked away with $860,000, and an unknown player – "Better C4ll" – earned $890,820 for third place.
Also reaching the final table were Martin "M.nosbocaJ" Jacobson, Phil "Grindation" McAllister, Ben "NeverScaredB" Wilinofsky, and Santiago "sanpri" Nadal.
"LexaLucky666" defeated Zimnan "Zimmy86" Ziyard heads up in the SCOOP Medium Main Event, and Ari "BodogAri" Engel won the SCOOP Low Main Event. Engel navigated his way through a field of 21,545 players to capture the $187,669 top prize after a four-way deal.
All three main events more than doubled their guarantees. The $3 million guaranteed High generated a prize pool of $6,570,000. The $2 million guaranteed Medium $4,047,000. And the $1 million guaranteed Low $2,154,500.
The $40 million guaranteed for the entire festival was also doubled. The 135 tournaments generated a total prize pool of $81,222,158, and no country won more money than the United Kingdom. In total, the Brits raked in $11,573,794.05, edging out Canada by a little more than a million dollars.
SCOOP Earnings by Country
| Rank | Country | Money Won |
| --- | --- | --- |
| 1 | United Kingdom | $11,573,794.05 |
| 2 | Canada | $10,414,452.07 |
| 3 | Russia | $6,318,944.23 |
| 4 | Germany | $5,102,009.17 |
| 5 | Mexico | $4,593,597.71 |
The United Kingdom finished tied for second in bracelets, however, and no country won more than Canada.
SCOOP Wins by Country
| Rank | Country | Bracelets |
| --- | --- | --- |
| 1 | Canada | 18 |
| T2 | Germany | 15 |
| T2 | United Kingdom | 15 |
| 4 | Russia | 13 |
| 5 | Poland | 7 |
All data courtesy of PokerStars
Russia led all countries in cashes (8,487) and entrants (62,986), while Canada led in final tables (129). I'd like to think that the great United States of America helped our neighbors to the north with some of these accolades since we're unable to play on PokerStars here in the "land of the free."
Yes, we're still bitter.
4. Madsen's Heater
Three-time WSOP bracelet winner and 2006 WSOP Player of the Year Jeff Madsen is simply, en fuego.
Since winning his third bracelet at the 2013 WSOP last summer, Madsen has reached six final tables and won four more events. His most recent victory came at Commerce Casino, where he took down the Heartland Poker Tour California State Poker Championship. The California native defeated Alex Greenblatt heads up, earning $160,060 and the giant bear trophy
Also reached the final table were Amit Makhija and Doug Lee. Yes, that Doug Lee.
Madsen defeated Kevin Saul heads up in a six-max event at the Borgata Spring Poker Open, earning $51,150, and a few days before that he made a deep run in the $2,500 buy-in Championship Event. His hot streak at Borgata continued into the WPT World Championship, where he ultimately fell in 19th place for $33,967.
Throughout his stay in Atlantic City, Madsen appeared extremely focused. He may be known for his excessive Twitter rants after busting from tournaments – you can check his feed for some past explosions – but on the surface you could never tell. Madsen plays a bit slow. He's deliberate. Thoughtful. Even during his heads-up battle with Saul he was never in a rush to maximize the amount of hands played, rather he wanted to make sure he played each hand correctly.
The world is much different when you're 28 as opposed to 21, and I think we're starting to see that from Madsen. Then again, most of you tournament pros will scoff at that statement, stick your nose in the air, and say "variance."
I'm certainly one to believe in "form," and Madsen is definitely in form heading into the WSOP.
5. Campanello Hits a Buzzer Beater
It took until the final stop of the 2013/2014 World Series of Poker Circuit, but 2013 WSOP bracelet winner Bryan Campanello locked up a seat in the WSOP National Championship with a win in the Harrah's New Orleans Main Event.
The young RunGoodGear pro also pocketed $175,459.
Campanello defeated Gary Friedlander, who also walked away with six figures for his runner-up finish. Joining them at the final table was Las Vegas pro Eric Blair. The always friendly Tim West locked up the Casino Championship in NOLA, netting him a seat in the National Championship as well.
A Southlake, Texas native, Campanello's climb as a professional poker player is unlike the stories we're accustomed to. Prior to Black Friday, the classic young American poker story started with a small deposit onto a poker site, and it ended with crushing nosebleed cash games or high-stakes MTTs. Campanello was a teenager on Black Friday, however, and he and his group of friends grew up playing in live games in Oklahoma. Thus, there was no need to transition between online poker and live poker in 2011.
Campanello's poker résumé is already impressive at 22, but even he admits his bracelet win was a bit of a farce. After busting from a pot-limit Omaha event, a game he is very proficient at, he tilted and hopped into the razz event.
"I got some chips on Day 2, so I figured I should start learning how to play this game," he told me in August of last year. "I went and talked with oerockets Owais Ahmed] and said, 'This is what I'm doing, is it right?" He told me that it was a good strategy, then showed me a few things."
Campanello also consulted George Danzer, and the next day he defeated David Bach heads up to win the goal.
"I may never play another razz tournament again in my life," he joked. "I'm just going to one-and-done it. I'm just going to take that money out of the limit community and donate it back to the no-limit."
Bravo, Bryan. Bravo.
Get all the latest PokerNews updates on your social media outlets. Follow us on Twitter and find us on both Facebook and Google+!