How to Play Daily Fantasy Hockey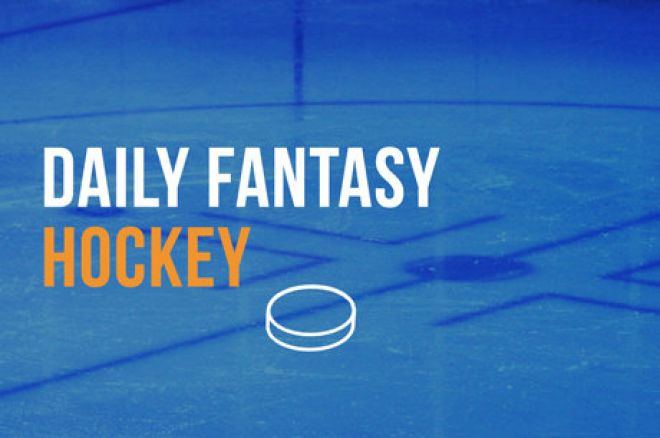 We've continued to go through the Daily Fantasy Sports (DFS) one by one, and after covering the basics of getting into football and basketball, we'll move on to a much colder arena, the ice. Hockey carries far less popularity than football and basketball, but if you're a puckhead, the less-explored frontiers could mean more value for you. And if you're not, well there's plenty of time to learn.
Choosing a Game
Once you've moseyed on up to your browser's address bar and headed to your daily fantasy sports website of choice, your first decision will be what kind of game you want to play. Generally speaking, most DFS games fall under one of two categories.
The first type and the one most DFS ads trumpet is the guaranteed prize pool (GPP) massive field contest. These tournaments often have thousands, sometimes tens of thousands of entrants, and prize distribution is sometimes very heavily weighted towards first (it allows the sites to advertise things like "winning $5,000 for just a $2 entry!"). A poker equivalent would be a multi-table tournament on a major site pre-Black Friday. Similar to such poker tournaments, winning requires an insane amount of luck and a fair amount of skill, although that's somewhat less true in hockey compared to other DFS. The reason is that hockey is substantially less popular, so with smaller fields you are naturally dealing with less variance.
For those looking for a less risky option offering more readily-accessible prizes, there are the contests in which a set percentage of the field takes home a cut of the prize pool. For a poker player, think of these like sit-n-goes. They can range in size from a few thousand players down to just two, known as a head-to-head. Head-to-heads and "50/50s," both of which feature half of the contestants collecting payouts and half coming up empty-handed, are the most commonly played of these variants.
Plenty of varying stakes are available for players with any size bankroll. Even the dead broke among us can get in on the action; DraftKings offers nightly freerolls in the NHL giving away tickets to "Step 1" tournaments. These tournaments allow a player to slowly build up through higher buy in "steps," starting at $2. Each step is a league (either 10 or six players), culminating in Step 4, which pays out $200 to the top two. DraftKings also has a number of tournaments for just a quarter that can get the micro grinder rolling, while FanDuel offers the "NHL One Timer," which features a $3,000 prize pool for just a $1 buy in. Each site also offers plenty of satellite-type tournaments that will be familiar to poker players as a means of getting into bigger buy-in events for a cost as low as $1 on FanDuel and 25 cents on DraftKings.
Sign up for DraftKings now and compete for massive prizes tonight!
Drafting a Team
Now that you've picked out your game of choice, it's time to get down to the nitty gritty (also the fun part): drafting your team.
Each DFS site gives you a set amount of salary with which to start. It's up to you to decide how to distribute that salary amongst the positions, which will vary slightly depending on which DFS site you are on. FanDuel, for instance, goes with a position-specific format featuring two each of left winger (LW), right winger (RW), defense (D), and center (C), along with one goalie. DraftKings, meanwhile, also goes with a nine-man roster, but they keep it a little more flexible. Players draft three generic Ws and one utility, which can be any non-goalie, in addition to the two Ds, two Cs, and the net minder.
Another factor that must be taken into account when deciding which players to buy is your DFS site's scoring system. Scoring can vary widely based on the site you're using, so be sure to pore over it because it can drastically affect player value. Player plus/minus (+/-) is an example of a huge difference in scoring between sites. Sites like FanDuel and DraftDay that use +/- give a big boost in scoring to players participating in strong lines and productive power play units on good teams, whereas even the best players on a weak squad will have their value hurt. Also notice that some sites give points for penalty minutes. The sensibility of that can be debated, but it must be factored into the values you assign the players.
Things to Think About
Drafting a team can be a long, involved process that takes hours of poring over research and relevant articles, or it can be a 30-second process that's done in a few short clicks. It's all up to the user and what kind of experience he or she wants to get.
If you're looking to do a bit of due diligence before you draft your first team, here are some things to keep in mind before you start spending that fake dough.
Betting Lines – The importance of paying attention to Vegas lines is massive, and appropriately, we want to look for massive lines. Make a sheet with all of the lines and crosscheck all of the players you like to see what the line and total is in their games. This is especially important for choosing your goalie. Lower totals mean less goals allowed, and bigger favorites are more likely to get a win and the three DFS points that come with. On the flip side, high totals are going to mean more point-scoring opportunities for skaters. If you like two guys about the same, and one guy is in a game where the total is 5.5 with -120 on the over, and the other has a total of 5 with -110 on the under, that's a strong hint the value may be on the former.
Public Perception – As a rule, the goalies who are heavily favored on the money line and/or facing bad teams are going to be massively owned. If a top goalie is facing the Sabres, you can be sure he will be on heaps of teams, and you may want to dig a little deeper. This isn't as much of a concern in the 50/50s where you only need to beat half of the field, but in a large-field contest, you need beat almost everyone to hit it big, so you want a lineup that's not easily duplicated.
Injuries and Lineup Changes – These can vastly alter player values, especially as lines are shifted around and lesser players vault into power play units and top two lines where much higher point totals are possible or backup goalies get a spot start. Since prices are usually set well at least a day in advance in DFS, you can sometimes find high potential at bargain bin prices when these things happen. How will you stay alert? Plenty of resources are out there, but one way is to follow beat writers on Twitter, who will almost always be in tune with even minor team news.
Correlation and Causation – Similar to the way lineups interact in football, the players can interact in ways that increase the chances of a big scoring night for your lineup. For example, drafting teammates on the same line can net you big points if one assists to the other. This kind of high risk/high reward strategy is key for large-field tournaments.
Finally, it sounds like the most obvious thing in the world, but just put in work. Daily fantasy hockey is a smaller market than other games like football and basketball, so there's less information floating around out there. There are all kinds of advanced stats and lineup resources out there just waiting to be mined by the diligent player, and in a less-efficient small market like hockey, that can make a world of difference in being a winning player.