Impressions from 2015 NIGA Conference Part I: DFS, PokerStars, and iGaming Expansion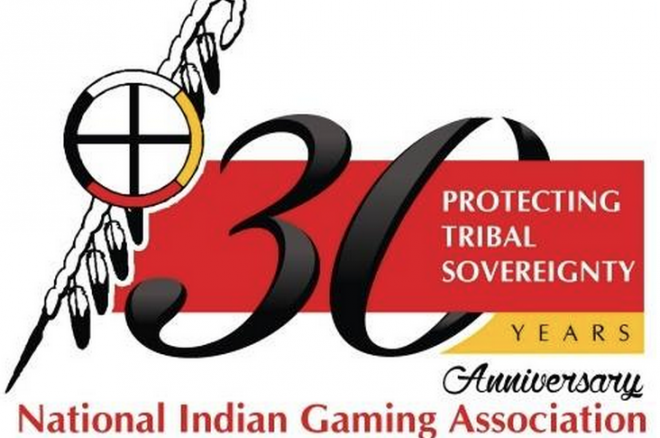 From March 31 to April 2, I had the chance to travel to San Diego for the 30th Annual National Indian Gaming Association (NIGA) Indian Gaming Tradeshow & Convention. The conference attracted more than 5,000 tribal government officials, Native-owned business leaders, and gaming executives, and it showed just why it's the "largest gathering of tribal leaders and casino industry executives in the country."
While there were panels and booths dedicated to all facets of Indian gaming, one of the major talking points was Internet gaming (iGaming), a hot-button issue in California as tribes continue to debate various online poker bills. I had the opportunity to attend many of the iGaming panels, and I thought it'd be worthwhile to share my thoughts and takeaways from each.
Player Development in the Mobile Real-Time World
This session was hosted by Ralph Thomas, Chief Data Scientist and Vice President Gaming Division VixExplorer, and focused on player development tools. It wasn't centered on iGaming per se, but it did focus on how properties can attract customers in an increasingly mobile world.
Thomas explained that 75 percent of customers use smartphones, and 70 percent of those 55 and older in the United States use Facebook. In order for a property to develop new players, Thomas contends tribal properties must keep up with the times.
"[We have a] level of insight with our customers we've never had before," said Thomas. "We need to take advantage of that."
Thomas then went on to classify today's casino patrons as one of four types:
Laggards — Those who don't use mobile devices.
Utilitarian — Those who use mobile devices for basic needs.
Socializers — Those who use mobile devices to socialize. They already know what's going on.
Leader — Those who are on top of everything in the mobile realm. They may know your product better than you do
Thomas then highlighted the importance of correctly appealing to each. For instance, you wouldn't email promotions to a Laggard, but you would a Utilitarian. Likewise, you wouldn't send promotional material via snail mail to either Socializers or Leaders, but you would a Laggard.
Takeaway: Know your customers. It's an increasingly mobile world, and if you hope to develop new players you need to keep up on the latest technological developments.
Social and Fantasy Gaming: A New Angle for Tribal Casinos
Since real-money iGaming is only legal in three states, this session looked at legal options currently available to tribal casinos such as daily fantasy sports (DFS) and gamified social games.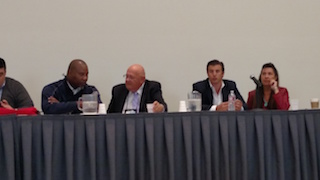 "Why don't we look at something that's actually legal?" asked Valerie Red-Horse, owner of Red-Horse Financial Group, Inc. and the moderator of the panel, which also included Adam Krejcik, Managing Director Eilers Research LLC; Chris Dolman, NFL Hall of Famer now with Anthem Media; Wayne Shonfeld, Database Dynamics representing Seneca Gaming; and Lou Maione, CSO of FNTSY Sports Network, RotoExperts LLC.
The panel kicked off with Krejcik explaining that while real-money gaming in the U.S. is currently a state-by-state thing, social gaming, which can help lay the foundation for iGaming, is global.
"The opportunity [for social games] is immediate," said Krejcik. He then explained that such games have mass appeal, with slots/bingo games catering to women, and DFS the male demographic, one "much more aligned with your poker community."
At that point DFS took center stage, but not in a traditional manner. While sites like DraftKings and FanDuel dominate the online landscape, Maione explained that tribal properties could bring fantasy sports into the casino. Interactive drafts, guest sports stars, and parties were just a few of the examples cited as to how casinos can increase foot traffic.
"There are lots of ways a tribal casino could implement a fantasy space," Red-Horse added. Another way advocated by Shonfeld, who cited his successful case study in New York's Seneca Gaming properties, was to connect with the world of DFS much like off-track betting connects horse racing across the country. Live fantasy updates and a place to draft with other players are already happening online, but if done right it could also take place in brick-and-mortar properties.
They also suggested that while tribal casinos can't directly compete with DFS sites, they can take advantage by letting said sites drive and educate the market and then leverage their own skill sets.
Takeaway: DFS is multifaceted, and it seems casinos want to get in on the action. It struck me that to do so they are following a blueprint the poker world implemented during their boom years, mainly using celebrities and pro athletes as a way to attract new players.
Along those same lines, many of the casinos would view DFS much like they do their poker rooms, not as big money makers but as a way of getting people in the door.
Krejcik summed it up best when he said: "[It's] indicative of the crossover benefits of poker and DFS."
Finally, I had the opportunity to ask Krejcik how someone like Sheldon Adelson, who wants to ban iGaming with the Restoration of America's Wire Act (RAWA), views DFS.
"He hasn't come out one way or the other on DFS, it remains to be seen," he said. However, he added the more interesting angle is how states view the issue. He then cited Texas as an example of a state that is interesting in issuing licenses for DFS. "The potential for that is great," Krejcik concluded.
A State-By-State Look at Internet Gaming Expansion and Policy
This was without a doubt my favorite session. It not only talked the most about online poker, but had some animated panelists including Pechanga.net's Victor Rocha; Joseph Colebut, Foxwoods Development Company; Joe Valandra, Great Luck LLC; and moderator Kevin Cochran, Senior Legal Analyst for Gambling Compliance.
Straight out of the gate, Rocha, who is as close to the tribal happenings as anyone, gave his opinion on iGaming legalization in California and Pennsylvania, the two states most bantered about.
"Conventional wisdom is bills will get fleshed out this session," said Rocha. "For me, [actual legalization] you're looking at 2-3 years. Personally I think you're going to have to wait a couple more years for Pennsylvania. Still, it's exciting to see them try to get their legs under them."
Before long Adelson's RAWA was brought up, and this seemed to light a fire under everyone.
"I'm not worried about it at all," Valandra stated. "He's become the boogeyman."
Valandra believes RAWA advocates made a mistake by lumping lotteries into their bill as opposed to carving them out. He points out that four states (Minnesota, Michigan, Illinois, and Georgia) currently sell lottery tickets online, and that industry as a whole has long relationships with politicians. He then encouraged the tribes to stand up to Adelson.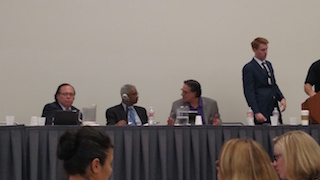 "We shouldn't let Sheldon Adelson divide us," Valandra said. "Don't let Sheldon be the only one speaking. Take a position and make your voice heard."
"I put my money on any country over Adelson any day," Rocha added. "We don't have the luxury of sitting on our ass and waiting to see what happens. We are our own worst enemies when it comes to getting ahead."
Indeed, the rest of the panel echoed that the U.S., and especially the tribes, are behind the rest of the world when it comes to iGaming.
Perhaps the biggest revelation from the panel came from Rocha.
"They're trying to make backdoor deals with PokerStars. [Amaya CEO] David Baazov told me this himself," Rocha revealed at one point regarding iGaming opponents Adelson and Steve Wynn. It was a big statement, and I was able to grab Rocha after the panel to get some context.
"They wanted to go to bed with them," said Rocha. "Remember Steve Wynn was in bed with PokerStars in the beginning. So they've been back channeling them to try and do a deal with them. He's told it to me twice."
He continued, "I don't think they're trying [now]. They drew the line in the sand, that David is not going to play ball with them. He wants it to be PokerStars, and these guys, they're kings of the world and they're trying to crush the new guy. David knows this and understands it."
Speaking of PokerStars, it seemed the entire panel agreed that they controlled the online poker space, and that tribes should be more focused on other games.
"If you're going to invest money, that's not where you're going to invest it as a business," said Valandra. "I wouldn't start with poker. By the time they pass a bill, no one is going to want to be in poker but PokerStars."
Finally, Colebut, who helped spearhead Foxwoods' free-to-play site, encourage tribes to look at iGaming in the U.S. as a hybrid model different than that in Europe. Colebut envisions online and brick-and-mortar operations working in tandem, which has been the case in New Jersey.
Takeaway: Tribal leaders don't see poker as a wise investment for two reasons. First, they view it as declining, and second because PokerStars essentially controls the market. That begs the question, shouldn't tribes from around the country seek to align with PokerStars much like the Morongo and San Manuel have done in California?
Check back tomorrow for Part II of our 2015 NIGA Conference impressions.
Want to stay atop all the latest in the poker world? If so, make sure to get PokerNews updates on your social media outlets. Follow us on Twitter and find us on both Facebook and Google+!