Five Thoughts: GPL Draft List Revealed, Negreanu Blogging Hard, and Award Predictions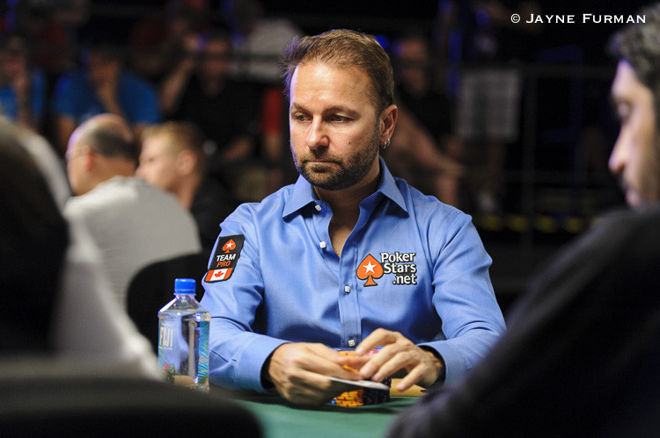 They call it "the poker boom" — the period of exponential, unprecedented growth that hit poker following the moment ESPN aired Chris Moneymaker clinching his 2003 World Series of Poker Main Event victory over Sam Farha. The boom refers not only to the explosion in popularity of the game as a whole, but the expansion of the industry in ways never seen before.
All of a sudden there were new tournaments, new poker rooms, new media, and of course, new business ideas. Companies popped up selling everything from poker accessories like sunglasses and card protectors to hooded onesies — remember that short-lived booth at the WSOP? Big-time growth in any industry means there's an untapped market with the potential to support a profitable business venture.
Anyone who has been in or around the poker world for any reasonable length of time has seen a few of these come, and more often than not, go. It's not 2006 anymore, the craze has become a calm, and poker has basically settled into its new, albeit larger, niche. Most would likely say trying something new and a little crazy is doomed to failure, but one man would for sure argue that point.
1. Global Poker League Draft-Eligible List Revealed
Alex Dreyfus made waves late last year when he announced a team-based poker competition called the Global Poker League (GPL), which is set to make its debut this year. The league called on the top 1,000 players as ranked by Dreyfus' Global Poker Index to fill out applications to become draft-eligible. The deadline was today, and the list has been released.
A total of 203 players signed up, including industry luminaries like Antonio Esfandiari, Martin Jacobson, and Mike McDonald. The draft, which will see 12 franchise managers pick three players each, is scheduled to take place Feb. 25.
Of course, while 203 players is plenty to choose from considering less than 18 percent of that bunch will actually be selected, that means nearly 800 players chose not to opt into the draft process. Poker players can be notoriously flaky, so it's possible many never bothered to look into the opportunity or simply put it on the backburner until it became an afterthought. Others, such as Steve O'Dwyer, Connor Drinan, and David Peters, gave PokerNews a few moments of their time to explain their decisions, which can you read about here.
One common complaint, appearing both in the linked article and in a number of spots on Twitter, regards the contract players must sign, which calls for a two-year commitment including media duties and a non-compete among many, many stipulations. Many feel the financial framework, which sends the majority of the revenue — 70 percent — to the league, isn't worth it for the players.
Daniel Negreanu recently penned a blog entry regarding the issue, and I'm largely in agreement with what he has to say on the subject. Not liking the contract and the situation is a perfectly fair and reasonable point-of-view, and players with any reservations should simply pass on signing it.
Signing the contract is a gamble. It's a gamble that participation in the league, which sounds like it could involve some grinding not only in terms of playing but doing promotional work, will pay off in some way beyond the $100 per hour players will receive the first year and $150 the second year. It's a gamble in the league itself, that much is obvious to anyone who has seen any of these innumerable poker business ideas that ultimately failed.
I'm on the record as skeptical, but succeed or fail, this is certainly one of the most ambitious attempts at innovation the poker world has seen.
2. Negreanu Talks High-Stakes Vegas Cash Games
Speaking of Negreanu's blog, he has come out firing in 2016 with some enjoyable content, chronicling his efforts to renew his participation in high-stakes cash games. Negreanu has a stated goal of 200 hours of live, cash-game play in the calendar year with a hope of clearing $250,000 in profits.
One of the things that stuck out to me in the blog entries — check them out here and here — was the details of the actual games Negreanu played. The first night, it was an eight-game mix featuring stuff like pot-limit 2-7 razz and pot-limit double draw five-card draw. The next night, it was the standard 10-game mix with 2-7 razz, 2-7 no-limit triple draw, and pot-limit Omaha high-low added.
I think as poker continues to evolve, we will see high-stakes games continue to evolve to more and more mixed formats. It's been inching that way since the advent of the 8-game and 10-game mixes online just a little before Black Friday. On the other hand, as more and more players achieve mastery of no-limit hold'em and pot-limit Omaha, those games are becoming less popular at the highest levels.
It's my sincere hope that there's a trickle-down effect and mixed formats become more popular at lower limits, too. I transitioned a lot of my cash action to 8-game on PokerStars later in my time playing there and loved it. And every summer, members of the media gather for mixed-game action and drinks a few times during the WSOP. It's always a blast, and I think it's healthy for the game if new games gain popularity so that newer players aren't doomed to always be ages behind.
3. American Poker Awards Coming Up
In addition to the GPL draft, another big event is scheduled for Feb. 25: the GPI American Poker Awards, which will see 13 awards handed out across a variety of categories ranging from Media Content of the Year to Breakout Performance of the Year.
Two of the categories have already been decided, as they're determined by GPI rankings. Byron Kaverman will take home Player of the Year and Kelly Minkin will claim Female Player of the Year, as they finished atop those respective leaderboards in 2015. That leaves 11 to be voted on by a yet-to-be-named jury.
I can't speak for all of the awards — for example, I wasn't personally in attendance for a number of tournaments in the Event of the Year categories — but I'll throw out a few selections for awards I feel more qualified to discuss. For Breakout Performance of the Year I'll take Asher Conniff after he banked more than $1.3 million and took down the World Poker Tour World Championship. For Media Content of the Year, I found it hard to stop reading BUST, Brad Willis' Southern poker tale. For Poker Moment of the Year, I like Negreanu's 11th-place run in the WSOP Main Event — I've never seen that much energy surrounding a poker tournament. And in the Poker Innovation or Initiative of the Year, I just don't think you can deny The Colossus was one of the biggest things to happen to poker in a long time.
Also, of course, best of luck to PokerNews' own Donnie Peters and Sarah Herring in their respective categories.
4. PokerStars Removes Heads-Up Games
As part of its "commitment to reducing predatory behavior and improving the recreational player experience," PokerStars has made the decision to remove heads-up cash games as of today, replacing them with Zoom tables, where players can't choose their opposition.
I suppose the writing was on the wall, as it comes on the heels of last year's decision to remove all heads-up tables from Full Tilt. At that time, Full Tilt representatives outlined similar reasoning, saying "heads-up games were being adversely impacted by the minority of experienced players who targeted 'weaker' opponents rather than take on all challengers."
Predictably, the high-stakes community is less than pleased with this change, judging from the reactions on the TwoPlusTwo poker forum. Any time a person's ability to make a living is threatened, they're going to be justifiably upset. Essentially, PokerStars is forcing the regulars to play more breakeven-ish hands against each other.
I understand PokerStars wants to clean up some of the ugly practices that have pervaded the high-stakes poker scene. At the same time, the high-stakes heads-up games were once the pinnacle of poker. The battles between the game's titans were followed with interest by thousands. It's a level players dreamed of reaching, and now that dream is essentially dead.
5. A Glimmer of Hope in California?
Recently, California Assemblyman Mike Gatto took a rather bearish view of online poker's chances in the most populous state in the US, saying he pegged the chances at less than 10 percent. Gatto cited the convergence of a number of differing views from relevant parties and a lack of general urgency to get anything done with a topic that was in its eighth year of discussion.
With time running out for a bill in 2016, a new development emerged that has potential to get things moving.
Assemblyman Adam Gray suggested a $57 million annual stipend for the state's horse racing industry, which is apparently one of the primary roadblocks in the attempts to push legislation forward.
Sounds good on paper, but Chris Grove of OnlinePokerReport said it's "plausible" that New Jersey could see $30 million in tax revenue from online gaming at some point in the future, after seeing the most recent reported figures from that state. California has about 39 million residents to New Jersey's 9 million, and some basic and very rough math suggests that an optimistic figure for California would be only a bit more than double the proposed stipend.
That's a hefty chunk to be shipping someone to essentially stand down and allow online poker to happen.
Want to stay atop all the latest in the poker world? If so, make sure to get PokerNews updates on your social media outlets. Follow us on Twitter and find us on both Facebook and Google+!