Five Thoughts: Kassouf's Fame, Ivey's Split Decision and Becoming a Belieber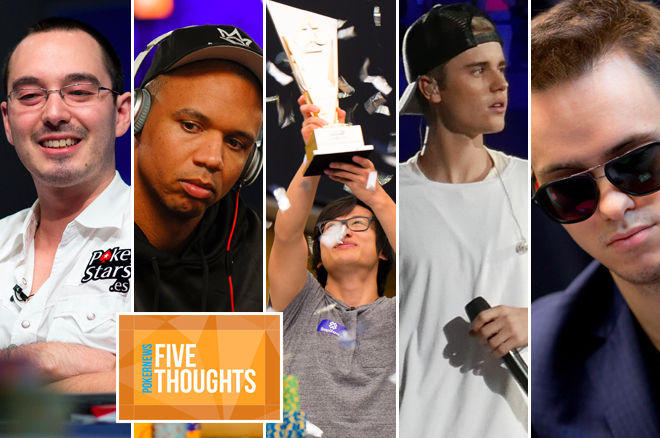 They called his personality abrasive. They labeled his table talk abusive.
In fact, most of the players left in the 2016 World Series of Poker Main Event when William Kassouf finally busted couldn't have been happier to see him go, but no matter what you think of him, there's no doubt he left a mark on the 2016 WSOP and the game of poker this year. In this week's Five Thoughts, we ask if it will be a lasting one.
Plus, we examine Phil Ivey's latest legal battle, [Removed:17] riding a high roller hot streak, Justin Bieber finding his way to the felt and Timofey "Trueteller" Kuznetsov telling his version of the truth on Twitter.
1. 15 Minutes of Fame

The World Series of William Kassouf is finally over. After dominating the ESPN coverage of the 2016 World Series of Poker Main Event for weeks, the outspoken Brit's dramatic final hand aired this week and he fell in 17th place.
It was Griffin Benger who got to do what the remaining field, clearly tired of his antics, wished they all could have. Not only was Benger on the right side of an aces over kings cooler, but he managed to turn Kassouf's own speech play against him, calling him rude, mean, a verbally abusive bully and possibly even goading him into, what in the end, was probably an inevitable shove with an inferior hand.
Benger ultimately shut Kassouf up this time, ending his considerable time in the spotlight, but the question remains: Are his 15 minutes up?
After so much TV time, is Kassouf poker's newest celebrity or just a one-hit wonder? We know he's made the poker podcast rounds as this run aired, but will the media attention dry up now that it's over? Will he be all over the circuit, making deep runs in big events and challenging the rules on speech play around the globe? Will he spawn a legion of followers, who try to emulate his vocal style in their attempts to book big scores?
Only time will tell.
2. Ivey's Split

It was more than a little disappointing to see a federal judge release a split decision in the $9.6 million edge-sorting case between Phil Ivey and the Borgata Hotel Casino & Spa last week.
The judge ruled Ivey was not guilty of fraud, but did breach a contract with the casino when he and a partner took it for almost $10 million, reading flaws on the backs of the cards to gain an edge playing baccarat. Appeals and further legal wranglings notwithstanding, it appears Ivey will soon have to pay back the money he won.
Not that he was suddenly going to turn into Robin Hood and spread his winnings out among the poor public, but this did take on the feel of a battle being fought on behalf of every punter who has been hit in the face with the house-always-wins rule time and again.
It looked like Ivey had flipped the house edge on its ear and struck a blow for every red-blooded gambler whose ever tried to do the same. Now it just looks like another example of the fact you can't beat the man at his own game.
3. Yan Can Cook

In poker, hot streaks are a thing. Momentum is real. Particularly, it would seem, in high roller events.
Just ask Erik Seidel, Steve O'Dwyer or Fedor Holz, who are among those who have all ridden the high of a high roller hot streak to fame and fortune in the recent past.
Now, it appears, it's [Removed:17]'s turn. The rising Kiwi star won the PokerStars EPT Malta €25,750 High Roller for €465,800 on Sunday, after a runner-up finish where he walked away from a chop with the lion's share of the prize pool in the PokerStars EPT Barcelona €25,500 High Roller this past August. All this is with a six-figure World Series of Poker Circuit Berlin Main Event win sandwiched in between.
Players on such streaks often talk about the confidence that winning breeds and how that confidence helps them trust their reads. Fitting then that Yan was able to play bluff catcher in the final hand Sunday, calling a sizable shove with two pair on a board where a flush and straight were considerable possibilities. He went with his gut, he was right and this latest hot streak was born.
4. I'm A Belieber


Justin Bieber was spotted playing relatively low-stakes no-limit hold'em at a casino in London last week.
This marks the second time this year the Canadian pop idol has been seen mixing it up on the poker tables, with several snapshots of him playing inside the Borgata poker room in Atlantic City surfacing a few months back.
Like millions who enjoy the game around the world, it seems the Biebs has discovered poker as a pastime where everyone sits down as equals and can play with the public without drawing too much in the way of unwanted attention.
Several people have taken shots at Bieber for playing low stakes, and with a net worth upwards of $200 million, it's certainly fair to say he can afford to play higher than $1/$2, but why should he? At just 22 years old, Bieber would have to be considered a relative newcomer to the game and those are the stakes where a newcomer belongs.
It's not clear whether Bieber's been bitten by the poker bug or was just out playing cards on a lark a couple of times. However, if this is the beginning of a story where he falls in love with the game, learns to play, moves up in stakes and ultimately lends his considerable celebrity to help grow the game going forward, it's certainly starting out the right way. Call me a Belieber, but I'm excited to see how it all plays out.
5. To Tell You The Truth

Without the blue verified badge, it's hard to tell if it's really him, but an account claiming to be Timofey "Trueteller" Kuznetsov is making considerable waves on #pokertwitter right now.
The Russian online high-stakes legend has apparently been channeling his inner Doug Polk, with @trueteller_ calling out several of his peers and displaying an acerbic-yet-fun attitude towards it all.
So far, there have been Tweets calling Fedor Holz a luckbox, the Global Poker League a failure and any American outside of of Phil Ivey, Jason Mercier and Isaac Haxton "nits/shit regs."
He also claims to have challenged Phil Hellmuth to a $100,000 heads-up match, which the Poker Brat apparently declined. All this, and the account has only been active since September.
If it is him, Kuznetsov may be pushing a bit too hard, but at the very least, it's nice to see another of the latest generation of high-stakes players injecting a little personality into the game.
Finding a trustworthy room to play online poker can be a monumental burden. That's all the more true if you're just looking for a place to play poker for free. We've listed five of the best play-money poker sites to enjoy and help hone your skills.