The Railbird Report: "Tom Dwan Is Not Kidnapped and Not Part of the Triads"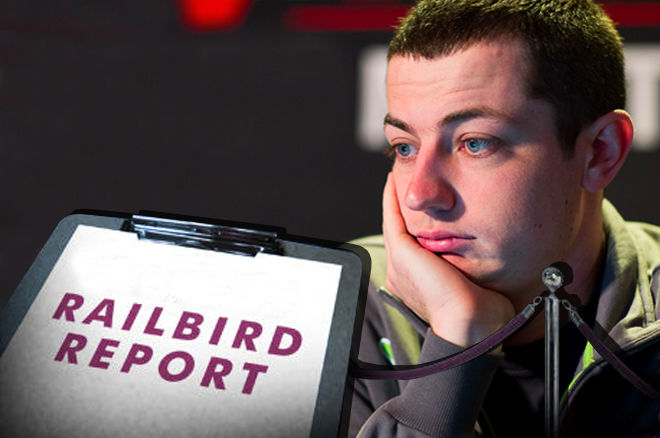 For quite some time, Tom "durrrr" Dwan was the biggest name in poker. At the top of his popularity, he earned a spot on Team Full Tilt. And it wasn't just some lousy "Red Pro" contract getting $20 an hour and 100 percent rake back, but a spot on the main team, presumably accompanied by a fat paycheck.
Howard Lederer hailed him as "the first pure internet player to come up and really establish dominance playing the biggest games."
In an introduction, Chris Ferguson dubbed him the best player out there and Patrik Antonius followed up in agreement.
"Tom Dwan has been the real deal since he stepped into the big games," Antonius said.
That was November 2009, and in 2010, Dwan was still on top of the poker world, partaking in one of the biggest WSOP bets at the World Series of Poker that year.
The high stakes world held their breath as Dwan made it to the heads-up portion in a $1,500-event. Established pros like Lederer, Ferguson, Matusow and countless others walked around nervously, uneasy about the prospect of losing a ton of money if Dwan would grab the precious first-place prize and bracelet. He eventually finished second to Simon Watt and some of the most prominent players simultaneously sighed in relief.
In 2011, Dwan was still living the good life, flying private jets around the world talking about big winning days (seven-figures) and huge losing days (minus $3.8 million):
Then, Black Friday happened and Full Tilt Poker crumbled. The truth started to surface; Full Tilt Poker wasn't going to return and Team Full Tilt was no more. As PokerStars stepped in and bought Full Tilt Poker's assets and debts, the site was back up a year later and one of their first big marketing stunts was to establish "The Professionals," a team of pros that would represent the site.
Gus Hansen was brought on board first, followed by Viktor Blom and Tom Dwan. Upon his introduction, he was hailed in as "one of the most feared and respected players in the world today" by the marketing department of the relaunched site.
A little over a year later, Tom Dwan and Full Tilt Poker parted ways. While a Full Tilt Poker spokesman still called him "one of the most respected names in poker", he was by no means that at that point in time. Dwan would later say he had a big issue with Full Tilt Poker and those not so warm feelings were mutual. While it never came out what the issue exactly was about, Amaya personnel didn't hide their surprise when he later showed up to the EPT Grand Final to play cash games. "How does he dare to show up here?" one employee was overheard saying, declining to address what had happened when asked.
Dwan still had an unfinished "Durrrr Challenge" with Dan "Jungleman12" Cates. The latter wasn't happy about things not moving ahead. Dwan, in the meantime, wasn't showing his face in public all that much after that.
Some poker fans started to get worried, especially since he was seen in Macau more and more. The digital railbirds started threads on message boards, hinting at the former top pro being in trouble with the American government, the Chinese Triads and more.
Those rumors were only fueled when Tom Dwan's name popped up when Paul Phua was arrested. He was one of the people besides Phil Ivey and Andrew Robl who put up bond money for the accused.
While Phua was acquitted of all charges and it turned out the link to the 14K Triad was anything but substantial, many railbirds kept linking Dwan to the Triads. Memes putting the former Team Full Tilt pro in moist dungeons hit the internet. Dwan was still tight to the Asian high rollers, as confirmed by Winfred Yu back in May 2015:
Tom Dwan's Twitter account died down, and Dwan's last comment on Two Plus Two with any substance was in a thread about him playing a huge game in Macau back in 2014. Every now and then, news did resurface of his whereabouts. People even spoke of a $20 million losing session.
While Tom Dwan still remains silent himself, some news came out this week, again by Winfred Yu, president of the Poker King Club. As action was underway in the Triton High Roller Series, Yu gave Asian poker website somuchpoker.com spoke out about Dwan:
"Tom has access to the big games because he is a very likable guy and he gives a lot of action. VIPs love his action. I've read many stories about Tom being kidnapped or is part of the Triad, and people staking him, that's totally not true."
So, it appears Tom Dwan is doing fine. He does still look a bit bleak, though.
---
Last Week's Biggest Pots Online
Dwan might be doing fine, but he hasn't been seen online in years. Over on Full Tilt Poker (+$2,165,475), he was last seen in November of 2013 according to HighStakesDB.com. Over on Stars, his screenname "Holdem_NL" hasn't been spotted online in even longer and he doesn't have a profile anymore.
It's a different group of players roaming online these days. Here's this month's biggest three pots so far:
---
1) "WRUUUUM" Wins a $75,624-Pot (756 big blinds) versus "Ravenswood13"
($50/$100 NLHM HU)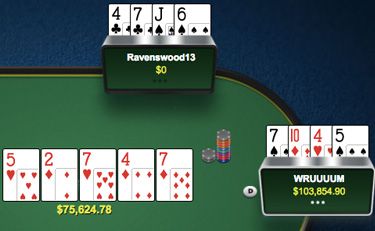 "WRUUUUM" raised the button to $340 only for "Ravenswood13" to three-bet to $1,060. WRUUUUM called to create a $2,200 pot and see a flop.
The flop came
and Ravenswood13 check-called a bet of $1,438.33. With now $5,076.66 in the middle, the
hit the turn and Ravenswood13 check-called $5,034.16.
The
on the river paired the board and Ravenswood13 bet out $5,889.96 into the $15,144.98 pot. WRUUUUM shoved all in and Ravenswood13 called all in for $30,239,90.
WRUUUUM showed
, winning the pot as Ravenswood13 mucked his
.
---
2) Patrik "Fake Love888" Antonius Wins a $66,170-Pot (132 big blinds) versus Ben "Sauce123" Sulsky
($250/$500 NLHM HU - part of mix)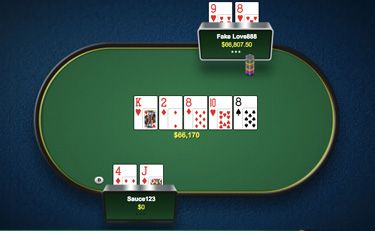 Ben "Sauce123" Sulsky was first to act and raised to $1,000 from his button. Patrik "Fake Love888" Antonius, seated in the big blind, three-bet to $3,000 and Sulsky called to create a 6,000 pot.
The flop came
and Antonius bet $3,000. Sulsky called. Both checked the
on the turn and the
completed the board. Antonius checked again and, with $12,000 in the middle, Sulsky pushed for $27,085. Antonius called with
for rivered trips; Sulsky showed
for the missed flush draw.
---
3) Alexandros "mexican222" Kolonias Wins a $63,156-Pot (316 big blinds) versus "prot0"
($250/$500 NLHM 6-max - part of mix)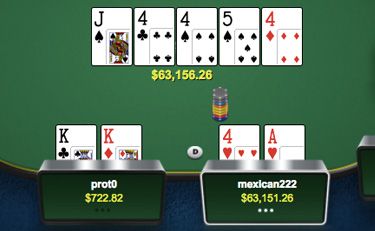 Action folded to Greek high roller Alexandros "mexican222" Kolonias and he raised to $400 from the button. In the small blind, "prot0" three-bet to $2,000 and the big blind folded. Kolonias called in position to see a flop in a $4,200 pot.
The flop came
and "pro0" bet $2,307,25. Kolonias raised to $6,712 and "prot0" called to build the pot to $17,624.
The
on the turn saw "prot0" check. Kolonias bet $5,814.27 and a call followed.
With the
on the river and $29,252.54 in the middle, "prot0" pushed for effectively $16,951. Kolonias called all in with
for flopped trips and rivered quads. "prot0" showed
and left the pot to his neighbor.
---
2016 hasn't been kind so far to Viktor "Isildur1" Blom, but the last couple of weeks, he has recouped in an impressive manner. He topped the daily leaderboard many times, and so far this month, he's the biggest winner as well, with over $150,000:
| | (user)name | hands | profit/loss last week | profit/loss 2016 | profit/loss all time |
| --- | --- | --- | --- | --- | --- |
| | Winning Players | | | | |
| 1 | Viktor "Isildur1" Blom | 3038 | +$150,488 | -$505,088 | +$1,495,873 |
| 2 | Alexandros "mexican222" Kolonias | 704 | +$73,407 | -$41,692 | +$133,001 |
| 3 | terror777727 | 92 | +$58,087 | +$54,013 | +$74,097 |
| 4 | Dan "w00ki3z." Cates | 1,507 | +$42,131 | -$12,064 | +$1,252,090 |
| 5 | Scarface.VLT | 851 | +$37,441 | +$22,174 | -$18,407 |
| 6 | Grazvis1 | 485 | +$36,773 | +$212,883 | +$217,941 |
| 7 | VeGeTTo89 | 1214 | +$32,603 | +$231,307 | +$287,919 |
| 8 | Ben "Sauce123" Sulsky | 2,095 | +$30,917 | +$787,621 | +$4,824,823 |
| 9 | Mariosy | 770 | +$25,806 | +$21,689 | +$21,689 |
| 10 | Trocola7 | 66 | +$16,678 | +$35,699 | +$34,928 |
| | | | | | |
| | Losing Players | | | | |
| 1 | bodamos | 663 | -$165,688 | -$828,483 | -$2,155,605 |
| 2 | Patrik "Fake Love888" Antonius | 2,111 | -$153,044 | +$290,634 | -$1,293,502 |
| 3 | Bill "GASTRADER" Perkins | 99 | -$82,622 | -$56,693 | -$283,705 |
| 4 | Henrik "hhecklen" Hecklen | 3,569 | -$63,161 | -$57,653 | +$17,831 |
| 5 | ltt1981 | 1,824 | -$60,439 | +$257,596 | +$257,596 |
| 6 | Dani "supernova9" Stern | 626 | -$51,710 | -$108,483 | -$542,943 |
| 7 | Andrey "Kroko-dill" Zaichenko | 510 | -$38,635 | -$105,498 | -$316,925 |
| 8 | Alex "Kanu7" Millar | 116 | -$38,425 | -$635,521 | +$2,625,070 |
| 9 | ZarubaNT | 103 | -$32,110 | -$72,033 | -$72,033 |
| 10 | Mark "AceSpades11" Radoja | 576 | -$23,534 | +$66,008 | +$85,172 |
The 2016 Leaderboard
Andres "Educa-p0ker" Artinano didn't play any hands of poker again, while Mikael "ChaoRen160" Thuritz won some to overtake the second spot on the podium of biggest winners in 2016. Top spot still goes to Ben "Sauce123" Sulsky, though he lost a bit in the first 10 days of November.
Blom leads the top three biggest losers, but dropped to the third spot after some winning weeks. While he was down over a million at one point, he's now down "only" $600,000 for the year. "bodamos" and Alex "Kanu7" Millar both lost this month and now make up the top two spots.
| | (user)name | hands 2016 | profit/loss 2016 | profit/loss per hand 2016 | profit/loss all time | ↑/↓ | most played game 2016 |
| --- | --- | --- | --- | --- | --- | --- | --- |
| | Winning players | | | | | | |
| 1 | Ben "Sauce123" Sulsky | 78,920 | +$787,621 | +$9.97 | +$4,824,823 | ↓ | 8-game |
| 2 | Mikael "ChaoRen160" Thuritz | 48,068 | +$586,022 | +$12.19 | +$1,446,570 | ↑ | 8-Game |
| 3 | Andres "Educa-p0ker" Artinano | 29,380 | +$561,403 | +$19.10 | +$982,391 | - | NLHM |
| | | | | | | | |
| | Losing players | | | | | | |
| 1 | "bodamos" | 10,646 | -$828,483 | -$77.82 | -$2,155,605 | ↓ | 8-Game |
| 2 | Alex "Kanu7" Millar | 28,694 | -$635,521 | -$22.14 | +$2,625,070 | ↓ | NLHM |
| 3 | Viktor "Isildur1" Blom | 178,222 | -$599,003 | -$3.36 | +$1,401,957 | ↑ | 8-game |
The above top three biggest winners and losers in online poker for 2016 and the top 10 biggest winners and losers online for the last week only consist of PokerStars accounts that haven't opted out with HighStakesDB.com.

*Photos by Neil Stoddart