Mikita Badziakouski Wins the Aussie Millions $50K Shot Clock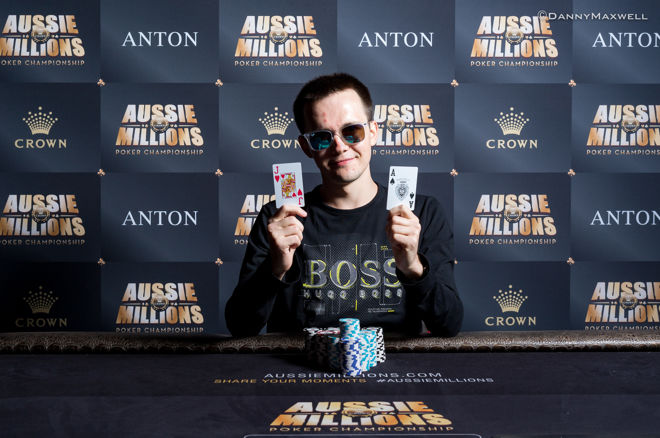 In 2011, Crown Melbourne's Aussie Millions Poker Championship was the first event in the world to introduce a Super High-Roller Event, which saw an astounding 20 players enter the '$250,000 Challenge,' creating a prize pool of AUD$5,000,000. The success of this event has since been mirrored across the world at almost all the poker majors.
This year in 2017, more visitors came to Crown to experience the Aussie Millions than ever before, including many of the highest ranked poker players in the world. However, there was a distinct lack of recreational players at the Super High-Roller level. For this reason, Crown added the $50,000 No Limit Holdem Shot Clock Six-Max to offer choice and variation and canceled the $250,000 this year.
While the $250,000 Challenge did not run, the $50,000 NLHE Shot Clock Six Max event did get underway. After waiting it out for a bit, Stephen Chidwick, Ben Tollerene, Charlie Carrel and Sam Greenwood started the game four-handed. With registration open for the first six 40-minute levels, action remained four-handed until the very last second. Erik Seidel and Mike Watson were seen lingering but decided not to enter.
Greenwood busted in the last hand before the registration period was over to take play three-way after the Canadian high roller found himself short and moved in with ace-nine. Tollerene called with queen-jack and flopped trips, leaving Greenwood drawing dead after the turn.
Greenwood decided not to reenter in the break that followed, but two new players did sign up to bring the field up to five. Fedor Holz, having busted from the Main Event in fifth place, bought in and so did Mikita Badziakouski.
For a while, it looked like the two newcomers would walk away with the two prizes.
For a while, it looked like the two newcomers would walk away with the two prizes from the AUD$294,000 prize pool as Chidwick and Tollerene busted quite quickly. Chidwick got unlucky against Badziakouski as his turned two-pair turned out to be beat by the Belarusian's rivered top-two.
Tollerene, short stacked when the chips went in just like Chidwick moments before, would lose his last chips in an unfortunate way as well. He got it in with ace-queen to Holz's ace-five but the latter flopped a five to send Tollerene to the rail.
Just shortly after registration had closed, the tournament was now on the bubble. With AUD$117,600 (~$88,841 USD) for second and nothing for third, the money jump was a hefty one.
Three-handed play with Badziakouski, Holz and Carrel lasted just over an hour and a half with Fedor Holz eventually falling in third place. Like the bust outs before him, Holz was unlucky to get eliminated.
Already short, the German limp-called from the button following a Carrel small blind squeeze, found top-two on the flop and moved in for just a bit more than Carrel had committed to the pot. Carrel was priced in with an overcard and gutshot and hit the latter on the river to send Holz packing.
While Holz cashed big in the other two events he played here in Australia this week, the $100,000 Challenge (third for AUD$352,800) and the $10,000 Main Event (fifth for AUD$335,000), Holz missed out on the money here in this impromptu event.
Now in the money, Carrel started out with a healthy lead over Badziakouski. With the shot clock in place making players act on their hand within thirty seconds every decision, the action was even faster paced than ever. The fact that the antes were done away with by the tournament organizers contributed to this as well.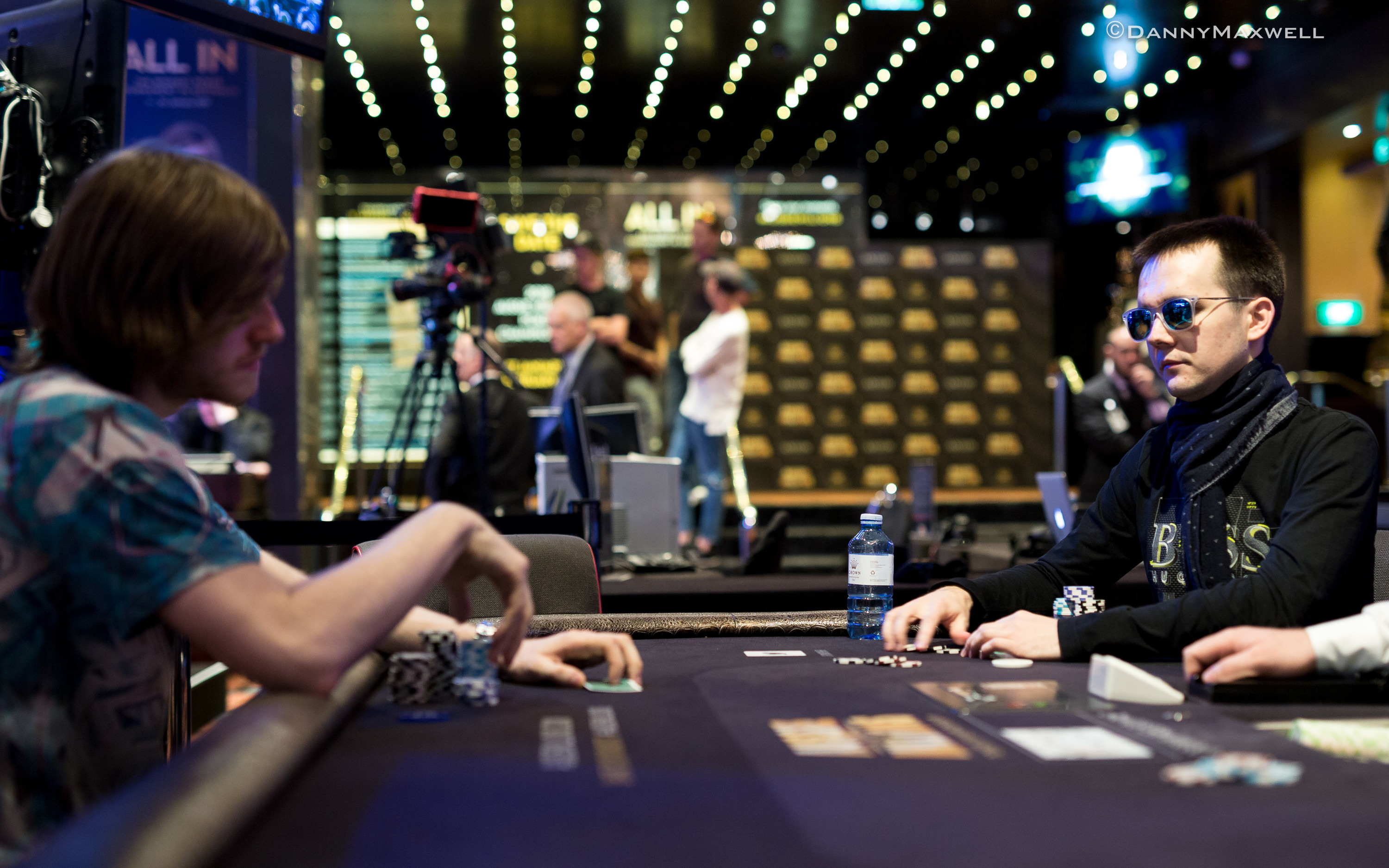 Badziakouski rivered his British opponent in a sizable pot and then raised a flop to take the lead. He would not surrender his advantage and slowly but steadily forced Carrel into the role of short stack. With Carrel's good friend Ben Heath heads up for big money in the Main Event just a couple tables over, it sometimes looked like Carrel was more concerned with the outcome there than he was in his own event.
Carrel eventually pushed with king-four suited over a raise by Badziakouski. The latter called instantly and Carrel admitted right away he might have made a bad read. Badziakouski showed ace-jack, and five meaningless community cards later, was crowned the champion.
This is Mikita Badziakouski's 14th cash in his poker career, and his first ever win.
"It was such a long way for me." Badziakouski said. "I was playing live tournaments since 2010 or 2011. I started to play even very small events like with 15 or 20 players but still never managed to finish in first place...Last year I got second, fifth, sixth... a lot of these close places but never a win. So this feels good.
"Last year, I got...a lot of these close places but never a win. So this feels good."
"Actually I just had money for one bullet. Plus I wanted to have lunch and I had just busted the other event. On top of that, I wanted to keep more time bank chips than the others so that's it."
In addition to the AUD$176,400 ($133,262) first prize, Badziakouski was also rewarded with the $50,000 NLHE Shot Clock Six Max Championship Ring worth AUD$5,500 ($4,155 USD) to commemorate his first tournament victory.
"I just tried it on and it's a really big one, so I'm definitely not going to wear it. I'll just keep it at home I guess," he said.
So what's next for the Belarusian high roller now he has booked his first win?
"I'm not 100 percent sure yet, but I'll probably go to Manila for Chinese events. And then I'll go to Macau probably, we'll see," said an upbeat Badziakouski.
| Position | Player | Country | Prize in AUD$ | Prize in US$ |
| --- | --- | --- | --- | --- |
| 1 | Mikita Badziakouski | Belarus | AUD$176,400 | $133,262 |
| 2 | Charlie Carrel | United Kingdom | AUD$117,600 | $88,841 |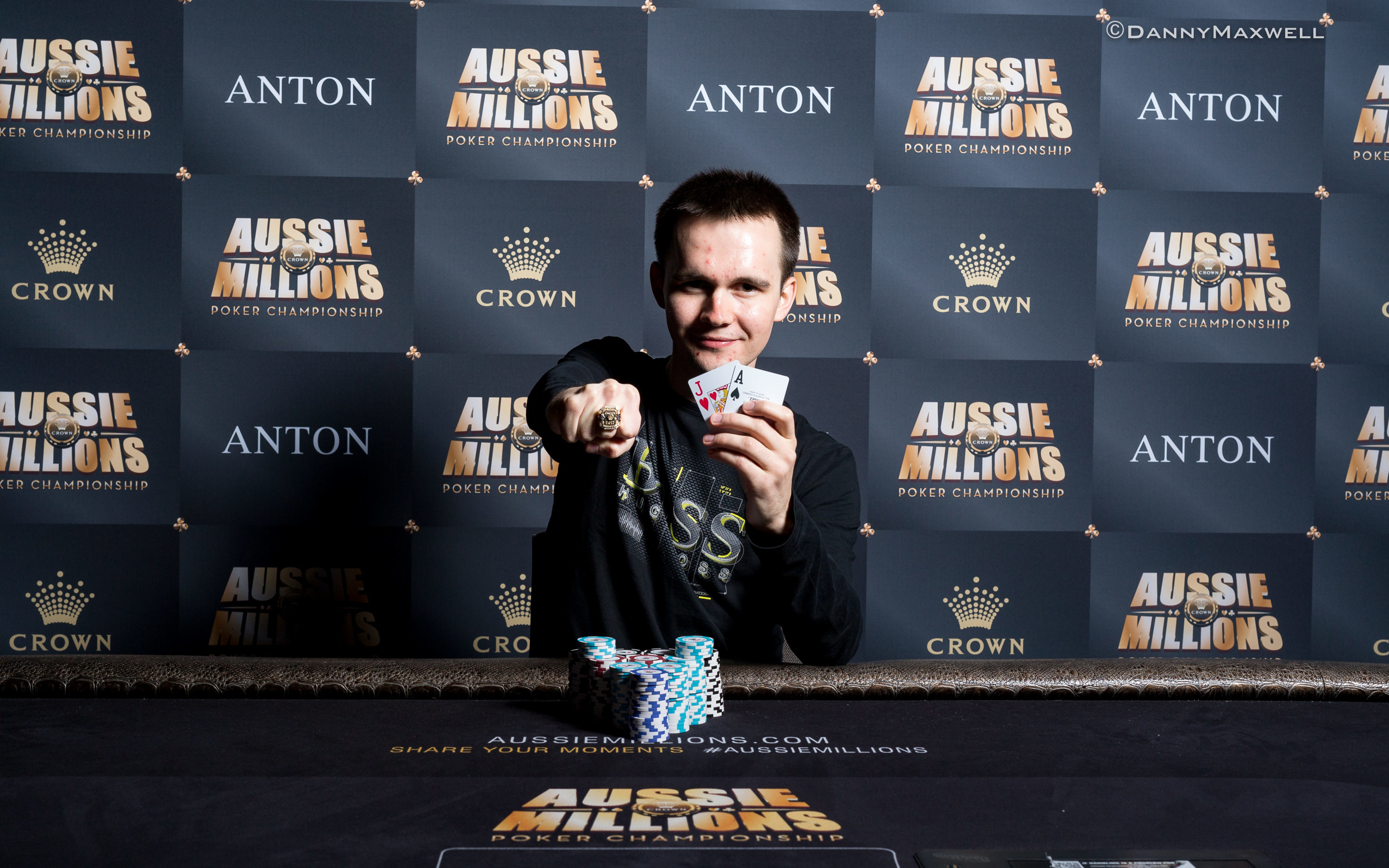 Everybody needs an account at one of these online poker rooms! They're the biggest, the best, and we get you the best poker bonuses. Check out our online poker section for details on all the online poker rooms around.