Chasing Chips in the Lone Star State, Part I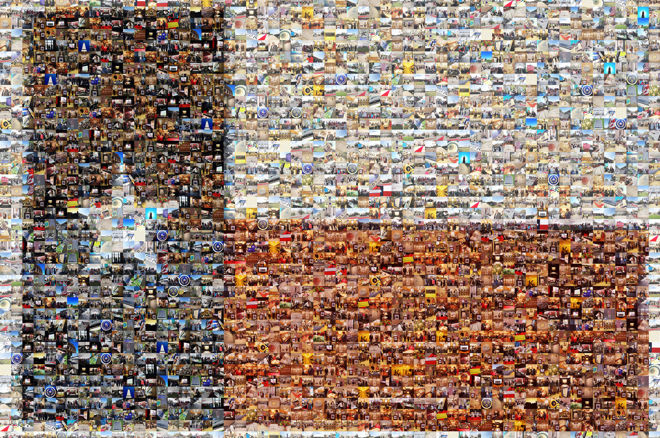 This scene was common in the late 2000s: An officer flooded into a small Dallas strip mall office, rifling through office files and confiscating cash, chips and playing cards.
Dumbstruck poker players waited for either an arrest or citation. And from 2008-2010, numerous other clubs across Texas met their demise as the war against illegal poker rooms raged and the rooms shut their doors for the last time.
Despite the game's long association with poker, casinos and card rooms are illegal (except for a lone Indian casino) in the Lone Star State as are poker clubs or rooms that take a rake.
In the mid 2000s, after the debut of the World Poker Tour on the Travel Channel and Chris Moneymaker's historic World Series of Poker victory in 2003, more and more rooms opened up in an attempt to meet the demand for nice cash games and tournaments. With names like the Pinnacle and the Executive Club, the rooms also offered security, free meals and drinks.
Texas' underground boom was on, but law enforcement would soon follow with numerous busts throughout the late 2000s. What happened to the Texas poker scene? Where does it stand now? PokerNews takes a look at the state of the game in the state so synonymous with poker.
UNDER THE RADAR
Underground poker has a long history in Texas. Players like Doyle Brunson, Johnny Moss and Amarillo Slim Preston hit the road across the state in the 1950s and 1960s looking for major cash games to ply their craft. From back rooms in pool halls to small rooms in out-of-the-way locations to ranches and farm houses, there were always games to bet and bluff if one knew where to find them.
One of the most famous card rooms may have been the Amvets Club on Dallas' Greenville Avenue where players like Moss, Bobby Baldwin, T.J. Cloutier and "Cowboy" Bob Wolford were regulars.
As the WSOP added some cachet, the game began to grow in Las Vegas and players like Brunson began spending more and more time there. Texas players dominated the game in the early years of the WSOP and the game's popularity in Texas continued.
In the 2000s, the popularity of the game exploded with underground rooms all over the state. In recent years, however, they are much more difficult to find.
"Most of the actual rooms that I used to play at or knew of have shut down."
"Most of the actual rooms that I used to play at or knew of have shut down," longtime player Jeff Dobbs said. "Several were busted. I know there are still some in Dallas. I don't play over there anymore, but I know people who do."
One in particular, the King's Club (not the real name), is a big game by Texas underground standards with a $10/$25/$50 mixed game. A couple of pros even play in that game and Dobbs says there is big action. The other games offered are $2/$5 or $5/$10 No Limit Hold'em, which is still the most popular form of the game in the state.
Several years ago, Dobbs paid the bills for almost a year playing at games throughout the Dallas area before the explosion of poker in Oklahoma. Someone hoping to make a living playing at the tables nowadays, he says, would need the ability and access to constantly grind it out in games like the 10/$25/$50 game.
Others expressed similar stories to Dobbs: Poker is still very popular, but the underground clubs are much fewer and much harder to find.
"I'm not aware of any," said longtime Texas player E.A. "The three I played at were all busted a few years ago. Where I played, the games were very well run and had a good scene. There were good players and structures for tourneys. I came across only a few jackasses."
E.A. and Dobbs typify many players in the state. They both now have regular day jobs and were casual players until the Moneymaker boom. They have families, but still enjoying playing every chance they can get. For some, poker has become a nice side income. But without constant action offered by casinos or legal card room in the state, making significant money as a means of a living or even as an extra income has become extremely difficult.
"The Moneymaker effect jump-started the craze for just about everyone I know and my age range," the 41-year-old E.A. said. "The guys my age have families and commitments that relegate us to being casual players and viewers. I think the poker phenomenon is still there. It's just leveled off. Just like everything else, it got oversaturated by all the networks and recently the poorly produced shows are being eliminated."
"I think the poker phenomenon is still there. It's just leveled off."
Like many, "Mark" began playing poker after watching Moneymaker win the WSOP and was soon playing penny stakes online while living in South Carolina. After some initial losses, he began studying the game and started winning and playing live poker during trips to New Jersey or Las Vegas.
After moving back to Dallas in the the early 2000s, Mark began traveling to Shreveport and Oklahoma to play live $2/$5 or $5/$10 games. Finding an underground room in Big D was easy during the initial years of the poker boom – as simply as a quick Internet search.
"One day I felt like playing live, but didn't want to make the drive to Winstar so I Googled and found a couple of websites for underground poker rooms," he recalled. "Back then it was all just out there. I called a number, got directions and they let me in. I'm sure they thought I was a cop for a while."
Mark's frequent trips to underground rooms began in November of 2005 and his tale highlights the popularity and ease of finding an underground game throughout the state in the 2000s.
"Some nights I would make the rounds of as many as five different poker games."
A typical night would start out at whichever room gave him the best starting bonus; one offered as much as 10 percent on a $1,000 buy-in.
"Some nights I would make the rounds of as many as five different poker games," he said. "Other nights the first game would be so good that I would play there for eight to 10 hours."
Nowadays, Mark, 40, mostly plays at one specific private game that spreads $5/$10 with a $25 "Dallas straddle" on the button.
And while many of those underground rooms were forced to fold, several players we spoke with said there are still some out there trying to fill the void for players seeking some action.
HOUSE GAMES
For many Texas players, the safety and action of card rooms have moved to a burgeoning house game scene. While the games and action may be smaller in general and offer fewer games, the allure of a local game out of the eyes of the law make for a nice night out. Maybe a bit different than "social" home games, there is usually a rake and dealer like at underground rooms.
Dobbs now plays in a weekly $2/$5 no limit hold'em home game with a dealer. The game is located about 30 minutes east of Dallas in a poker room at a home.
"There is good action; most of the players are successful businessmen," he said. "I get regular invites to a few other games around the Dallas area. They play either $1/$2 or $2/$5. Most provide food and drinks. All are taking a rake. A couple are at poker rooms at someone's house and a couple are at local businesses.
E.A. now plays in a large home game at his office, which includes many of his customers. About 12-18 players are the norm.
"There are good players and great fellowship," he said. "We all know each other's game. So it's fun to mix up your routine."
Several players PokerNews spoke with offered similar stories including "Carlito," the owner of a home building and renovation company in North Texas. In the last several years, he's played in a couple of "juicy" cash games each week. One features $1/$2 and $2/$5 hold'em game and the other features some $2/$5 Omaha action.
One is housed in a commercial building and one in a house, both taking a rake. Most players are men and women with nice careers and plenty of cash to throw around.
"There is no shortage of money in those games."
Games can run all night and into the next morning; $25,000 to $30,000 in chips on the table is pretty standard.
"There is no shortage of money in those games," he said.
The age range of players ranges from mid-20s-to-70s, and the 56-year-old Carlito says he made his mortgage payments for three years while he was semi-retired. He notes that the $1/$2 stakes aren't exactly what they seem and feature a pool of players ready to gamble.
"It turns out to be a $1/$2 to $100 in a hurry," he said. "It's about as loose and nutty as you can possibly get."
Similar games can be found all over the state including large cities like Houston, Austin, El Paso, Fort Worth and San Antonio with buy-ins from $100 to $10,000. Most players agree that poker is still extremely popular in the place that gave "Texas" hold'em its name.
"It's about as loose and nutty as you can possibly get."
The independent spirit of those in the state means players will find a game – whether officially legal or not. But is poker still as popular as it was a decade ago?
"Absolutely," Carlito said. "Omaha has also gotten really popular. I don't think poker has lost any steam at all."
CASINO OPTIONS
More likely than staying local to grind out a poker living, many players are now choosing to cross the border to play cards; that includes to Oklahoma for the Winstar and Choctaw for those in North Texas (Dallas-Fort Worth area) and the Lake Charles, Louisiana casinos including the Coushatta Indian casino in South Texas (including Houston). With constant action and a popular tournament scene, Oklahoma is showing steady growth fueled by the play of Texans.
In January's WSOP Circuit stop at the Choctaw, players living or born in Texas won 11 out of 14 events including the ladies and senior events. The annual stop has become one of the biggest on the tour.
"I don't think poker has lost any steam at all."
Louisiana also has several card rooms at legalized casinos including the Eldorado and Horseshoe in Shreveport-Bossier City in the northern part of the state, which also cater to players in the Metroplex as well as East Texas rounders. The lure of legalized poker without the worry of arrest or possible shady organization leads many to cross state lines. However, there is one legal casino, the Lucky Eagle Casino, owned by the Kickapoo Indian tribe.
The Lucky Eagle boasts live cash games and tournament action daily from noon to 5 a.m., but the location is not the most convenient spot for many of Texas's poker players. Eagles Pass is in southwest Texas along the border with Mexico.
It is over six hours from Dallas, five hours from Houston, three-and-a-half hours from Austin, seven hours from El Paso and even two-and-a-half hours from San Antonio. Options in neighboring states, including New Mexico, make a trip to the Lucky Eagle a pretty long trip for most.
Like many, poker player E.A. has grown accustomed to a drive across the border.
"I live less than 45 minutes from Winstar and Choctaw [in Oklahoma]," he says. "So if I want to play I'll take a drive."
In Port Aransas, near Corpus Christi, there is another casino option in the Aransas Queen, a casino cruise ship that takes bettors into international waters and then allows casino gaming.
Is there any hope for passage of casino gaming or dedicated poker rooms in the Lone Star State?
However, there is no poker room for those looking for some card-playing action.
Is there any hope for passage of casino gaming or dedicated poker rooms in the Lone Star State? According to a recent article in the Lubbock Avalanche-Journal, there is considerable support among Texans tired of sending millions of dollars to neighboring states, but not much interest by Austin legislators to approve a casino measure.
"I haven't heard from Austin anyone who thinks it's going to go anywhere this session," State Rep. Dustin Burrows told the newspaper.
Check out PART II on Feb. 16.
Lead image courtesy of Texas State Library and Archives Commission
Everybody needs an account at one of these online poker rooms! They're the biggest, the best, and we get you the best poker bonuses. Check out our online poker section for details on all the online poker rooms around.