WATCH: PokerStars' Top 5 Poker Controversies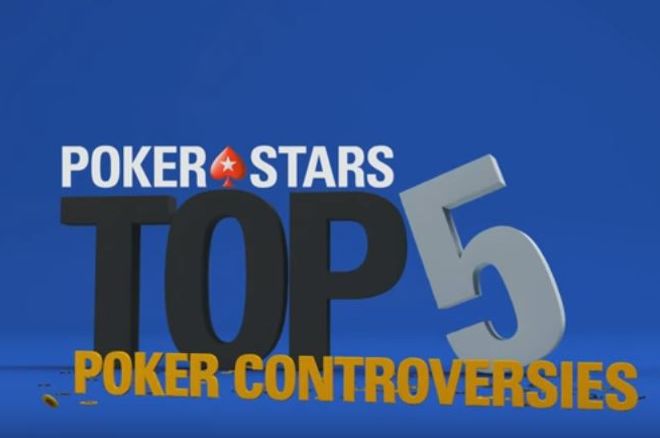 Poker players are all about following the rules. Actually, poker players are all about playing poker, and when someone gets in the way of that, they aren't the happiest or nicest of folk.
That's when things get tricky. And heated.
5. The Talk
Andy "The Monk" Black on Talking During a Hand
Back in 2006, Andy "The Monk" Black sat with jack-three and Mattias Eriksson limped in with seven-five. Black went all in. Peter Eichhardt called out that Black doesn't have a good hand.
Eriksson thought about it, seemingly trying to draw a response before a fold, and then folded. But Black then turned to the other side of the table and asked that the other players not make comments during the hand.
"You made a comment which could influence the pot, yeah?" he said. "You can't do that. 'Oh he doesn't have a good hand.' You should know better than that…Just don't do it again. I don't want an apology."
As far as this encounter goes, it was pretty tame. He got a bit ticked, let it stew for a while and then eventually let it go.
4. The Fold Out of Turn
"The Mouth" Getting Chatty About Chips
At the $1 Million Cash Game, Mike Matusow had pocket sixes; he called preflop. David Benyamine called as well pocket fives. Tom Dwan raised it up prompting Phil Hellmuth with ace-jack to call, Phil Ivey, who had more than one million in chips in front of him on the table to call as well. Patrik Antonius folded, and Matusow and Benyamine both came along to the flop.
The flop came nine-eight-queen, giving Dwan the nuts and he put out a sizable bet. Hellmuth folded.
Then all hell broke loose because Matusow claimed he couldn't see Ivey's hand and that he couldn't tell he was in the pot. Hellmuth started talking about what's in Matusow's hand.
Matusow bet $10,000 he couldn't see his cards from over on his side of the table. Ivey bet $10,000 he could know who everyone who is in at the beginning of play. Matusow passed out of turn.
Matusow thought Ivey had folded because they were hidden by red chips. Ivey folded and Dwan took it down.
3. The Call or Not Call
Hossein Ensan's "Good Call"
Gleb Tremzin's raise on the river bet got a fold before so he tried it again. Tremzin bluffed with an eight-four, raising to 2.3 million. Hossein Ensan re-raised with queen-five and Tremzin, thinking Ensan had called, told him, "Good call" and threw down his cards.
And then immediate confusion about whether he raised or called. Ensan displays sportsmanship here, saying he didn't want it, but jokes that next time, he shouldn't bluff.
2. The Misclick
Daniel Negreanu's Advantageous Strategy Move?
Daniel Negreanu got ace-king and raised big, $45,000 to be exact, saying he meant to put in nine and misclicked. That's an 11x raise. Steven Silverman tried to exploit the situation and went all in and Negreanu called.
Negreanu's hand held up, and there was some post-table chatter about whether the play was "shady" or not.
1. The Angle
Ivan Freitez's Ugly Angle Shooting
Ivan Freitez had six-five and called Eugene Yanayt with king-queen. The flop ran out five-three-king. The turn card was a five and Freitez, running good, then hit a six on the river gave him a full house. Yanayt then thought he was making a value bet of 275,000.
Freitez slid some chips out and said he raised, then said he wanted to call claiming he didn't speak good English The tournament director made Freitez min-raise, but told Yanayt that Freitez had done the same thing previously with the nuts, and due to the circumstances it was fair to make that known. Yanayt called anyway and Freitez shows the full house.
Freitez has a history of this and Yanayt said he'd heard of this before the tournament but there it is anyway: angle shooting at its most ugly.
Everybody needs an account at one of these online poker rooms! They're the biggest, the best, and we get you the best poker bonuses. Check out our online poker section for details on all the online poker rooms around.