Sweet Photo of Tom Dwan and His Fiancé Surfaces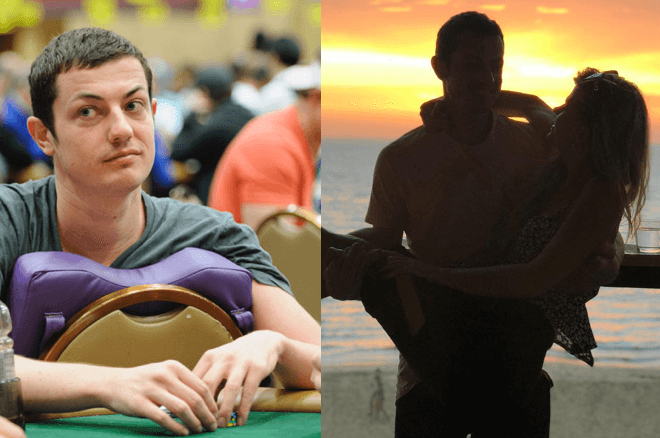 It is so rare to see Tom Dwan on the felt. It's even more rare to see him away from poker and exposing any little truth about his personal life. That's why, back in November, when we heard that he was engaged, we lost our minds. Then throw a double bomb that there could be Tom Dwan babies on the way and call the crash cart; our hearts just stopped.
It's clear that Tom Dwan will always be one of the most mysterious people in poker, and it's that mystery that keep us all wishing that we'll see him at some event soon. That time is potentially now with the 2018 Aussie Millions underway in Melbourne. With the $100,000 Challenge just around the corner, we're still hoping to see even Phil Ivey make an appearance.
But now we have a clue that Dwan may potentially appear at the tables after he tweeted that he was in Melbourne attending the Australian Open and watching some women's tennis with his "soon to be wife."
So my soon to be wife loves tennis. Been in melbourne, playing almost no poker the last few days, just enjoying som… https://t.co/ws6lZdn4C0

— Tom Dwan (@TomDwan)
OK, confirming his engagement via social is one thing, but then he shared an Instagram image of the tennis match he was watching — The women's Finals featuring Caroline Wozniacki and Simona Halep. Unfortunately, it's not a photo from his account he was sharing and it's not that photo we are interested in. Instead, we looked at the Instagram account and it belongs to his finance, Bianca Rosso. And she just has the perfect handle — durrrrswife.
Right now there's only two images, one of Wozniacki and the other... a sweet sunset photo of the couple casually captioned with "sunset vibes."
Our hearts just melted.
It's still not confirmed whether we will see Dwan (or Ivey) during Aussie Millions, but it is nice to see Dwan is not kidnapped or part of the Triads like people once believed.
No, no guys. Dwan is just living life and enjoying time with the new love in his life.
Finding a trustworthy room to play online poker can be a monumental burden. That's all the more true if you're just looking for a place to play poker for free. We've listed five of the best play-money poker sites to enjoy and help hone your skills.