Top Pair Podcast 305: Interview with John Hesp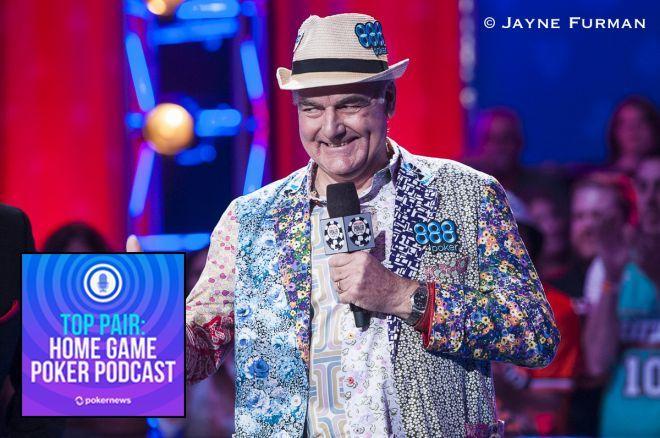 In episode 305 of the Top Pair Home Game Poker Podcast, Bruce Briggs and Robbie Strazynski interview John Hesp, the universally beloved fourth-place finisher at the 2017 World Series of Poker Main Event. No less than a hero to recreational poker players, the dignified gentleman from the UK is a perfect guest for home game fans and aficionados to hear from.
Plus, Bruce is still enjoying double-digit ROI at the tables, while Robbie faced a dilemma about which home game to choose when he was recently invited to three of them on the same night!
The episode finishes off with a One Outer that'll challenge your perception of the time-space continuum. Intrigued? Be sure to listen until the end.
Top Pair thanks their sponsors, J Design Cards and the Poker Notes Live mobile app, for their support. Be sure to check 'em out!
Show Time Stamps
| | |
| --- | --- |
| 00:23 | Synopsis |
| 1:10–9:51 | How Ya Runnin? |
| | Bruce: Still enjoying double-digit ROI in home games! The latest home game mix included Hold'em, PLO, PLO8, Scrotum, and Big O, Stud 8, and Kansas City Lowball (2-7 single draw). |
| | Robbie: A first-ever situation, having to make a choice between three home games being held on the same night. What factors ought to be the most important in making such a choice? |
| 11:08–1:16:23 | Look Who We've Found (Interview with John Hesp) |
| 12:20 | How much time, on average, does poker (either playing or media-related items) take up in John's weekly schedule? |
| 17:32 | John has a very distinctive look with the Panama hat and multicolored jacket. Does he wear them each time he heads out to play poker at the local casino? Has he considered his own clothing line? |
| 24:16 | Does not having cashed in a poker tournament in a while bother John on a pure poker level? |
| 27:40 | HendonMob profiles only record tournaments. Does John ever play in cash games? Do you play any non-Hold'em games? |
| 33:58 | As a senior citizen, does John believe there's any advantage or disadvantage to youth at the poker table? What are his thoughts on the "hoodie and headphone" look? |
| 39:30 | Last year wasn't John's first trip to Las Vegas. He recounts his previous experiences in Sin City. |
| 47:25 | Was John staked or self-bankrolled? |
| 51:50 | John has a unique and fantastic Phil Hellmuth story. A magical dinnertime experience with legendary poker pros. |
| 55:45 | John's views on poker studying. Hit the poker books or chuck them and "go with your gut"? |
| 1:01:15 | What tips does John have for recreational players who are thinking of heading to play in the Main Event for the first time? |
| 1:04:51 | John doesn't really play in any home games, but he's working to try and organize a huge "home game style" tournament to his hometown's Bridlington Spa in East Yorkshire in March 2019. |
| 1:09:26 | The BBC reported about an upcoming book and film about John's life. What events besides the WSOP final table run that he would want to be sure are included. Plus, John reveals some brand new details about the planned film. |
| 1:16:27 | One Outer – When exactly will the next poker home game be taking place? |
You can subscribe to PokerNews' Top Pair Home Game Poker podcast on iTunes here, or you can access the RSS feed here. The PokerNews Podcast family of podcasts is now available on audioBoom.
Follow the show on Facebook and be sure to join in the conversation on Twitter at #PNTopPair.
Follow hosts Bruce Briggs @toppair and Robbie Strazynski @cardplayerlife, also available via email: feedback@toppair.net
* First 296 episodes are archived and available at www.toppair.net
Everybody needs an account at one of these online poker rooms! They're the biggest, the best, and we get you the best poker bonuses. Check out our online poker section for details on all the online poker rooms around.