Top Pair Podcast 302: Interview with Chris Moneymaker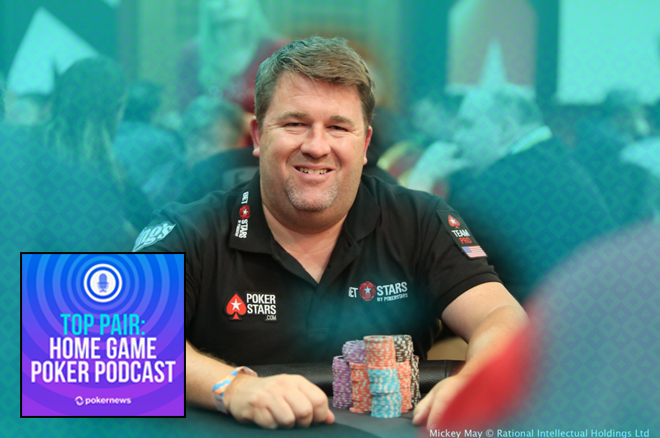 In episode 302 of the Top Pair Home Game Poker Podcast, Bruce Briggs and Robbie Strazynski interview 2003 WSOP Main Event Champion Chris Moneymaker.
In the 15 years since his landmark win that helped launch the poker boom, Chris has been interviewed thousands of times, but never with a focus on home games. We explore Chris' home game past (and present) along with what it's like for him to have "the perfect level of fame."
Plus, there's the always entertaining How Ya' Runnin'? and One Outer segments that'll have you smiling and chuckling all the way… to your next home game.
Top Pair thanks their sponsors, J Design Cards and the Poker Notes Live mobile app, for their support. Be sure to check 'em out!
Show Time Stamps
| | |
| --- | --- |
| 00:24 | Synopsis |
| 00:59–14:26 | How Ya Runnin? |
| | Some fun Super Bowl prop bets talk. |
| | Robbie: Largest home game loss since last summer; it sucks to lose, but the pain will eventually subside… right?! |
| | Bruce: Back at the home game tables with a vengeance in 2018; 3 games in 2 weeks! |
| 15:43–1:01:41 | Look Who We've Found (Interview) |
| 16:00 | Chris Moneymaker introduction. |
| 17:25 | The story of how Justin Timberlake got Chris' bracelet for the Super Bowl halftime show. Did he wear it after all? |
| 20:45 | So many players say that they got into poker after watching Chris win the 2003 WSOP Main Event bracelet. How did Chris first get into poker? |
| 22:47 | Chris' home game history prior to and after his Main Event win. He only started playing when he was about 25 years old! |
| 26:16 | What's Chris' favorite poker discipline? Does he consider himself more a pro player or an ambassador? |
| 29:20 | Chris still gets asked this SAME question in most interviews he's done, even after 15 years. |
| 32:45 | Chris talks about his book Moneymaker: How an Amateur Poker Player Turned $40 into $2.5 Million at the World Series of Poker and being the subject of Eric Raskin's The Moneymaker Effect. |
| 35:42 | To what extent does Chris get recognized outside of poker rooms? He's happy to have "the perfect amount of fame"; blends in easily but can get noticed if he wants to. |
| 40:25 | Has being an accountant helped with bankroll management over the years? Chris' wife is his secret weapon! |
| 44:22 | Because of watching Chris on TV, more people started taking the game of poker seriously rather than goofing around. |
| 49:32 | Has Chris taught his kids how to play poker? Are they familiar with/into the game? How does poker factor into family life if at all? |
| 55:30 | What's the closest poker room to where Chris lives? How often does he go play? |
| 57:43 | Up next for Chris: looking to distribute some PokerStars Player's Championship Platinum Passes! |
| 1:01:51 | One Outer – If you keep your chips out for too long… they'll get stale! |
You can subscribe to PokerNews' Top Pair Home Game Poker podcast on iTunes here, or you can access the RSS feed here. The PokerNews Podcast family of podcasts is now available on audioBoom.
Follow the show on Facebook and be sure to join in the conversation on Twitter at #PNTopPair.
Follow hosts Bruce Briggs @toppair and Robbie Strazynski @cardplayerlife, also available via email: [email protected]
*First 296 episodes are archived and available at www.toppair.net