Top Pair Podcast 309: Home Game Dealing, Shuffling, and Tipping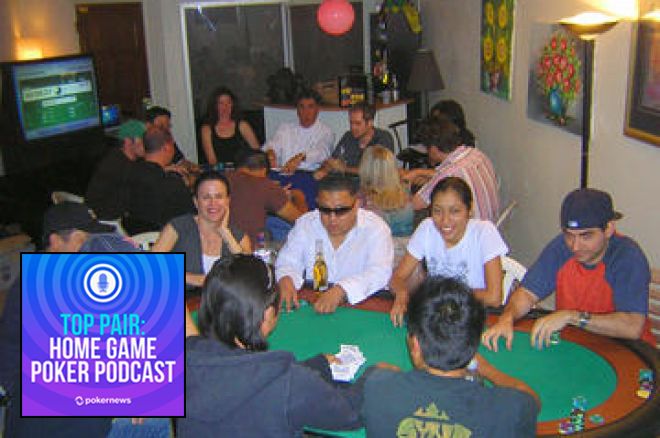 In episode 309 of the Top Pair Home Game Poker Podcast, Bruce Briggs and Robbie Strazynski take a deep dive into a couple of home game questions that come up all the time: who should do the dealing and is there a need to tip the dealers and hosts?
The guys also catch you up on all their own home game happenings, with Robbie getting spewy, while Bruce develops a new/old appreciation for the "Rubik's Cube of Poker."
Plus, in honor of the NBA Playoffs, a One Outer that'll make you want to hedge your bets, at least a little.
Top Pair thanks their sponsors, J Design Cards, the Poker Notes Live mobile app, and BusinessInfoNews, for their support. Be sure to check 'em out!
Show Time Stamps
| | |
| --- | --- |
| 00:23 | Synopsis |
| 1:07–12:56 | How Ya Runnin? |
| | Robbie: Hosting the first home game in a new home, but being action-hungry leads to spewy play. "Home court advantage" couldn't stop the bleeding. |
| | Bruce: The perils of adding Badugi, the "Rubik's cube of poker," into the home game mix… it's not really poker after all. |
| | Bonus discussion: The challenge and responsibilities of being the host/dealer and player vs. just playing. Utah Jazz history and NBA Playoffs talk. |
| 15:00–44:55 | Cards in the Air |
| 16:01 | The mechanics of dealing a home game. Pass the deal or designated dealers? |
| 25:04 | Dealer antes for everyone to avoid confusion |
| 27:02 | How to handle shuffling? Pass the shuffle or designated shufflers? |
| 29:27 | Tipping: Important to try and establish house rules and let players know in advance. Designated dealers ought to get something for their efforts; up to the players or the host? Also, should hosts be tipped? How much? |
| 33:39 | Tossing "thank you" chips when the dealer deals you the card you need. |
| 39:42 | In cash games, tip a host based on your experience and having had a good time at the host's house, or rather based on how well you do during a home game session? |
| 45:07 | One Outer – Hedging your sports bets… to the extreme! |
You can subscribe to PokerNews' Top Pair Home Game Poker podcast on iTunes here, or you can access the RSS feed here. The PokerNews Podcast family of podcasts is now available on audioBoom.
Follow the show on Facebook and be sure to join in the conversation on Twitter at #PNTopPair.
Follow hosts Bruce Briggs @toppair and Robbie Strazynski @cardplayerlife, also available via email: [email protected]
* First 296 episodes are archived and available at www.toppair.net