Tony Burns: TD Extraordinaire to Director of Poker Marketing for Seminole Gaming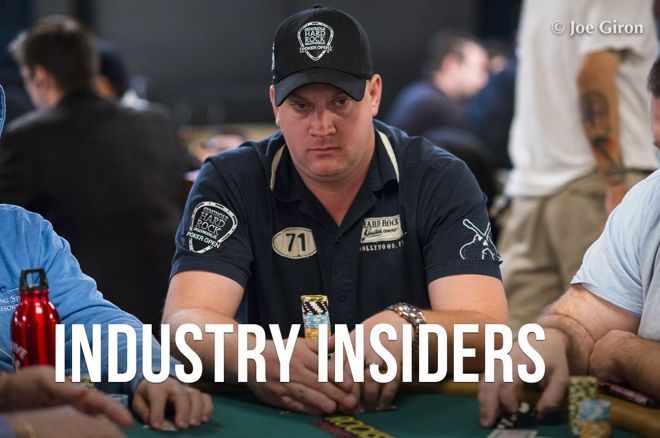 The expression "right place, right time" can be used to describe many fortuitous happenings, but for one Tony Burns, it could very well be his life motto.
As an 11-year-old growing up in Titusville, Florida, he was picked out of the stands during a rain delay to sub in for an absent bat boy for the Chicago Cubs' AA team in Orlando. That led to 11 years of working in baseball, from bat boy to stadium DJ and on up to clubhouse manager. During high school and college, Burns worked for a number of organizations including the Marlins, Expos and in his final year in 2005, the Washington Nationals.
During college, Burns discovered another passion that seemed meant to be. While many poker aficionados are products of the "Moneymaker effect," Burns had a connection to that moment that transcends watching it on TV. He happened to be at Binions in 2003 on a trip with his dad to celebrate his 21st birthday — in the building when Chris Moneymaker won the WSOP Main Event. Though he couldn't quite get through the crowd of people surrounding the table to get a good look, his curiosity was piqued.
Riding the Poker Wave
Little did he know, that moment would eventually lead him into a prosperous career in the poker industry. The poker boom was beginning, and back home, Burns rode the wave of the poker craze to small home games with friends, to dealing cards and then to running Bar Poker league tournaments. He saw his two passions as complementary, and spent a few years working in both industries.
"For me, poker and baseball went almost hand in hand," Burns said. "You have the same presence on ESPN, the competition, and the personalities and egos. I compare the competition of the two: anyone can play poker, and when you're younger, anyone can play baseball. They both have different levels of competition, from tee ball to the big leagues."
"Both poker and baseball have different levels of competition, from tee ball to the big leagues."
He continued: "It's the same with poker. You can play free poker, get in at the beginner level and you can take it to the elite level up to super high rollers. But when it comes to playing poker for a living, there's a very select few who can accomplish that feat, just like only a small percentage will be able to play baseball professionally and succeed in the majors."
After graduating from University of Central Florida with a degree in Business Management in 2004, Burns would eventually need to choose between baseball and poker. He left the MLB scene after the 2005 season and dove full-force into poker, going from running a Bar Poker league franchise to dealing on the Sun Cruz Casino boat to dealing at Isle Casino Pompano in 2007. There, he moved up to supervisor specializing in late-night tournaments where he remained until 2015.
Armed with over a decade of experience in poker, Burns assumed the role of tournament director at Seminole Hard Rock Hollywood beginning with the SHRPO charity event in August 2015. In his next four years on the job, he built a reputation as a top TD in poker not only for his aptitude in running tournaments, but also for his rapport with players and strong social media presence.
His well-rounded skillset has led him to yet another opportunity in poker as he has recently taken on the role of Director of Poker Marketing for Seminole Gaming. PokerNews talked with Burns about what his new role entails and what's in store for the future.
Poker Floor to Corporate Office
Having already had relationships with the poker room managers of the three Seminole poker rooms in Florida – Tampa, Coconut Creek and Hollywood, where he spent the last four years – Burns was finding the transition to his new position quite smooth.
"My new role is to help support them, help in coming up with ways to promote and market their rooms," said Burns. "I'll still help with tournament operations because of my background in running tournaments, but my key focus is on marketing - finding ways to help enhance the products, working with the marketing teams at each of the properties."
"The Hard Rock brand is one of the most recognizable in the world."
Among his new tasks are to bring engagement to the corporate level, keep communication channels like the blog, websites and daily calendar updated, and to support the rooms' major series by posting chip counts and winner's results.
While many of the bigger tournaments are naturally more marketable due to large payouts, Burns is also tasked with promoting the live side of poker offerings as cash game business is a major drive for poker rooms.
"The Seminole poker rooms have some of the best promotions out there with high hands and other creative promos, so getting that messaging out there as well is part of my new role," said Burns. "The power's in the brand. The Hard Rock brand is one of the most recognizable in the world, so there's an expectation when people walk in the door of first-class guest service."
Relating to Players
Asked about his exceptional social media engagement with players over the years, Burns explained his approach was inspired by one of his mentors in poker - popular TD Matt Savage.
"I kind of modeled myself around Matt Savage. I saw his social media presence and I thought, I like what he's doing and I want to take it to another level," Burns said. "I think finding ways you can utilize free or low-cost marketing is vital. There's an evolution going on with the generations and the way everybody is getting their information and news. The ones that are going to continue to do well are the ones that are evolving with society - with the change."
"We take pride in being detailed and players take notice."
While his new role will mean he'll be on the tournament floor quite a bit less and players will have new faces to direct questions to, Burns assures he will continue to be available. It's obvious from the response to his new job announcement that he is a beloved member of the poker community.
"The outpour from players, community, family was amazing — the amount of likes and comments," Burns said. "[The announcement] got 50,000 impressions on Twitter - more than the birth of both my children combined," he added with a laugh.
One of the running jokes he has with players has to do with his home life in Davie, Florida, where he and his wife bought a house that came with 15 chickens. Their two young daughters get the responsibility of taking care of the animals, the family gets fresh eggs, and of course he gets his fair share of laughs with players who frequently ask how his chickens are doing.
After several years of keeping long and often late hours as a TD, Burns is happy to report he'll be able to enjoy more time around his family with his new schedule. No more 20-hour days, and he'll get to put "family first."
"I would never want to put out a product I wouldn't want to play in myself."
Still, he feels it's vital to be around players, both as a player himself and in his working role, in order to get first-hand reports and translate them into improved player experiences.
"The players have helped create what Hard Rock poker is today — the time of year of events, price points, structure, chips, timing of dinner breaks and so on," he said. "We take pride in being detailed and players take notice."
A moment that stands out in Burns' professional life came from one particular final table where Tim West pulled him aside after busting out to praise his team for taking such care of every little detail for players participating in their events. For Burns, making a point to get out in the community and actually playing events himself is one of his keys for success in keeping his finger on the pulse of player preferences.
"I would never want to put out a product I wouldn't want to play in myself," Burns explained.
He plays in around a dozen tournaments a year — and he listens.
"A lot of times the other players don't recognize me right away so I get to hear their organic feelings in the moment. Then I take that back as a TD and share with the team what players like and don't like so we can collaborate to create the best offerings possible."
Coming Up
Before he signs off from tournament directing, he'll have one last hurrah: the WPT Rock 'N' Roll Poker Open, running late November into early December.
Then, it's up the corporate ladder, but he won't be leaving his roots behind as he continues to shape Seminole's poker offerings for the future. He plans to keep his connection with the players, which he said was his favorite part of tournament directing anyway.
"I'll miss seeing the players on a more consistent basis," he said. "I still get to see them, but the frequency that I see them I'll probably miss the most."
Burns joined the PokerNews Podcast this week to discuss the recent opening of the Hard Rock guitar-shaped hotel among other exciting happenings at Seminole Gaming. You can listen to the full interview right here.
Follow Tony Burns on Twitter @MDTonyB.