Industry Insiders: Nick Zacny Looks to Make Majestic Star Major Player in Midwest Market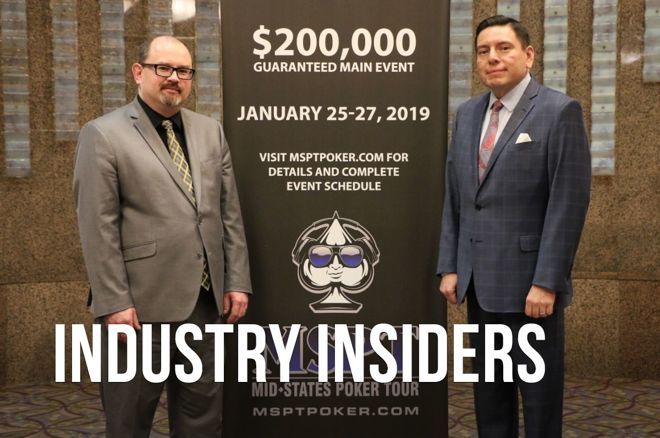 Table Of Contents
Nick Zacny (pictured above left) may not be one of the more high-profile poker directors out there, but he's certainly among the most respected especially after recently becoming the poker room manager at the Chicagoland area's Majestic Star Casino, which last month was purchased by Spectacle Entertainment.
The 14-table room had been on the decline, but Zacny's nearly two decades of experience have rejuvenated the room, which recently hosted a Mid-States Poker Tour (MSPT) Main Event won by Mike Shin.
While it's a highly-competitive market, Zacny is positioning the room to be a major player in the Midwest poker scene.
Zacny's Road to Poker
Zacny grew up in Calumet City, Illinois and has lived in Chicago on and off his whole life. He attended Mt. Carmel High School, the University of Illinois in Champaign, and Northern Illinois University, where he received a Bachelor of Arts in History.
"I was going to grad school in the late 90's after finishing my BA. I had always planned on teaching college," Zacny explained. "Between my graduation and when I started grad school, my father died. He was both my role model and my biggest motivator. He always said he would be proud of me regardless of what I did in life as long as I strived to be the best at it."
"There were some really negative perceptions about Majestic out on the street that just were not fair or were entirely overblown."
He continued: "A friend of mine, Big Ron, was already working in the casino business. We had gone to Vegas for his birthday and got hooked that summer. I got into table games as an assistant to the managers. While working as an assistant I met Dominic Niro who was a floor in the poker room at Showboat East Chicago. I helped him out with his paperwork each night and we became friends. He taught me how to deal when they had their next dealer school."
Aside from working in the poker business, Zacny also enjoys playing mixed games and pot-limit Omaha mostly now, mostly with friends.
Not only did the casino business give Zacny a career, but it's also where he met his wife Ellie, whom he met while working at Horseshoe Hammond.
"She is so far out of my league that my friends still think I outright bribed her to get her to date me," Zacny joked. "I have two great daughters, Aspen and Julia, teenager and toddler. It's kind of bananas sometimes, I admit."
Speaking of bananas, Zacny shared one of his favorite poker stories, which happened in a $5/$10 no-limit hold'em game while he was working at Trump Casino.
"A friend of mine and I were chatting as I supervised and he played," Zacny said. "It was a very casual, tight passive game. I was watching my friend play. He was in the big and looks down at
. Everyone folds to the button who limps in for $10. The small folds and my friend, a bit annoyed, shoots the button a look and checks."
He continued: "The flop is
. He checks and so does the button. The turn is the
. Check-check again. The river is the
. The whole time, the player hasn't interrupted his conversation with me. He glances at the river and announces 'all-in,' moving in a barrel out of his $2,000 stack but immediately returning to the conversation. The button player looks at the flush on board and says, 'I call. Chop!' There was $25 in the pot and then there was $4,025."
Making the Move to Majestic Star
While working at the Horseshoe Hammond, which hosts a pair of World Series of Poker Circuit stops, Zacny ran into an old colleague that resulted in a new door being opened.
"A friend of mine at Majestic Star, Thomas Gutierrez, had become Director of Table Games about six months prior," Zacny explained. "We ran into each other and started catching up since we hadn't seen each other in a long time. I had worked as a Pit Manager for him about ten years prior. We came around to the poker room in our talks and he said he was really looking to build it to new levels but he needed some help in getting it there. A few conversations later and we agreed on me coming over to see what we could do together."
Boosting poker at Majestic Star wasn't going to be an easy task. The property didn't exactly have a good reputation among players.
"There were some really negative perceptions about Majestic out on the street that just were not fair or were entirely overblown," said Zacny. "The odd thing was that once I started talking to the players who actually played at Majestic, I found that everyone was really happy with how they were treated and the games and how the staff took care of everything."
"They were fully for the return of MSPT to Majestic Star and the development of our own large in-house tournaments."
He elaborated: "Really, it boils down to perception. Some people like having someone to kick around, right or wrong. We decided that there was plenty right at Majestic but most people didn't know about all of that good stuff. $2/hour for food? That's double our competitors. $3/tournament entry in comps? No one else even does that. You cannot beat our tournament structure in terms of value, fairness and equity."
Zacny revealed the new poker philosophy started from the top.
"Tom and Barry Cregan deserve so much credit for realizing how much more poker could be at Majestic Star. They took an immense leap of faith to invest when others may have pared poker back. They were fully for the return of MSPT to Majestic Star and the development of our own large in-house tournaments. They have also fully supported the whole outreach to players via majesticstar.com."
Successful Partnership with MSPT
In regards to that MSPT event, it set a venue record with 309 players for its $1,100 Main Event.
"I think that that number speaks to the strength of the MSPT brand as well as the willingness of Chicago players to play world class larger buy-in tournaments at Majestic. I was so impressed at the production quality and excitement level of the players that I'm super pumped for August."
The MSPT will return to Majestic Star August 16-18 and Zacny and his team are confident they'll break the record again by a significant margin.