Poker World Reacts to Death of Mike Sexton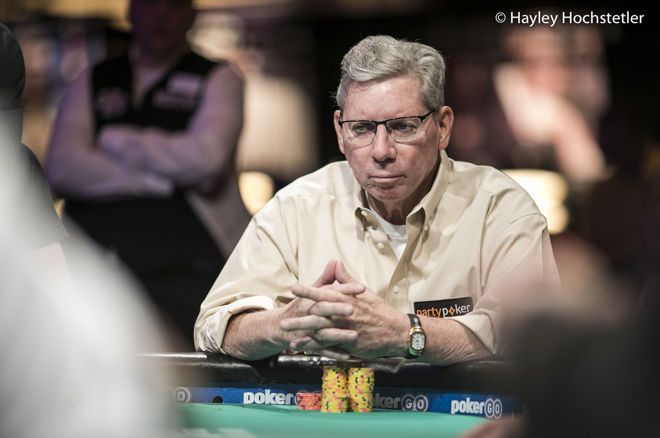 Table Of Contents
The death of poker legend Mike Sexton didn't exactly come as a shock, considering close friend and fellow Hall of Famer Linda Johnson had confirmed to the world via Twitter that Sexton was battling cancer and under hospice care.
Still, the announcement that he'd passed came as a blow to many. After all, Sexton touched countless lives in and around the game with his warm personality, and even those who never met him felt like they knew him thanks to his distinct on-screen presence during his days commentating for the World Poker Tour.
PokerNews collected some of the touching reactions to Sexton's death.
Collected Tweets
Penned Tributes
Thousands of words have also been spilled across the internet in tribute to Sexton, at various outlets.
Padraig Parkinson at CardPlayer:
"I first met Mike in London in the mid nineties. Over a few beers, he passionately outlined his vision for the future of poker: TV, sponsorship, respectability. He saw the potential if he could drag poker from the backroom to the living room. I thought he was nuts, so we quickly became good friends and I accidentally had a front row seat as he made his predictions come true. I should never have doubted him. Beneath the fun loving exterior, he had the heart of a champion. Thankfully, he was our champion."
"Most people think the poker boom began when Moneymaker won the WSOP, but that's not true. It began several months earler when Mike Sexton and the WPT Tournaments began their broadcasting on April 30, 2003. That was the power of Mike Sexton (and Vince Van Patton also helped along with the other people associated with the early WPT shows). I'm also sure that many of you who read these forums probably began to play poker because of Mike.
"I know he was good friends with a lot of people and you only heard positive things about him. He's left a great legacy and will be missed by many."
"Mike has profoundly influenced the poker world. Poker would not be as big without Mike Sexton. The poker players would not have as much money without Mike Sexton.
"And poker would not be as well regarded as it currently is without Mike Sexton. The poker world owes Mike a huge debt of gratitude. Mike has been the consummate gentleman, and has championed poker better than anyone else."
Video Tributes
Mike Matusow devoted a special episode of "The Mouthpiece" to Sexton. Numerous notable figures in the poker world called in across the four-hour marathon to express their love and support for Sexton just days before his death.
"Mike's vision led to where the poker world is today," Matusow said.
"There's not a day that goes by that we are not affect by the standard he set up," said WPT CEO Adam Pliska.
"The person I remember always looking to on how I wanted to represent poker and how I wanted to carry myself in the game...it was Mike," Maria Ho said.
"You always had the most incredible positive attitude," Antonio Esfandiari said. "You were an inspiration to so many poker players. What you did for the poker community was incredible on so many levels."
"No one has been able to hold themself to a higher standard consistently for as long as you did," Daniel Negreanu said. "And it's a testament the entire poker world loves you."
"He's left a legacy," Tristan Wade said. "He really has been a pioneer in poker. Not just for what he's done. He's also influenced everyone with his attitude, with his patience, with his demeanor, with his love for the game."
Sexton's long-time employer, the WPT, put together a heartfelt video:
Sexton was also gracious enough to give PokerNews many interviews over the years, the highlights of which were put together by Sarah Herring: