Celebrate Women's History Month with Natural8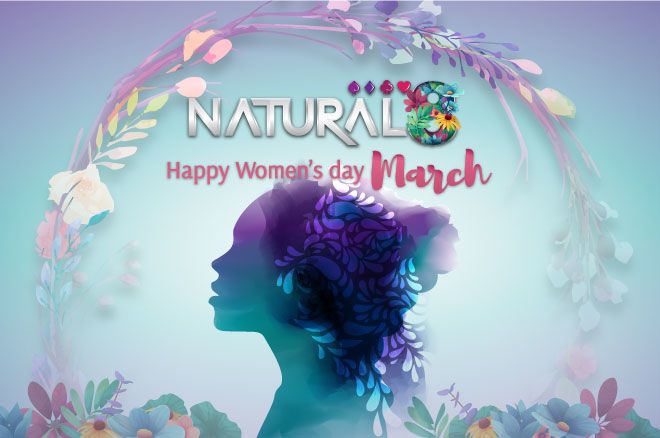 Not only is March 8 listed as International Women's Day, but the entire month of March is also Women's History Month. As such, it seems fitting to remember that not just current contributions are important - the efforts in the past are equally pivotal in the pursuit of more balance.
Today, thanks to Natural8 we're taking a look and celebrating some of the talented women in poker.
In the grand scheme of things, female players in the world of poker are still a minority. However, the number of professional players who make a living from it has been growing year after year. Many have even become role models to inspire beginners, with social media, in particular, playing a pivotal role in spreading awareness.
Head to the NEW Natural8 Hub
Want to stay up-to-date on all the latest Natural8 news right here on PokerNews? Why not try out the new Natural8 Hub!
With money on the line, egos at the poker tables can be incredibly tense and fragile. This often leads to a broad range of reactions, bringing out the best and worst in people at the same time. It can be an especially daunting experience for new female players, who are often judged not only on their poker skills.
This is something Sasha "Pokersasha" Liu can relate to.
"In poker, some men often underestimate women and get furious when they lose. Personally, I don't focus on being a woman at a poker table. When playing poker I don't really see myself any differently from others."
The Pot-Limit Omaha specialist has been making a living from poker for several years and isn't the only female poker pro to do so. One of the challenges these female players may face is the stereotypical comments made by some chauvinistic male opponents.
Female pros have been increasingly gaining more spotlight for exceptional accomplishments. In the open WSOP bracelet events for example, there have been 32 female winners so far. Both Vanessa Selbst and Kristen Bicknell have three each to their names.
Barbara Enright and Nani Dollison too have an open bracelet and two Ladies Event titles to their names. Jennifer Harman and Loni Harwood have two open WSOP titles as well. In 2007, Annette Obrestad won the WSOP Europe Main Event for £1,000,000 - the highest single prize for a female player then. This was topped by China's Wenling Gao in the WSOP Online 2020 $5,000 Main Event, where she finished runner-up for $2,748,605.
The European Poker Tour has also had several female champions. Victoria Coren Mitchell became the first two-time champion of the popular live series in 2014. This feat has since only been matched by Mikalai Pobal in 2019. Other female champions include Maria Lampropulos, Sandra Naujoks, and Liv Boeree.
Lampropulos also won the title in partypoker's LIVE festival. At the MILLIONS UK in 2017, participants of the Ladies Event were chanting her name when the Argentinian earned the victory for a payday of £1,000,000. In that same year, Ema Zajmovic added her name to the history books of poker for becoming the first female WPT Main Event champion at the Playground Casino in Canada.
Many other female players boast impressive resumes; some becoming sponsored pros for online poker sites. Natural8 Team Hot ambassador Kitty Kuo for example, has already cashed for more than $2.3 million in live tournaments and only narrowly missed out on the WPT Main Event title with two runner-up finishes.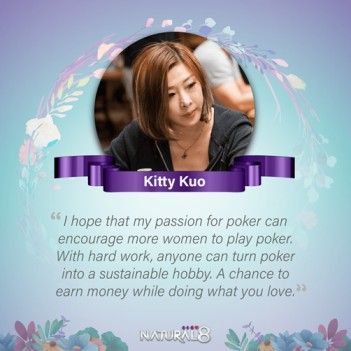 When talking about women in poker, one name should be mentioned for sure. Known as the "First Lady of Poker", Linda Johnson has a WSOP bracelet to her name and was introduced not only to the Women in Poker Hall of Fame in 2008 but also became a member of the mainstream Poker Hall of Fame in 2011.
Her countless contributions behind the scenes of the male-dominated poker tables further boosted the respect she gained. During an interview with PokerNews in 2018, Johnson spoke about the importance of poker's social experience and entertainment value.
Mainstream media has also gained more traction through several anchors, who use their poker knowledge to enhance presentation. Prime examples for that are Maria Ho, Kara Scott, and Lynn Gilmartin. New faces have also emerged in the last two years such as Jamie Kerstetter and Veronica Brill.
Jennifer Shahade is another name to note, for building bridges between the world of poker and chess. Another one is writer and psychologist Maria Konnikova who detailed her poker journey in the book "The Biggest Bluff" - which became a New York Times bestseller. All of them have certainly become role models for aspiring female players and showcased what is possible for female players in the game.
---
Related: Check out the PokerNews Review of 'The Biggest Bluff' by Maria Konnikova
---
Another trend that has picked up in mainstream media is online streaming, and plenty of female streamers have emerged to showcase their talents regularly for the world to see.
Natural8 is among several online poker sites that have partnered up with female streamers. Rebeca Rebuitti and Laura Cintra can regularly be found on Twitch and YouTube during their online sessions. For Rebuitti, the community aspect and the support gained plays a very important role.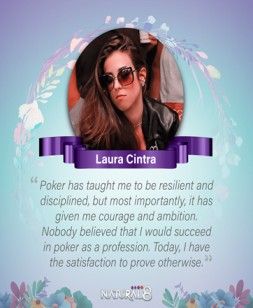 Cintra considers women-only tournaments as "very important and function as a fair gateway to this world" - a sentiment which friend of Natural8 Jessica Teusl agrees with.
"A lot of women like it when the atmosphere is more relaxed, which is the case in Ladies Events. That being said, fighting in a man's world is not easy. Dare to dream and make the first step, as it could be a chance you did not expect," said Teusl.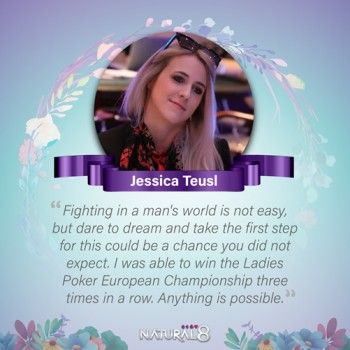 Another venue in which female players can share their experiences and advice are dedicated groups and organizations. For the German-speaking market, there's the Herzdamen Club, while international groups include Fantastic Ladies in Poker (FLIP) and Poker League of Nations (PLON).
FLIP's Daiva Byrne recently teamed up with GGPoker as an advocate to engage with more female players, while PLON has previously held Ladies Events during major festivals such as the 888live tour. Not only do these groups provide a platform for discussion but also find ways to give female players the chance to participate in more expensive tournaments.
There are still many obstacles to overcome for female players in poker, and it may not always boil down to a hostile ego-driven environment. Providing more advice and feedback for female players or creating dedicated learning groups appear to be solutions that work to make things better. One thing is for sure, the efforts and accomplishments of talented women in poker should be showcased not just today or this month but throughout the entire year.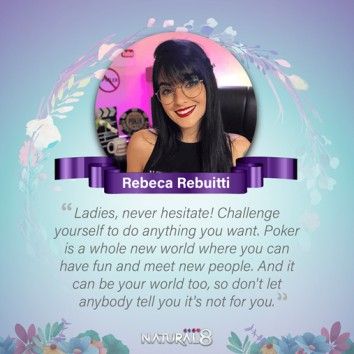 Sponsor-generated content from Natural8