WPTDeepStacks Heads to 888poker on April 18-26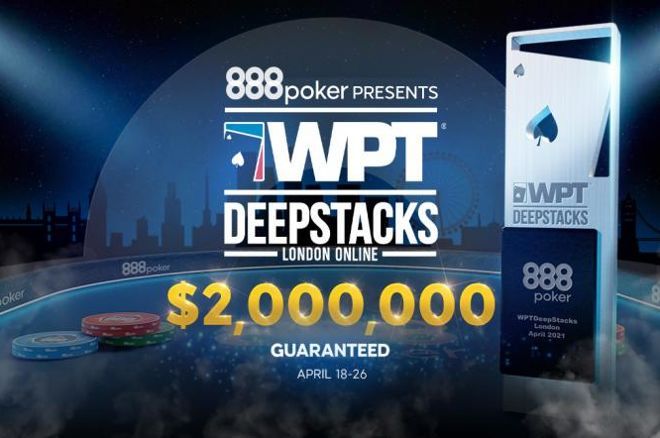 Get ready for some big poker action in April with 888poker thanks to a partnership with WPTDeepStacks which will see three separate tournament festivals run simultaneously across the 888poker global platform, 888poker Iberia (Spain & Portugal), and 888poker Italy.
The three festivals guarantee more than $3 million in prizes from April 18-26 with more than $2 million in guarantees slated for the 16-event WPTDeepStacks London festival held at the 888poker global platform. The WPTDeepStacks Iberia boasts more than €400,000 in guaranteed prize pools, while the WPTDeepStacks Italy features more than €350,000 in guarantees.
The WPTDeepStacks London is where most of the players will be able to get into the action at 888poker's global client.
Read on to learn more about the WPTDeepStacks London.
Head to the NEW 888poker Hub
Want to stay up-to-date on all the latest 888poker news right here on PokerNews? Why not try out the new 888poker Hub!
$1 Million GTD WPTDeepStacks London Main Event
The WPTDeepStacks London gives every player a chance to win a coveted WPTDS trophy with buy-ins ranging from as low as $16.50 all the way up to $2,100. Of course, there is big money also to be had with guarantees as high as $1 million!
The highlight of the festival is easily the $1 million guaranteed WPTDeepStack London $1,050 Main Event featuring 11 opening flights on March 28, April 4, April 11, and every day from April 18-25.
The tournament boasts an amazing structure with 20-minute blinds throughout the event. The first day will end after 12 blind levels are in the books. All surviving Day 1 players will then merge into one field for one final day of action on Monday, April 26 at 6:30 p.m. GMT.
Qualify for Just One Penny or Even for Free!
While there are many affordable events on the schedule for the everyday poker player, the $1,050 buy-in for the Main Event might be too big for your budget.
Don't worry too much about this as there are plenty of ways you can get in for just some pocket change - or even for free!
888poker is already hosting satellites and feeder tournaments starting at just $0.01 but this is not all as there are also chances to get in for free!
Every day, 888poker is hosting a no-ticket-required freeroll that gives away tickets to real-money satellites and feeder tournaments. This will add up to more than $200,000 in free tickets that 888poker is giving away to its players!
Qualify to the $1M GTD WPTDS Main Event for Free at 888poker!
Claim Your $888 Welcome Bonus Today
Time is ticking away for you to qualify for free to the WPTDeepStacks London. So there is no better time than now to grab your free account at 888poker.
If you don't have an account simply download 888poker through our links and you will be awarded an $88 bonus (£20 in the UK) without making a deposit. Once you are ready to make your first deposit, it will be matched in the form of a bonus up to $888, or more than twice as much advertised on the site.
888poker WPTDeepStacks London Schedule
| Date | Time (GMT) | Event | Buy-in | GTD |
| --- | --- | --- | --- | --- |
| April 18 | 6 p.m. | WPT DS #1 - $200,000 Opening Event | $525 | $200,000 |
| | 6 p.m. | WPT DS #2 - $50,000 Mini Opening Event | $55 | $50,000 |
| | 6:30 p.m. | WPT DS #16 - $1,000,000 Main Event Day 1 | $1,050 | $1,000,000 |
| April 19 | 6 p.m. | WPT DS #3 - $100,000 PKO | $320 | $100,000 |
| | 6 p.m. | WPT DS #4 - $30,000 PKO | $55 | $30,000 |
| | 6:30 p.m. | WPT DS #16 - $1,000,000 Main Event Day 1 | $1,050 | $1,000,000 |
| April 20 | 6 p.m. | WPT DS #5 - $100,000 High Roller | $2,100 | $100,000 |
| | 6 p.m. | WPT DS #6 - $75,000 Mini High Roller | $215 | $75,000 |
| | 6:30 p.m. | WPT DS #16 - $1,000,000 Main Event Day 1 | $1,050 | $1,000,000 |
| April 21 | 6 p.m. | WPT DS #7 - $100,000 Crazy 8 | $440 | $100,000 |
| | 6 p.m. | WPT DS #8 - $30,000 Mini Crazy 8 | $88 | $30,000 |
| | 6:30 p.m. | WPT DS #16 - $1,000,000 Main Event Day 1 | $1,050 | $1,000,000 |
| April 22 | 6 p.m. | WPT DS #9 - $100,000 Marathon | $525 | $100,000 |
| | 6 p.m. | WPT DS #10 - $50,000 Half Marathon | $55 | $50,000 |
| | 6:30 p.m. | WPT DS #16 - $1,000,000 Main Event Day 1 | $1,050 | $1,000,000 |
| April 23 | 6 p.m. | WPT DS #11 - $50,000 PKO 8-Max | $109 | $50,000 |
| | 6 p.m. | WPT DS #12 - $20,000 Mini PKO 8-Max | $16.50 | $20,000 |
| | 6:30 p.m. | WPT DS #16 - $1,000,000 Main Event Day 1 | $1,050 | $1,000,000 |
| April 24 | 6 p.m. | WPT DS #13 - $100,000 6-Max | $320 | $100,000 |
| | 6 p.m. | WPT DS #14 - $20,000 Mini 6-Max | $33 | $20,000 |
| | 6:30 p.m. | WPT DS #16 - $1,000,000 Main Event Day 1 | $1,050 | $1,000,000 |
| April 25 | 6 p.m. | WPT DS #15 - $100,000 Mini Main Event | $215 | $100,000 |
| | 6:30 p.m. | WPT DS #16 - $1,000,000 Main Event Day 1 | $1,050 | $1,000,000 |
| April 26 | 6 p.m. | WPT DS #16 - $1,000,000 Main Event Day 2 | | $1,000,000 |