Daniel Strelitz Wins His Second WSOP Bracelet in Event #73: $1,500 Razz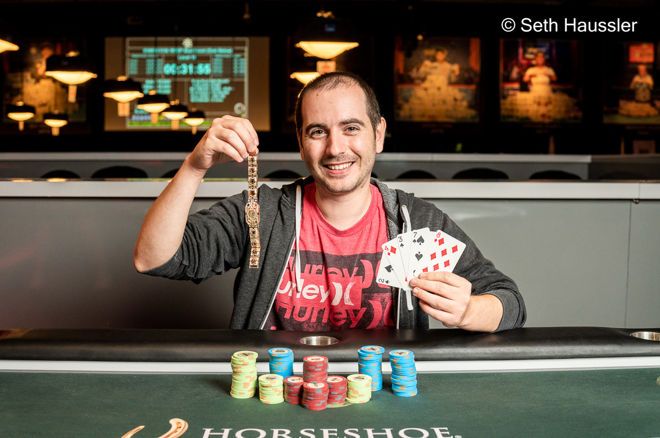 Daniel Strelitz gave his parents the perfect gift for their 34th wedding anniversary today: a gold World Series of Poker bracelet.
The Torrance, California native earned his second career bracelet, prevailing over a field of 383 players in Event #73: $1,500 Razz. Strelitz denied Lynda Tran the chance of being the first woman to win an open event in 2022 on his way to earning $115,723. His first bracelet came in the $5,000 No-Limit Hold'em event in 2019 (he also finished second in that event last year). This one, coming in a game that he's studied hard to figure out, is that much sweeter.
"It's awesome. I'm especially happy that it's in a non-No-Limit Hold'em event since that's what I've been concentrating on recently. But, yeah, No. 2 is great," he said following his win.
After the final hand, when Strelitz got his first opportunity to pose with his newly-won jewelry, a friend made a makeshift banner that read "Razz," a reminder that, though he's primarily been a Hold'em expert throughout his career, he's put in the work in this game.
"I'm not like an expert or anything, but I've been studying more since the last World Series with my friends," he said.
2022 World Series of Poker Hub
Bookmark this page! All you need to know about the 2022 WSOP is here.
Event #73: $1,500 Razz Final Table Results
| | | | |
| --- | --- | --- | --- |
| Place | Player | Country | Earnings |
| 1 | Daniel Strelitz | United States | $115,723 |
| 2 | Lynda Tran | United States | $71,527 |
| 3 | Calvin Anderson | United States | $49,557 |
| 4 | Frank Kassela | United States | $34,996 |
| 5 | Sergio Braga | Brazil | $25,198 |
| 6 | Kijoon Park | United States | $18,506 |
| 7 | Mark Gerencher | United States | $13,869 |
| 8 | Andres Korn | Argentina | $10,611 |
Day 3 Action
Strelitz came into Day 3 as the chip leader over the final nine players. Tran, meanwhile, began the day with just 180,000, good for just two big bets. She doubled up off Strelitz, then tripled up off Kijoon Park and Frank Kassela within the first few hands to jump back into contention.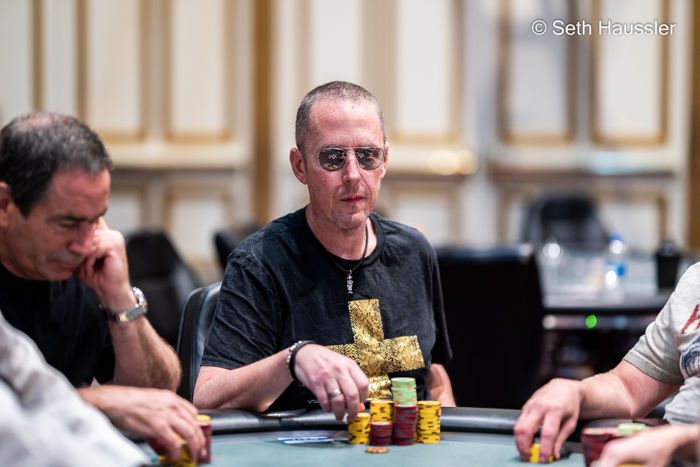 Argentinian bracelet winner Andres Korn would be the first to fall at the final table, losing to the seven-six of Mark Gerencher. Strelitz, meanwhile, made a wheel in a big pot against Kassela to cross 2,000,000, then knocked out Gerencher, the Pennsylvania winery owner, in seventh with a perfect seven.
The final six players would then go more than two hours without a bustout, each taking a turn with the chip lead. Strelitz left Tran short again by making an eight-seven, only for her to double up yet again. Just 30 minutes later, she was chip leader as her rail, including husband Turbo Nguyen (who busted the Main Event in 806th place earlier in the day), erupted in a frenzy.
Park, already a bracelet winner in 2022, went from massive chip leader to sixth-place finisher after running into the seven-six of Calvin Anderson, who went on his own "Razz rush" to build an overwhelming chip lead. Anderson would bust Sergio Braga in fifth place shortly after with another seven-six.
Strelitz would put a dent in Anderson's wall of chips, making a seven-six after calling down on every street. Kassela would fall in fourth place in a three-way all in also involving Tran and Anderson as Tran made an eight-six against Anderson's eight-seven.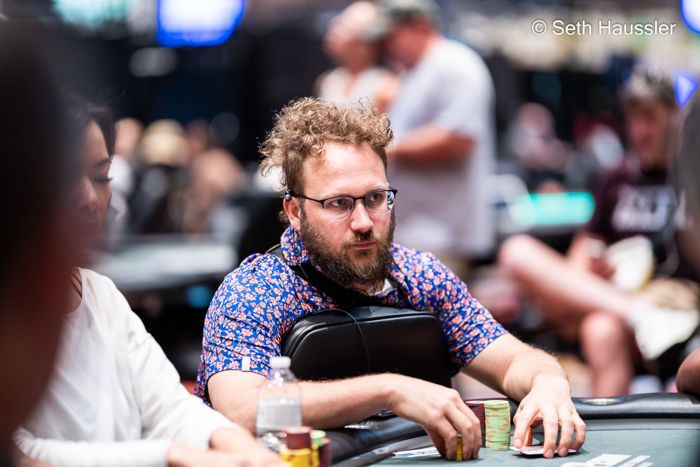 Anderson, the once-unstoppable force in this tournament, would be eliminated in third by Tran with a six-five as Tran took a 5,260,000 to 4,315,000 chip lead into the start of heads-up play.
Strelitz and Tran would trade mostly small pots for an hour before Strelitz won with 6-5-3-2-A to climb above 6,000,000 and leave Tran short. There would be no miracle comeback for Tran this time. On the last hand, Strelitz raised on third and Tran called. He raised again on fourth and Tran got the rest of her chips in on fifth. Strelitz ended up with 8-7-4-3-2 to win the pot and the bracelet.
While Tran had her massive and passionate rail, Strelitz had just his parents, watching their son play on their anniversary. The banter between the players and their supporters would remain friendly and good-natured, and Strelitz enjoyed the atmosphere.
"There was nine people to start the day, and I was kind of friendly with three or four of us, and all four of us made the final four," he said. "The rail was super exciting. They were super cheering for her. But I appreciated it. It wasn't anything derogatory at all."
Strelitz now has the bracelet, but a much bigger addition is soon on the way. His wife is eight months pregnant with their first child, a girl.
"Just so many emotions come out. I'm terrified, I'm super excited. They say baby run good is real, so there you go," he said.
A bracelet, a wedding gift for his supportive parents, and a baby on the way for the soon-to-be-father. It was a good day for Strelitz.
That concludes PokerNews' coverage of Event #73: $1,500 Razz. Stay tuned through the rest of the 2022 WSOP for all the action.