Will Phil Hellmuth Squash Critics in High Stakes Duel Rematch Vs. Scott Seiver?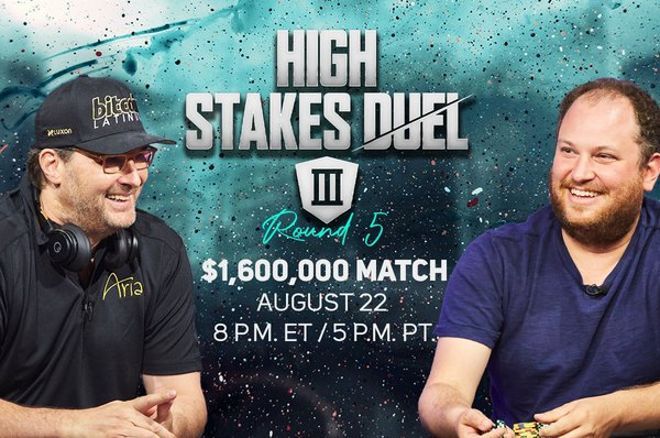 Beating a tough opponent such as Scott Seiver in consecutive matches isn't an easy task, but that is exactly what Phil Hellmuth will attempt to accomplish August 22 on High Stakes Duel III Round 5 with $1.6 million on the line.
With the date and time (8 p.m. ET) officially set at the PokerGO Studio in Las Vegas, we can now preview what figures to be an entertaining contest, and an important one for both players for reasons beyond the money.
How We Got Here
In the third series of games on High Stakes Duel, Hellmuth defeated Fox Sports personality Nick Wright, an amateur, in the $50,000 buy-in phase. Wright gave a valiant effort but lost and then declined a rematch, leaving the door open for Tom Dwan to pay $100,000 (the stakes are doubled each round) to take on the "Poker Brat" in Round 2.
Dwan won the first battle, handing Hellmuth his first defeat in eight games on the PokerGO show, but the 16-time WSOP bracelet winner got some revenge in the rematch, a $400,000 pot. The two were set for the rubber match in May, but "durrrr" had other priorities and was replaced by Seiver.
In Round 4, which Seiver paid $400,000 to enter, Hellmuth moved to 9-1 on High Stakes Duel, setting up the upcoming match for $1.6 million.
Why the Match is Huge for Phil Hellmuth
As crazy as it might sound, despite holding a massive lead on the all-time WSOP bracelet record list (six more than anyone else), Hellmuth still has his critics. The 1989 world champion isn't considered a great heads-up player by many pros, but he continues to defeat formidable opponents.
Winning in Round 5 would mean consecutive victories against a high-stakes legend and a 10-1 record on the show, certainly not an accomplishment that should be overlooked.
It's true he hasn't faced any of the players many top pros would consider to be among the best in the game at heads-up no-limit hold'em, but Antonio Esfandiari, Daniel Negreanu, Tom Dwan, and Scott Seiver are no slouches.
Hellmuth's legacy will always be connected to World Series of Poker greatness. Few would argue he's been the top WSOP performer in history. Beating Seiver in a $1.6 million match and going 10-1 against quality competition would give the "Poker Brat" another talking point when critics question his legacy outside of the WSOP. In live heads-up sit 'n go style matches, he's arguably been the best ever. Not only is he currently 9-1 on High Stakes Duel, but he also won the 2005 NBC Heads Up Poker Championship, a 64-player tournament, and finished runner-up to Mike Matusow in 2013, the tournament's final year of existence.
Hellmuth will always have loud critics no matter what he accomplishes. Part of that is due to his bratty behavior at the poker table and difficulty in simply saying "nice hand" when he suffers a bad beat. And some of the hate is because he doesn't incorporate modern day game theory optimal (GTO) strategy that you see from most high-stakes pros of today. Beating Seiver back-to-back and moving to 10-1 on High Stakes Duel, however, could silence a few of those critics (or maybe not).
Phil Hellmuth's High Stakes Duel Results
| Series | Round | Opponent | Result | Prize Pool |
| --- | --- | --- | --- | --- |
| HSD I | 1 | Antonio Esfandiari | Win | $100,000 |
| HSD I | 2 | Antonio Esfandiari | Win | $200,000 |
| HSD I | 3 | Antonio Esfandiari | Win | $400,000 |
| HSD II | 1 | Daniel Negreanu | Win | $100,000 |
| HSD II | 2 | Daniel Negreanu | Win | $200,000 |
| HSD II | 3 | Daniel Negreanu | Win | $400,000 |
| HSD III | 1 | Nick Wright | Win | $100,000 |
| HSD III | 2 | Tom Dwan | Loss | $200,000 |
| HSD III | 3 | Tom Dwan | Win | $400,000 |
| HSD III | 4 | Scott Seiver | Win | $800,000 |
| HSD III | 5 | Scott Seiver | ? | $1,600,000 |
Why the Match is Huge for Scott Seiver
Similar to Hellmuth, Seiver could never play another hand of poker and still go down as one of the all-time greats. But there's still plenty for him to prove and accomplish, starting with High Stakes Duel III Round 5.
In the current series of games, Hellmuth is in for $250,000 ($50,000 initial buy-in, plus $200,000 for Dwan rematch). Seiver, on the other hand, has far more at stake as he was required to pay $400,000 to enter Round 4 in place of "durrrr" as the challenger. Should Hellmuth win the upcoming match, he could cash out and take a $1,350,000 profit.
That wouldn't be the case for Seiver, who must win three consecutive games before he could take the money and run, unless PokerGO would be unable to find a challenger to play the $3.2 million Round 6 game. Per the show's rules, a player must win three straight matches before cashing out unless a new opponent can't be located.
There's more than money on the line for Seiver, who won his fourth WSOP bracelet this summer. At age 37, he's just three years away from Poker Hall of Fame eligibility. Adding to his already stacked resume certainly wouldn't do him any harm.
Seiver has $25 million in live tournament cashes, according to Hendon Mob. But he's known as much, or more, for competing in some of the highest stakes cash games in the world. On August 22, he could also become the poker player who ripped away a $1.6 million pot from Phil Hellmuth, and that would probably make a number of poker fans happy.