Alan Keating Wins Biggest Pot in U.S. Livestream Poker History; Scoops $1.2 Million on Hustler Casino Live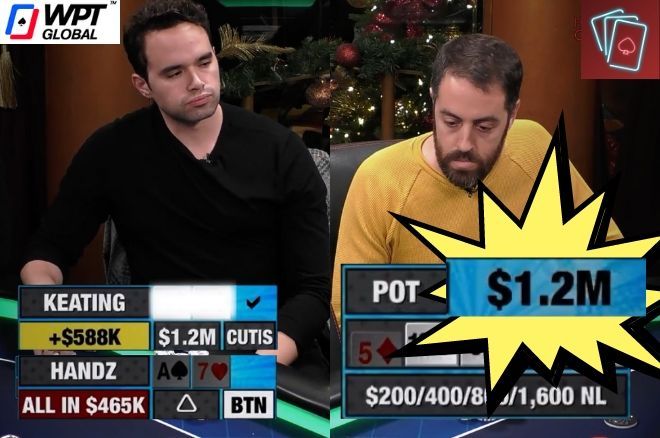 Table Of Contents
Sometimes you're the bug, and sometimes you're the windshield.
They're the words of high stakes cash game player Alan Keating after scooping a massive $1.2 million pot on Hustler Casino Live last night.
The pot came days after an external investigation found "no evidence of wrongdoing" during the infamous Jack-Four hand, and barely a fortnight after the fake naked breasts scandal during an episode of 'Max Pain Monday'
After rivering a flush, Keating called a shove from opponent Handz to scoop the eye-watering amount, in what may turn out to be the largest pot in poker live stream history.
Hand Recap
In a $200/$400/$800/$1,600 No-Limit Hold'em cash game, Handz raised to $9,000 on the button with
. He was called by Ben Lee in the small blind with
, and by Eric Persson
and Alan Keating in the straddles
The flop
was checked to Handz who continued for $25,000 into a pot of $37,200. Keating was the only caller.
---
Fake Naked Breasts on Hustler Casino Live: Hilarious Joke or No Laughing Matter?
---
Keating then check-called $70,000 on the
turn and the pair went heads-up to the river which was the
.
With $227,000 in the pot, Keating chose to bet $155,000 and Handz then shoved, putting Keating all in.
Keating had $309,000 behind and spent over two minutes in the tank before calling with his flush, beating the rivered pair and nut-flush blocker of Handz to scoop the seven-figure pot.
Robbi Jade Lew Return to Hustler Casino Live in the Works?
"I Just Got It In" says Keating
"Maybe if I had a smaller flush, do I fold? But yeah, I just got it in"
After the hand, Hustler Casino Live interviewed Keating who said that he felt bad for Handz.
"I love his shove with the ace," he said. "It's a pretty awesome move [and I] respect that.
"Maybe if I had a smaller flush, do I fold? But yeah, I just got it in."
Keating said that after betting the river, he thought it would be interest if Handz shoved.
"Then when he did I was like 'Ok well, maybe I should have thought about that further!' I had the king-high flush, I'm not going to act like I had some brilliant thinking — just call."
Here's what @Mister_Keating had to say after winning a $1.2 million pot & booking his first ever HCL win — for over… https://t.co/vk9RWIw2K3

— Hustler Casino Live (@HCLPokerShow)
Reaction to the Hand
Following the hand, many poker fans took to twitter to call Keating a "legend" or some similar sentiment.
Fellow cash game player Andy Stacks tweeted that "many poker players are now going to have second thoughts before making that naked ace bluff shove."
Keating himself had similar words of warning to players, with the aforementioned bug and windshield analogy.
Twitter user @SteveLeoni said that he "couldn't believe" what he was watching, calling LA streams "the BOMB!" while @ChrisSlickPoker called it an "easy call" for Keating, but conceded that Hands had heart for his shove.
@Mister_Keating legend. Record pot on @HCLPokerShow! Congrats! # https://t.co/bclmthm1qb

— Antonio Lievano (@AntonioJLievano)
What do you think of the hand? Let us know in the poll below!
Will Shillibier is based in the United Kingdom. He started working for PokerNews as a freelance live reporter in 2015 and joined the full-time staff in 2019. He graduated from the University of Kent in 2017 with a B.A. in German. He also holds an NCTJ Diploma in Sports Journalism.