Fake Naked Breasts on Hustler Casino Live: Hilarious Joke or No Laughing Matter?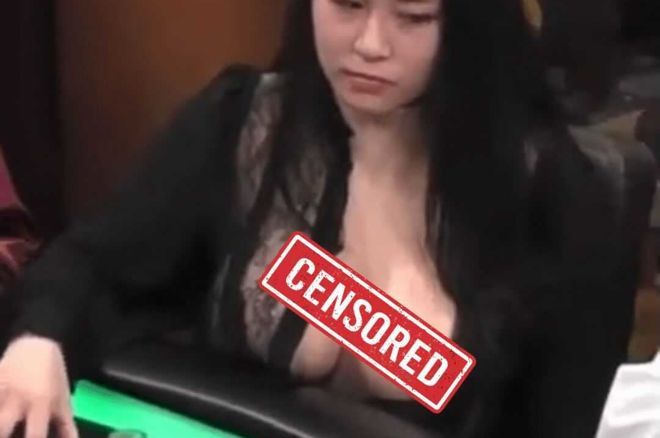 Table Of Contents
During "Max Pain Monday" on Hustler Casino Live, a regular on the show, Sashimi, wore a body suit that exposed fake large breasts, hilarious to some on poker Twitter and disturbing to others.
A video from Monday night's stream surfaced on the internet, which led to some interesting comments.
@HCLPokerShow is the greatest thing to ever happen to poker. @Joeingram1 @berkey11 #poker https://t.co/apKLe5JNbN

— Low Limit Cash Games Podcast (@llcashgamespod)
Sashimi is an Instagrammer and YouTuber who often vlogs her poker sessions from Hustler Casino Live and also Poker at the Lodge, which streams from The Lodge Card Club in Round Rock, Texas.
Many Found Humor in It
In the clip, Hustler Casino Live commentator Kyle Ravreby, aka "RaverPoker," as the camera zoomed in on Sashimi's chest, giggled as he said, "I'm looking away from the screen right now. Sashimi, come on, please."
Many others shared in his laughter with jokes on poker Twitter, including Bill Perkins and Matt Berkey.
"Sashimi is invited to my meet up games anytime," poker vlogger Joey Ingram wrote.
"Seat open here in Maryland," @RealIntrepid1 tweeted.
Crossing the Line?
But not everyone thought it was a laughing matter. Sherry Pluskota asked Hustler Casino Live to "do better." Kyna England simply asked "why" would Sashimi feel the need to wear a body suit that exposed fake breasts during a streamed poker game. K.L. Cleeton was also none too thrilled and called out the popular live-streamed poker show.
"Welp it's official and final - @HCLPokerShow is a joke and just objectively awful... There is zero that can be done to fully rebuild credibility," Cleeton wrote.
Ryan Feldman and Nick Vertucci, co-owners of Hustler Casino Live, both responded to Cleeton's tweet.
@highhands89 @HCLPokerShow IMO we have a done a ton to grow the game & get lots of eyeballs. We bring in influencer… https://t.co/I1g09rcmux

— Ryan Feldman (@TheRyanFeldman)
Danielle Andersen defended Feldman and the show when she wrote: "One of the things that makes HCL special is the willingness to let people be characters. The good, bad, ugly & sometimes politically incorrect being shown in all it's entertainment glory. Don't start censoring now bc a few people on the internet are mad."
David Tuchman, a regular Hustler Casino Live commentator, disagreed with Feldman in that he shouldn't have vetoed it because "it was hysterical."
"I think the word you are looking for is awkward but to each his own," Jami Lafay responded to Tuchman's post. "Let's remember that what men may see as no big deal women in poker may see slightly different because of their struggle to play. Women feel they don't get taken seriously. I'm sure they have a different perspective often."
"Max Pain Monday," which airs, you guessed it, on Mondays, is a different kind of poker stream than most are accustomed to. Slow-rolling is encouraged, and the players don't run it twice during massive all in pots. The game is more relaxed than most poker streams and the players all have fun and joke around. Without those elements, it wouldn't be a true Max Pain Monday.
Sashimi is a regular on Max Pain Monday and is always one of the more colorful characters in the game. Many viewers enjoy watching her play each week. On this week's episode, however, some felt she went a bit too far, while others absolutely loved it. A split decision is standard for poker Twitter on just about any issue.
What do you think?