Before the Bust: Sam Greenwood Talks Deep-Stacked Tournament Strategy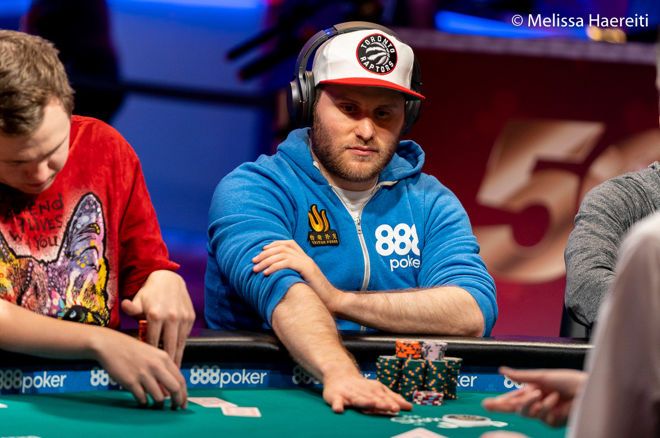 When Day 6 of the 2019 World Series of Poker began, Sam Greenwood was in second place in the chip counts with 106 players returning.
With more than $18.5 million in tournament earnings and a large collection of tournament trophies — including several won in super high roller events versus some of the most talented poker players in the world — many looked at Greenwood as a favorite to be one of those advancing to the final table that starts this Sunday.
Alas for Greenwood, his run was stopped late last night in dramatic fashion in a hand versus the player who began Day 6 with the chip lead, Timothy Su — most certainly the hand of the tournament thus far.
You can read all about the hand here, one that saw Greenwood's A♥A♣ cracked by Su's 10♣9♣. In the hand, Su raised all in on the turn with an open-ended straight draw and Greenwood called with a better than 4-to-1 chance of winning, but the straight came in on the river and Greenwood was suddenly out in 45th.
If you missed seeing it, here's how it looked on PokerGO:
For many the hand immediately recalled one between Matt Affleck and Jonathan Duhamel that occurred with 15 left in the 2010 WSOP Main Event. In that one Affleck had pocket aces and moved all in on the turn, Duhamel called with an open-ended straight draw, and the river gave Duhamel the straight. After Affleck finished 15th, Duhamel went on to win the title.
Earlier in the day — well before the late night craziness — PokerNews' Sarah Herring had a chance to talk with Greenwood about a number of topics, including a hand he played the day before that was among those that helped position him well to start of Day 6.
Watch and listen below as Greenwood talks about his extensive experience playing against tough players and his comfort playing a deep stack of 100 big blinds or more — something that perhaps distinguishes him from some players and was another reason why many pegged him as a favorite heading into the tournament's latter stages.
Greenwood analyzes a hand he played against Andy Hwang (who would eventually go out in 64th). The hand might have appeared somewhat innocuous when read in the PokerNews' live reporting blog — see "Greenwood Bets Big on Turn" — but as you'll see, Greenwood's discussion of it provides a great example of how a top-level player thinks about deep-stacked tournament strategy.
The key moment involves Greenwood putting in a big check-raise on the turn, thereby putting Hwang to a big decision.
After the hand review, Greenwood offers a few more thoughts about how players approach the WSOP Main Event differently from other tournaments, articulating more great advice that now applies to those still remaining in the event. Take a look:
The excitement continues in the WSOP Main Event later today as 35 players return for Day 7. Stick with PokerNews for wall-to-wall coverage as they try to play down to a final table tonight.