Gathering Chips and Challenges: Building a Poker Career with Mike Sneideman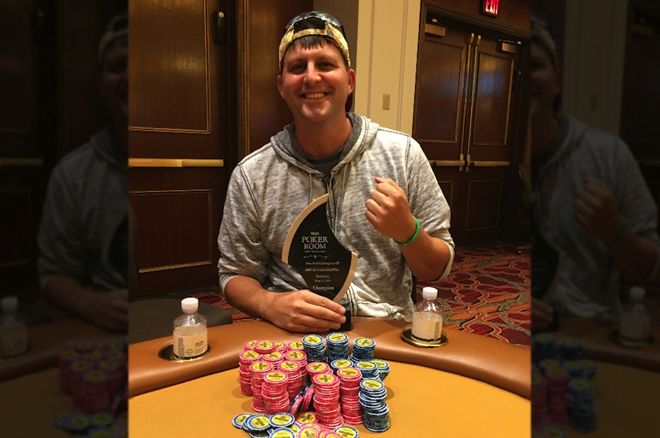 Two years ago, I interviewed aspiring poker pro Mike Sneideman. He was one of the unfortunate final 27 players whose poker careers hit a speed bump due to the counterfeit chip scandal during the 2014 Borgata Winter Poker Open, and he took the time to share his thoughts about the experience with me.
At the time, Sneideman was just starting to take poker seriously and considering it as a viable career change from his stable job as a Connecticut mail carrier. One motive for this change was that his son lives on the other side of the country with his mother in California. After unsuccessfully securing a transfer, he turned to poker as a way of being closer to his son.
Skip ahead two years later. The Borgata scandal has been resolved, and Sneideman has made the move to California. Since my initial interview with him, he and I have become friends, and in fact he offered me the extra bed in his room during his stay at the World Series of Poker this summer. This gave me a golden opportunity to do a follow-up interview to see how his plan has worked out. His responses offer a lot of insight into the challenges faced by poker players who take the plunge to try to turn pro.
PokerNews: Describe for us what the process was like quitting your job and moving across the country to be a poker player?
Mike Sneideman: Of course, I now get to see my son all the time, so that make the entire experience worthwhile. He was the reason I had to make this radical move west. California is beautiful, and naturally I don't miss delivering mail in the snow.
However, honestly, if I could be a mail carrier and still live near my son, and play poker as a hobby/second job, that would be ideal. There is stress and anxiety in trying to earn a living as a poker player that is just totally foreign to someone with a good steady job like U.S. Postal Carrier.
It seems like the move has worked out well for you. You had a great 2015 WSOP and you're just now wrapping up an even better 2016 WSOP. Talk about some of your deep runs from the past two years since you've been in California.
Well, I think the fact that I have survived and can afford to drive to Vegas without having to panhandle for gas money is something of an accomplishment. Seriously, looking at someone's results on Hendon Mob doesn't tell half the story. Poker kicked me in the rear my first six months in California. I didn't get the memo from the Grinder's Union Local 482 telling me that cash games are veeeeery different than tournaments. I probably lost $30,000 playing cash at Oceans 11 Casino in Oceanside, and then I couldn't get any of my money from Carbon Poker, where I had won a fair amount playing their tournaments. It was a perfect storm of misery.
I got a job at Bed, Bath & Beyond while I tried to figure out how to make ends meet. Trying to make a living playing poker seemed like an impossibility at the time. I wasn't even going to go to the 2015 WSOP. My friend Marc Alioto, a longtime poker pro with Tournament Poker Edge, convinced me I just needed to get some backing. Sadly, I needed a little help walking me through this process, but I posted on the Two Plus Two staking forum and had a check in the mail for $13,000 a few days later. I ended up winning a Venetian event and going deep in the Millionaire Maker, so it was a very profitable summer.
But cue the violins... I soon had a ridiculous stretch where I bricked 30 straight tournaments, having to experience watching my life roll slowly deplete. But this summer, with 12 cashes in tournaments overall including an 18th-place finish in the Colossus, I have turned things around again.
I'm pretty optimistic about the future at the moment. I'd like to think I have this poker thing figured out — partly thanks to your mentorship, Mr. Welch. From here, I'm gonna be focused on beating low stakes cash games and grinding out a living playing small buy-in tournaments online, and certainly still taking my shots playing high-value tournaments where I might be able to bink my first six-figure cash.
Thank you Mr. Sneideman — the knowledge exchange between us has been a two-way street. That said, let's talk a bit of strategy. Do you remember any interesting hands from events this summer?
Well, my Main Event bustout hand was pretty terrible. I was half-tilted at the time as I saw my stack go from 90,000 to 25,000 the last two levels of Day 1.
Then on the second-to-last hand of the night, a young kid opened from the cutoff and I had
in the small blind. I thought about shoving for a moment. It had been a very frustrating day and perhaps the best thing to do would be to shove, take the pot down, bag, and regroup for Day 2. I opted for three-betting less than all in, and the villain called my massive raise which was nearly 4x the size of his open.
The flop came
. I continuation bet and the villain called. The turn was the
. I decided I was calling down, but wanted to control the size of the pot and give the opportunity for villain to bluff, so I checked the turn. The villain bet big in order to set up a pot-size river shove, and I called his turn barrel.
The river was the
and I checked to the villain who took about 15 seconds before shoving all in. I called and the villain had
. Poorly played by me. Most players — even young aggressive players in my opinion — just aren't bluff-shoving rivers as often as one might think. It was too early in the Main Event to get it all in with one pair.
Any other hands?
I guess it is silly to ruminate over losing a flip, but it looked like my last tournament of the summer might be magical as I made it to the final two tables of the Wynn $750,000 Guarantee. I grinded the short stack all day long and with 15 players left, I got it in preflop with
-suited against
and lost a race. I cashed for a little over $14,000, but if I had doubled I would have had 1.2 million chips and a real chance to maybe win the $270,000 up top.
Alas, I also got knocked out of the Colossus in 18th in similar fashion with jacks against ace-king. Naturally, I have my "I never win flips" sob stories just like everyone else.
Well, congratulations on your success, my friend. It's good to see you get some run good after what you went through at the Borgata. Now that that's behind you, what are your plans moving forward?
Right now I'm already counting the days to the 2017 WSOP! But, on my drive home from Vegas, I'm going to try to internally return to true grinder mode and prepare to focus on the things I talked about before — beating the low limit games and trying to be a true pro when it comes to bankroll management and game selection. I think to succeed I also need to keep poker fun. I started Twitching and really enjoy that, and plan on doing a lot more at twitch.tv/rampagepoker.
Learn more about Mike Sneideman and follow his career at his site, Rampage Poker.
Photo courtesy Rampage Poker.
Want to stay atop all the latest in the poker world? If so, make sure to get PokerNews updates on your social media outlets. Follow us on Twitter and find us on both Facebook and Google+!