Facing Loose Players on Coordinated Boards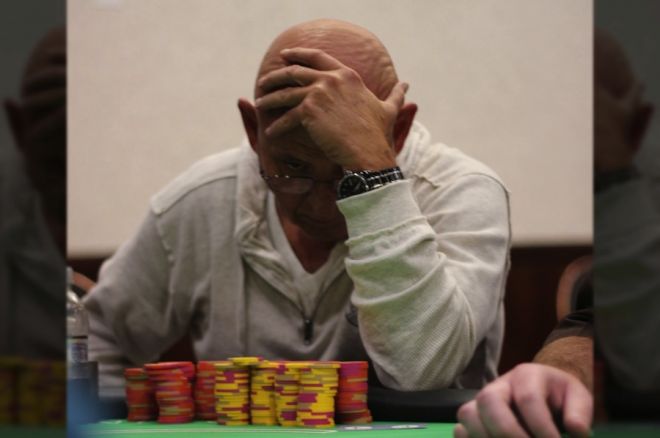 Covering live poker tournaments for a living affords me the opportunity to see countless thousands of hands played out, many of which offer interesting and potentially valuable insights into how players — both amateurs and professionals — play the game. In this ongoing series, I'll highlight hands I've seen at the tournaments I've covered and see if we can glean anything useful from them.
The Scene
For this week's hand, we travel back to the RunGood Poker Series Hard Rock Tulsa Main Event that took place in September. The $675 Main Event drew 281 players and we pick up the action with eight players left, all fighting for a first-place prize of $33,998.
They have moved to Level 22 (12,000/24,000/4,000), and chip leader Rick Robbins (pictured above) is on cruise control with about 1.4 million. That's when Robbins gets involved with one of the most active players at the table, Rodney Spriggs, whose loose style meant he was playing plenty of hands. Spriggs has around 400,000 to start this hand.
The Action
Spriggs limped into the pot for 24,000 from middle position, and action folded to Robbins who raised to 72,000 from the small blind. Spriggs called, bringing a flop of
. Robbins didn't slow down, coming out with 105,000, which Spriggs again called.
Robbins bet 100,000 more on the
turn, and Spriggs called once more. An
river made four to a straight on the board, and Robbins put Spriggs all in for his last 121,000.
Spriggs peeked once more at his cards and quickly called, showing down
for a straight without bothering to wait for Robbins, who nonetheless flashed
before throwing his hand into the muck.
Concept and Analysis
Understanding how to combat loose players is a key component of success in smaller buy-in tournaments. Many players at these stakes love to see plenty of flops, because let's face it, playing tight can be pretty boring.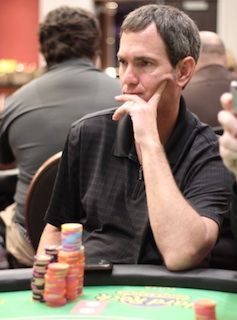 Spriggs had established his willingness to mix it up, so Robbins rightly figures a pair of tens are most likely the best hand and makes a decent-sized raise from the small blind after Spriggs limps in. That drives away the big blind, isolating Spriggs's likely weaker holding heads up. So far, so good for Robbins.
The flop comes pretty coordinated, and Robbins continues to play standard solid poker with a value bet of half-pot, which gets called. He has to like his hand quite a bit here and indeed fires another relatively smaller bet on the turn.
However, this is the point when alarm bells should be going off for Robbins. A board of
is rife with possibilities, exactly the type of possibilities that hit the hands Spriggs loves to play. He could very easily have tens beat with a set, two pair, or even a straight.
At this point, Robbins' small bet only serves to build the pot for Spriggs, who can play his hand perfectly. He knows he's probably behind an overpair but has a ton of outs with his straight draw and pair. Robbins would be better off either forcing Spriggs to commit his whole stack if he thought the tens were best or checking and trying to control the size of the pot. Spriggs ends up making his straight and doubling up when he likely would have folded had he missed, costing Robbins value.
Playing against loose players on coordinated boards is a difficult proposition, especially out of position. It's important to be wary of boards such as this one and understand that these often nail the range of hands these opponents love to play. A jumble of middle cards with possible flush draws is right in their wheelhouse, so plan your postflop actions accordingly. Giving them cheap cards on these boards can be disastrous, so be ready to commit to a hand early if you think it's best.
Handing Spriggs the double didn't end up costing Robbins too badly, as he still finished second for $21,518. Spriggs had fallen back a bit early in the final table but the key win gave him the ammo he needed to make a third-place run for $14,410.
Want to stay atop all the latest in the poker world? If so, make sure to get PokerNews updates on your social media outlets. Follow us on Twitter and find us on both Facebook and Google+!