Firing Away: Jonathan Little Attempts a Triple-Barrel Bluff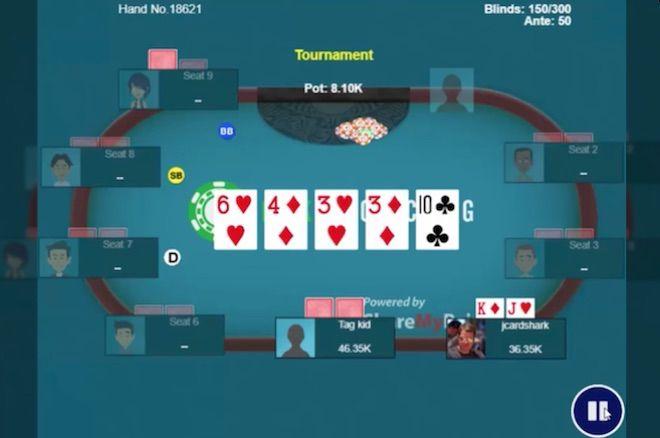 Today I am sharing another hand from the same tournament we were discussing last week, also from the $10,000 buy-in Seminole Hard Rock Poker Open.
Not unlike last week's hand, in this one I am again attempting a large bluff early in the tournament. Things worked out in the last one — will this one work out as well?
Here the blinds were 150/300 with a 50 ante. I had about 40,000 when I was dealt
in middle position and I raised to 800. Next to act, a tight-aggressive young player called with about 50,000 to start, and the two of us saw a flop come
.
With 2,500 in the middle, I continued for 1,000. (Looking back, I think I should have bet more.) My opponent called, and the turn brought the
. I bet again — 1,800 into 4,500 this time — and my opponent called once more.
The river was the
. There was 8,100 in the pot, and I had to decide whether or not to fire a third barrel.
I did decide to bet again. Take a look below and hear my reasoning for continuing to bluff on the river and see what happened:
As I say in the video, when making a bluff like this, you always want to ask yourself "what am I trying to make my opponent fold?"
In this case (and with the bet size I used), I was trying to get my opponent to fold busted draws, ace-high hands, and perhaps hands like pocket fives. Betting bigger could get an opponent to fold even more of his range.
How would you have played this hand, including on the river?
Jonathan Little is a professional poker player and author with over $6,500,000 in live tournament earnings. He writes a weekly educational blog and hosts a podcast at JonathanLittlePoker.com. You can follow him on Twitter @JonathanLittle.
Finding a trustworthy room to play online poker can be a monumental burden. That's all the more true if you're just looking for a place to play poker for free. We've listed five of the best play-money poker sites to enjoy and help hone your skills.