Interview with 2018 WSOP Europe Main Event Winner Jack Sinclair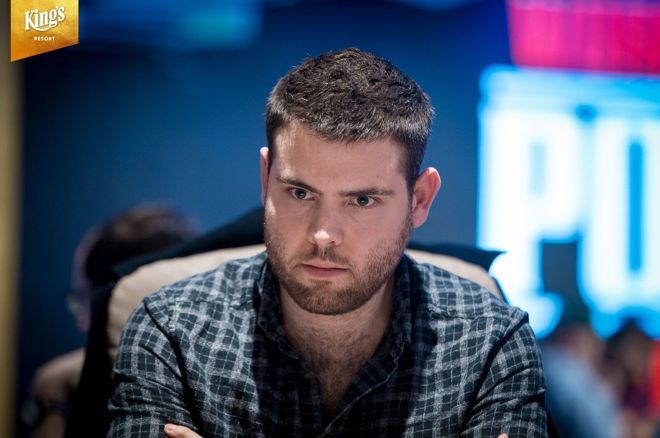 Back in October, Jack Sinclair earned his first World Series of Poker bracelet by capturing the €10,350 buy-in WSOP Europe Main Event at King's Casino in Rozvadov, Czech Republic.
Following his tremendous though disappointing eighth-place finish in the 2017 WSOP Main Event in Las Vegas, the U.K. player traveled the poker circuit full-time and enjoyed continued success, winning three titles and earning over $800,000 over the next year. However, his 2018 WSOP in Vegas was, in Sinclair's own words, "a bloodbath," as he lost significant money and didn't have any deep runs in bracelet events.
Thus did his big WSOP-E Main victory, good for a €1,122,239 first prize (worth about $1.28M USD), translate into a big turnaround for the year. Following his momentous win, Sinclair shared some insights on his bracelet win.
PokerNews: Congratulations on winning the WSOP Europe Main Event. How do you feel?
Jack Sinclair: Thank you. I'm actually pretty exhausted, but emotionally, it's been incredible and I really can't believe it. Overall, it is pretty surreal.
Since the 2017 WSOP, you have been on an incredible run at the tables. How did you go from playing poker casually with your college mates at Surrey University in England to playing professionally on the biggest poker stage versus some of the best players in the world just in a few years?
After I started playing poker back at university in 2013, I immediately fell in love with the game. We would just have fun playing in home games almost every night, splashing around, not really knowing what we were doing. After graduating, I would get short-term jobs but would also play online poker during the days. After a few years, I decided to give poker a go full-time.
However, during the latter half of 2016, I was on a bit of a downswing. While randomly browsing Pocket Fives, I saw Phil Gruissem's page and I saw that he was offering coaching. I thought it couldn't hurt to get some coaching and guidance from him, as he was one of my favorite players. After our lesson and an unusual circumstance (listen to Bernard's podcast to get the full details), I ended up rooming with him in Malta. From then on, we played poker online non-stop sitting next to each other for the next several months. It was a real transformation for my game.
Additionally, during the 2017 WSOP, I roomed with another German pro I met in Malta, Anton Morgenstern. Throughout the summer, we would talk over hands every day, sometimes during the breaks of the tournament. Anton really helped develop my live poker game.
After your final table in the 2017 WSOP Main Event, you began traveling around the world to play poker. Were you able to continue your poker education while you did?
There is one huge benefit to traveling so much to play poker. I have made friends with so many fantastic poker players and really improved my game in the last year. I'm learning so much from these fantastic players that I'm able to talk hands with every day. With different people to talk with, you get different opinions and you have to figure out why each of them is saying what they are saying. It is such a great learning experience and has helped me constantly improve my game.
Prior to playing the WSOP Europe Main Event this year, how did you prepare mentally for such a grueling and important tournament?
Before the WSOP Europe, I took some time off beforehand, just to reset and chill out. When I came in, I put a lot of focus on my mindset. I was meditating before playing every day. I am kind of annoyed that it worked so well because now I'm going to have to mediate all the time (laughs). I was quite keen to focus on performing to the best of my ability on this tournament. I really think that this was a key difference in this one.
Poker pro Igor Kurganov was your coach for the 2017 WSOP Main Event final table, and he also went deep in the 2018 WSOP Europe Main Event, finishing 22nd. Did he once again help prepare you for the WSOP Europe Main Event final table? What strategy did you establish prior to playing the final table?
I was able to speak with Igor before the final table and I was fortunate that the final table went very smoothly, like the tournament as a whole. Basically, play tight and not get too much money in preflop was the plan, which is pretty much what I stuck to and it worked out. I was very lucky, which was pretty huge. And then the short stacks busted without too much trouble, so the final table was much like the rest of the tournament — just sort of smooth sailing. I was able to chip up without being in too many risky situations.
Is this how you approach every final table?
No. You have to assess each final table differently depending on lots of factors such as your chip stack, your opponents' stacks, your opponents' position relative to you, and their relative aggression levels. In general, you will always have to adjust to your opponents.
In this case, I was a medium stack up against other big stacks that were willing to put you under significant pressure. I needed to protect myself by playing a little tighter than other times. So I wanted to enter pots with tighter range of hands to defend myself with and possibly put the pressure back on them.
Did you have to make any adjustments during heads-up play (against Laszlo Bujtas)?
I figured that this was going to be a battle as our chips stacks were very deep. However, Laszlo was really throwing chips around and was a very aggressive player. Sometimes, you play heads-up and you play small ball and wait for stuff to happen. But with Laszio, if you don't make something happen, he will just run you over. I had to adjust accordingly.
After winning your first WSOP bracelet, what does the future hold for you?
Being able to play poker for a living is a dream come true. I just love it. I want to keep improving and hopefully play even better in the future.