Main Event
Day 1a Completed
| | | | | | |
| --- | --- | --- | --- | --- | --- |
| Chieh Su Shih | | | | 171,800 | |
| Erdenebold Begzjav | | | | 142,100 | 67,100 |
| Thomas Ward | | | | 133,600 | |
| Nathaniel Seet | | | | 124,500 | |
| Renat Lyapin | | | | 122,200 | |
| Johannes Haase | | | | 115,700 | |
| Vadim Belov | | | | 112,300 | |
| Ligong Wei | | | | 111,400 | |
| Grant Levy | | | | 111,200 | 14,200 |
| David Hrdlicka | | | | 105,600 | |
| Andrei Taranu | | | | 99,900 | |
| Michael Finstein | | | | 97,900 | |
| Jackson Zheng | | | | 97,300 | -2,700 |
| Bo Wu | | | | 97,200 | |
| Gordon Huntly | | | | 97,100 | 56,100 |
| Alexey Filippov | | | | 95,700 | |
| Oleksandr Sharapov | | | | 95,500 | |
| Apoorva Goel | | | | 94,800 | |
| Johan Hirvonen | | | | 92,100 | |
| Kelvin Wong | | | | 90,400 | |
| Kitty Kuo | | | | 90,100 | |
| Julian Powell | | | | 89,100 | 8,100 |
| Othonas Katakis | | | | 88,900 | |
| Yury Kerzhapkin | | | | 88,700 | |
| Chun Kong Ken Heung | | | | 87,600 | |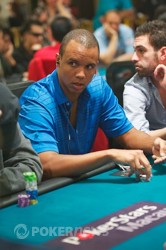 The first day of play at the 2011 PokerStars.net APPT Macau Main Event is in the books. Eight, 60-minute levels were played on Day 1a and the field that came out totaled 269 players. Heading the pack at the end of the day was Shih-Chieh Su with 171,800 in chips.
Overshadowing the big story of the kickoff of this amazing event was the return of Phil Ivey. Rumors had circulated recently about Ivey being in Macau. Those rumors turned into more rumors when it was mentioned that he'd be playing this very event. The rumors then turned to truths when Ivey showed up and took his seat during Level 2.
Ivey was quiet during the day as far as verbal volume goes, but his chip stack proved to be quite noisy during the day. He played plenty of pots and his stack was all the way up to around 95,000 at one point. At the end of the day, though, Ivey only finished on 51,200 in chips, but he'll be back for Day 2 on Friday.
Other notables coming out to play on Day 1a were Grant Levy, Julian Powell, David Steicke, Jackson Zheng and Team PokerStars' Raymond Wu, Alex Kravchenko and Mickey Petersen. They'll all be moving on to Day 2 and enjoy a day off tomorrow.
Some of the players who failed to make it through the day were Mark Vos, Emanuel "Curly" Seal, Andrew Hinrichsen, Jonathan Karamalikis, Michael Pedley and Ori Miller.
Day 1b will kick off on Thursday at noon local time here in Macau. The beautiful Grand Lisboa and PokerStars Macau will be the host once again as an expected field of 300 or so players will be out in full force. Be sure to come right back to PokerNews then.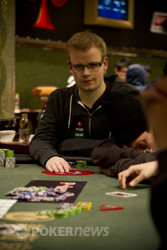 PokerStars Team Online Pro Mickey Petersen has been nursing a short stack for much of today's action and has just had his tournament life on the line on one of the last hands of the evening.
Petersen was under the gun when he shoved his stack all-in. He only had a little more than 10,000 and if he received a call, his tournament life would be on the line with only a couple of minutes before the end of Day 1a.
Petersen needn't worry though as all the cards went into the muck and he took down some much needed chips.
The tournament clock has been stopped and the players have been told they will be playing the last three hands of the night at Day 1a of the 2011 APPT Macau Main Event.
Phil Ivey has managed to slowly accumulate a nice stack toward the end of Day 1a action and it is because of hands like this that he now sits behind an almost six-figure stack.
The action started when a player opened to 2,200 from middle position. Ivey made the call from the button and the flop fell
. Ivey's opponent again led, this time for 3,100. When Ivey made the call, the
landed on the turn and both players opted to check.
The
on the river prompted Ivey's opponent to bet, throwing out 7,300 and leaving himself with around 20,000 behind.
At this point Ivey studied his opponent before tumbling a stack of 5,000 denomination chips onto the felt. It was more than enough to cover his opponent, who went into the tank before sending his cards into the muck.
| | | | | | |
| --- | --- | --- | --- | --- | --- |
| Jackson Zheng | | | | 100,000 | -25,000 |
| Grant Levy | | | | 97,000 | -8,000 |
| Julian Powell | | | | 81,000 | 19,000 |
| [Removed:163] | | | | 72,000 | 43,000 |
| Raymond Wu | | | PokerStars | 71,000 | -19,000 |
| Konstantinos Nanos | | | | 66,500 | 36,500 |
| David Steicke | | | | 61,000 | -15,000 |
| Frank Bianco | | | | 50,000 | 20,000 |
| Andrew Scott | | | | 42,000 | 6,000 |
| Young Phan | | | | 25,000 | -5,000 |
| Mickey Petersen | | | PokerStars | 13,000 | |
| Michael Pedley | | | | Busted | |
| Ori Miller | | | | Busted | |
Grant Levy has slowly moved his up the chip counts and we recently caught a hand which shows how he has been weaving his way up the leaderboard.
A middle position player opened the action to 2,000 before Levy popped it to 6,550. The action was then back around to the original aggressor and he threw in the four-bet, making it 7,150 more to Levy.
At this point Levy made a five-bet to 16,600 and his opponent thought for some time before throwing his cards into the muck. As Levy raked in his new chips he flung
on the table, making his opponent slightly cringe.
Level:

8
Blinds:

500/1,000
Ante:

100