Main Event
Day 2 Completed
| | | | | | |
| --- | --- | --- | --- | --- | --- |
| Ivan Luca | | | | 329,900 | |
| Cristian Lopez | | | | 289,600 | |
| Julian Menendez | | | | 270,300 | |
| Eduardo Santi | | | | 246,900 | |
| Francisco Baruffi Neto | | | | 227,700 | |
| Bruno Politano | | | | 212,800 | |
| Pablo Joaquin Melogno | | | | 202,500 | 22,500 |
| Angel Guillen | | | | 197,200 | |
| Thiago Camilo | | | | 183,700 | |
| Ariel Celestino | | | | 166,000 | |
| Bolivar Palacios | | | | 153,800 | |
| Carlos Leoncio Mironiuk | | | | 151,000 | |
| Juan Garcia | | | | 148,600 | -7,400 |
| Adriano Romeu | | | | 140,000 | |
| Diego Vilela | | | | 135,900 | |
| Nacho Barbero | | | | 132,900 | |
| Antonio Guedes | | | | 127,400 | |
| Takeo Nakati | | | | 124,000 | |
| Fidel Nunez | | | | 122,800 | |
| Roberto Bianchi | | | | 122,000 | |
| Carlos Guzzi | | | | 121,200 | |
| Fabio Baduy | | | | 113,700 | |
| Marcelo Ramos Da Fonseca | | | | 111,800 | |
| Bernardo Dias | | | | 110,700 | |
| Antonio Poncio | | | | 108,000 | |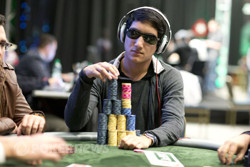 After another six levels, Day 2 of the Season 5 LAPT Punta del Este Main Event has wrapped up. Roughly 77 players remain from the 375 that began on Day 1 and leading the pack is Ivan Luca. He bagged up 329,900 and is the only player to cross the 300,000 chip mark. Following him are Cristian Lopez (289,600) and Julian Menendez (270,300), meaning three Argentineans lead the way.
Team PokerStars had three players in the Day 2 field. Angel Guillen (197,200) and Nacho Barbero (132,900) will be back on Day 3, but Humberto Brenes will not. Also busting was defending champion Alex Komaromi, but his father Pedro is still in the field with 85,600.
Others that will be returning Saturday are Eduardo Santi (246,900), Ariel "ArielBahia" Celestino (166,000), and Bolivar "Ramux" Palacios (153,800).
Day 3 will begin at 1pm local time tomorrow, so be sure to keep it here at PokerNews for all of the exciting action. Until then, good night from Punta del Este!
Tournament staff has just announced that the players will play four more hands before bagging and tagging.
Bernardo Dias opened to 4,000 in middle position and Ivan Luca re-popped it to 11,000 from the cutoff. Action folded back to Dias who called to see a
flop. He checked, as did Luca, landing the
on the turn. Both checked once again, leading to the
river. Dias checked for a third time, but Luca had no intention of checking. He took his his time gathering chips from his mountain of a stack, about 90 seconds worth, before betting 24,500.
Dias snap folded and was not very pleased with Luca's way of betting the river. "Very good, you're so good. Can you please autograph for me?"
| | | | | | |
| --- | --- | --- | --- | --- | --- |
| Ivan Luca | | | | 285,000 | 15,000 |
| Bernardo Dias | | | | 125,000 | -15,000 |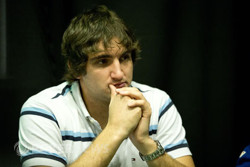 Julian Menendez, the winner of the 2011 PokerStars.net LAPT Colombia has become our new chip leader.
A player opened for 4,300 and Menendez three-bet to 9,000 from the button. His opponent called and the flop came
. His opponent checked and Menendez casually tossed out 10,000. His opponent called and the
came on fourth street.
Once again his opponent checked and Menedez continued with his aggression, throwing out a bet of 17,000. After roughly a minute of deliberation, his opponent announced all in and Menendez snap called.
Menendez:

Opponent:
Menendez had the hand locked up and his opponent was already walking away from the table when the meaningless
fell on the river.
| | | | | | |
| --- | --- | --- | --- | --- | --- |
| Julian Menendez | | | | 350,000 | 153,000 |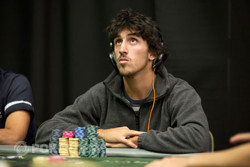 Juan Garcia, who started play today as the chip leader, has been fairly quiet the past few levels. We caught up to see him make a raise preflop to 4,600 only to find his opponent three-bet to 11,400. Garcia responded by four-bet shoving and his opponent made the call.
Garcia:

Opponent:
Garcia was in need of help and found a few more outs after the flop came
. Garcia's prayers were answered when the
came on the river, giving him the wheel. The
rolled off on fifth street and Garcia was able to double up.
| | | | | | |
| --- | --- | --- | --- | --- | --- |
| Juan Garcia | | | | 156,000 | 76,000 |
Argentinian Ivan Luca appears to be the chip leader with 270,000 as we enter the final level of the day.
Level:

12
Blinds:

1,000/2,000
Ante:

300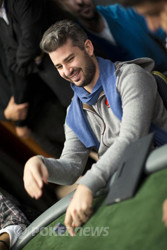 Nacho Barbero knows something about winning in Punta del Este, having won here back in Season 3. Up until now, he hasn't had a big stack. However, a huge pot just went his way.
Following a
flop, Barbero's stack of 52,800 was in the middle with
against two opponents. A shorter-stacked opponent with about 40,000 held
, while a third player had both covered with
. Needing to fade spades and running full house cards, Barbero did just that as the
turn and
river locked up the pot for him.
He added about 15,000 since then and now commands a stack of about 170,000.