Main Event
Day 1a Completed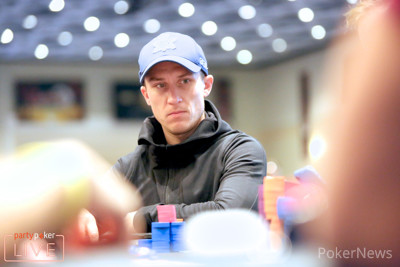 The first of two starting days for the 2021 partypoker MILLIONS Online $5,300 Main Event has wrapped up. Thanks to 591 total entries, the tournament is on track to surpass the $5 million guarantee as another starting day remains one week from now on Sunday, February 28th, 2021.
After nine and a half hours of poker action, the day ended with just 87 survivors. Initially, Day 1a was supposed to conclude with the top 15% of the field and 89 contenders remaining. However, during the final hand of the night, three players hit the rail on different tables to miss out on a payday entirely.
High Roller regular Daniel Dvoress claimed the Day 1a lead and amassed 30,582,133 in chips. Not far behind the Canadian are Hermogenes Gelonezi (27,798,834) and Andras Nemeth (27,371,860), as well as the 2020 WSOP Main Event international leg finalist Dominykas Mikolaitis (24,489,173). Mikolaitis was partly responsible for the end of the day when he knocked out partypoker ambassador Joao Simao during the most crucial stage of the day.
2021 partypoker MILLIONS Online $5,300 Main Event Day 1a Top 10 Counts
| Rank | Player | Country | Chip Count | Big Blinds |
| --- | --- | --- | --- | --- |
| 1 | Daniel Dvoress | Canada | 30,582,133 | 218 |
| 2 | Hermogenes Gelonezi | Brazil | 27,798,834 | 199 |
| 3 | Andras Nemeth | Hungary | 27,371,860 | 196 |
| 4 | Dominykas Mikolaitis | Lithuania | 24,489,173 | 175 |
| 5 | Arnaud Enselme | France | 18,339,430 | 131 |
| 6 | Simon Nielsen | Denmark | 18,072,924 | 129 |
| 7 | Joshua Hoesel | United States | 17,591,055 | 126 |
| 8 | Endrit Geci | United Kingdom | 17,498,394 | 125 |
| 9 | Pedro Padilha | Brazil | 16,330,297 | 117 |
| 10 | Espen Uhlen Jorstad | Norway | 15,695,668 | 112 |
Some notables that made it through to Day 2 with an above-average stack in the first flight already include Joshua Hoesel (17,591,055), Pedro Padilha (16,330,297), Espen Uhlen Jorstad (15,695,668), Oleg Vasylchenko (13,787,078), Simon Deadman (10,762,859), Christian Rudolph (9,544,082), Bruno Volkmann (9,453,291) and 2019 WSOP Europe Main Event champion Alexandros Kolonias (9,127,932).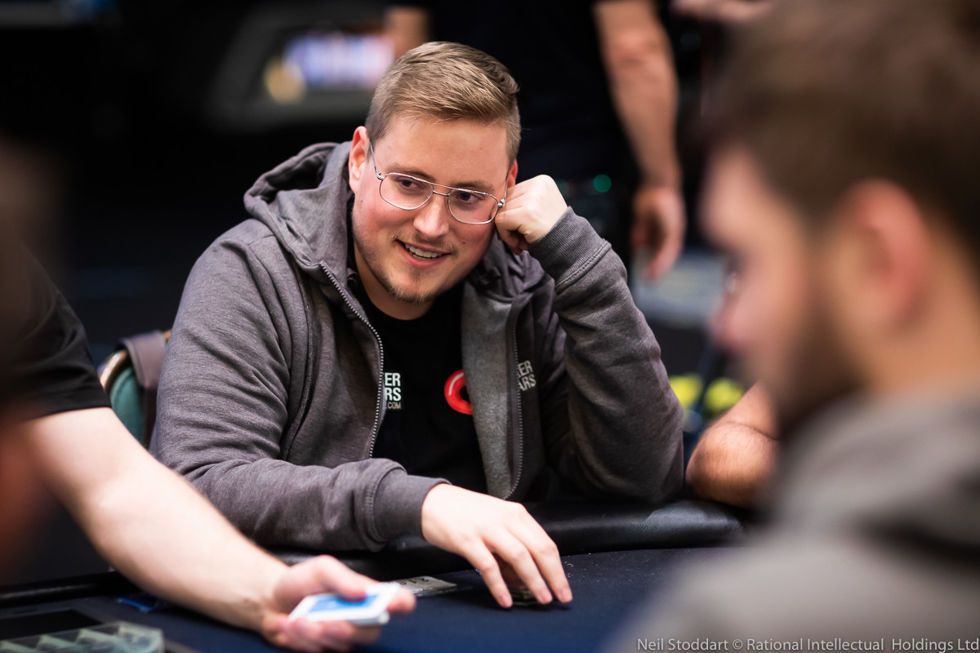 Plenty of other well-known names of the international poker circuit locked up a payday and that also includes three partypoker representatives. For Twitch streamer Jaime Staples, it was the first cash in an online poker event with a buy-in of $5,000 or higher. The Canadian made it through with a stack of 8,386,939, while sponsored pro Dzmitry Urbanovich (1,984,954) and Jason Koon (1,700,256) were among the shortest stacks at the end of the night.
It wasn't an easy ride by any means for Staples, who scored a lucky double up with king-jack versus kings when he was short. However, once that crucial step was done, the Canadian never looked back and picked up big hands along the way to consistently grow his stack.
All other partypoker representatives were not as fortunate and hit the rail throughout the day including Mikita Badziakouski, Joni Jouhkimainen, Patrick Leonard, Isaac Haxton, and John Duthie. The list of Day 1a casualties beyond that reads like the who-is-who of the international poker circuit.
The Action of the Day
There were only a handful of casualties in the first few levels of the day and among them was partypoker Advisory Board member Duthie. On a shorter stack, he got it in with fours and deuces only to run into superior two pair, which held. For Leonard, the second bullet ended against Sergei Koliakov when king-queen suited made an inferior pair versus ace-nine.
Jason Koon's first bullet ended rather early as well after a clash with Guillaume Nolet. However, Koon re-entered and ran up an above-average stack which only faltered late on once the money bubble approached.
Among the many hopefuls were also former MILLIONS Main Event champions. Benjamin Chalot won the 2019 online edition which featured a buy-in of $10,300. The Frenchman and Hungary resident fired two bullets on Day 1a and didn't make it through. MILLIONS UK live edition winner Maria Lampropulos was unable to find any help with a dominated pair to bust after the registration had closed.
Daniel Dvoress jumped to a big stack when he made the nut flush against Ramon Kropmanns and then knocked out Sergi Reixach with kings versus ace-five suited.
While the pace of eliminations certainly picked up mid-way through the day, it slowed down a ton a few dozen players away from the target. Anatoly Filatov fell victim to the hot run of Dvoress and other big names such as Dario Sammartino, Tomas Jozonis, and Georgios Karakousis, Christopher Frank, and Robert Heidorn all busted during the final stage.
Eventually, the bubble burst when Marco Baldini ran out of chips. However, Joao Simao also crashed out on a different table when he ran pocket eights smack dab into the pocket aces of Dominykas Mikolaitis to miss out on Day 2 and the min-cash.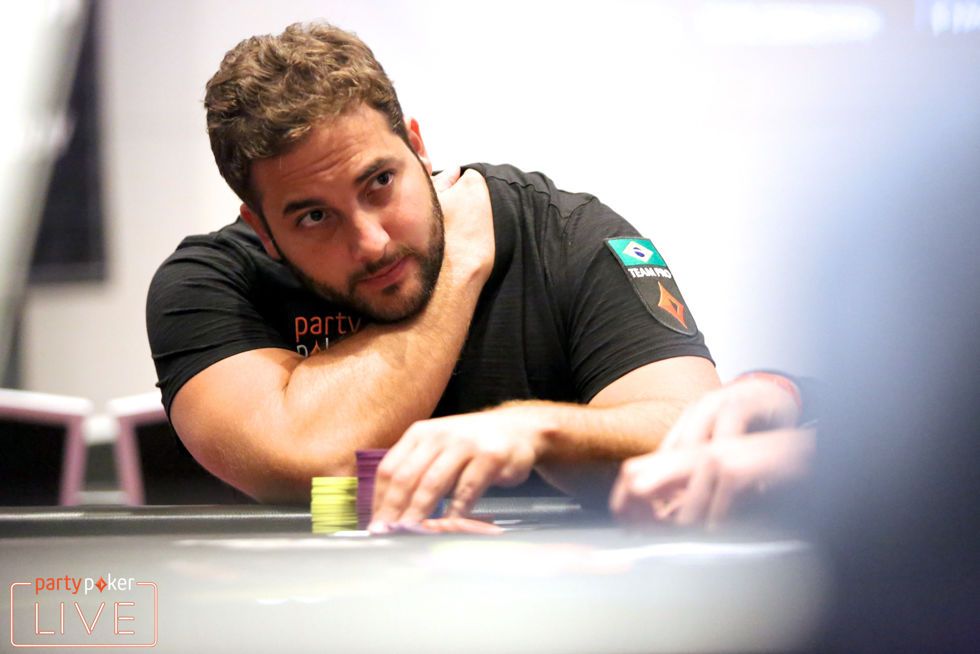 All 87 survivors have guaranteed a portion of the $5 million guarantee already. However, with such a solid turnout for Day 1a, the overall prize pool may grow beyond that as the second and final starting day takes place the following Sunday, February 28th. The PokerNews live reporting team will be back then to provide all the action from the virtual arena.
Player
Chips
Progress

Daniel Dvoress

30,582,133

2,607,500

Hermogenes Gelonezi

27,798,834

6,865,984

Andras Nemeth

27,371,860

1,220,000

Dominykas Mikolaitis

24,489,173

Arnaud Enselme

18,339,430

-365,000

Simon Nielsen

18,072,924

-676,000

Joshua Hoesel

17,591,055

675,000

Endrit Geci

17,498,394

544,380

Pedro Padilha

16,330,297

-671,285

Espen Uhlen Jorstad

15,695,668

-267,000

Adria Diaz Dalmau

14,443,932

Oleg Vasylchenko

13,787,078

1,977,500

Gergo Hegedus

11,480,768

-480,000

Vicent Bosca

11,431,068

1,199,000

Christopher Brice

10,823,127

Simon Deadman

10,762,859

1,194,502

Christian Rudolph

9,544,082

7,500

Vitalijs Zavorotnijs

9,522,412

712,000

Bruno Volkmann

9,453,291

2,375,779

Alexandros Kolonias

9,127,932

-2,043,000

Ilia Rusalimchik

8,885,678

-4,419,506

Joris Ruijs

8,667,631

-120,000

Jaime Staples

8,386,939

-876,000

Michael Sklenicka

8,209,056

3,039,392

Jonathan Proudfoot

7,515,548

-3,760,824
On the final hand, David Coleman also bowed out and the results show him in 88th place without any payday. All remaining 87 players advanced to Day 2 and have locked up a portion of the prize pool.
That wraps up the updates for Day 1a, however, assorted chip counts and a recap of today's action are to follow.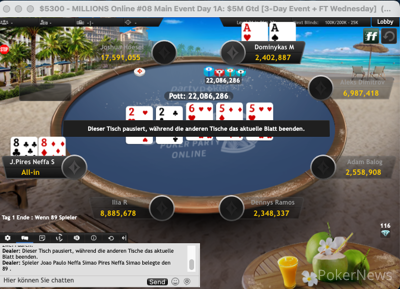 There was no hand for hand mode activated and pretty much all tables had several players using their time banks. Eventually, it was Marco Baldini who bowed out and that should have spelled the end for Day 1a. However, the active hands were still running and another massive pot was brewing.
Joao Simao raised to 325,000 and Dominykas Mikolaitis three-bet to 1,440,000 out of the big blind. Simao used more than 60 seconds of his time bank before jamming for more than 10.9 million and Mikolaitis beat him into the pot.
Joao Simao:

Dominykas Mikolaitis:
The board ran out
and just like that, the above-average stack of Simao vanished into thin air as he departed in 89th place.
Jason Koon had doubled not long ago and was now involved in another big pot on the bubble to wrap up Day 1a. On a double-paired turn of
, Koon fired a bet of 1,222,500 into a pot of 4,890,000 and picked up a call by Gergo Hegedus.
The
river went check, check, and Koon's
were no good, as Hegedus had that beat with the
.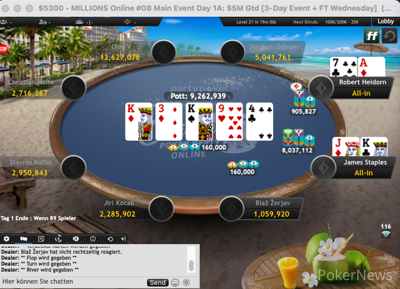 The money bubble has been reached as just 90 players remain and 89 of them will advance to Day 2, all of which will be guaranteed a slice of the cash prize pool.
Among those to bust in quick succession were Christopher Frank, Robert Heidorn and Niels de Moree.
Heidorn's demise came in a button push for the last 905,827, which Jaime Staples isolated by jamming out of the small blind.
Robert Heidorn:

Jaime Staples:
The
board left Heidorn drawing dead on the turn and he bowed out in 91st place.
Joris Ruijs raised to 400,000 and was called by Andre Abreu, which led them to the
flop. Both players checked and Ruijs then bet small on the
turn, Abreu came along.
The
river was checked again by both players and Ruijs tabled the
for ace-king high. Abreu had that beat with
and chipped up close to the bubble.
Player
Chips
Progress

Gergo Hegedus

9,812,354

-4,323,540

Vitalijs Zavorotnijs

8,810,412

8,810,412

Joris Ruijs

8,787,631

1,355,450

Kolja Luecking

6,977,675

6,977,675

Andre Abreu

4,315,852

4,315,852

Jason Koon

2,588,878

-2,194,251

Joao Ferreira

2,075,486

805,181
Level: 20
Blinds: 80,000/160,000
Ante: 20,000
With 93 players left in the field, players are stalling left, right, and center. Jaime Staples is still going strong with his Twitch stream which has already surpassed 12 hours by now. In his stream, viewers can request things with their viewer points and one of them asked Staples to provide them with a short ASMR message. This is the result: