Event 13 - $2,500 No-Limit Hold'em
Day: 2
Level: 21
Blinds: 12,000/24,000
Ante: 3,000
Event 13 - $2,500 No-Limit Hold'em
Day 2 Completed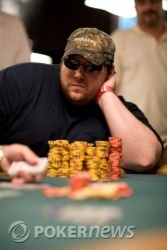 With the benefit of several late pots, Duncan Bell widened his margin over the field as Day 2 action in Event #13, $2,500 No-Limit Hold'em, came to a close. In chip-count order, here are the players who will return for the 2pm final:

Duncan Bell 1,966,000
Shawn Buchanan 1,133,000
Steve Merrifield 1,109,000
Jason Sanders 1,099,000
Brent Hanks 755,000
Brent Ditzik 384,000
Nicolas Levi 233,000
Ariel Soffer 191,000
Nathan Doudney 113,000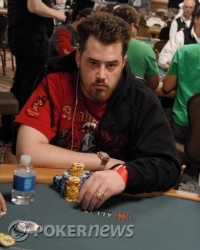 And this hand was a biggie. On the button Adam Katz raised to 62,000 and Duncan Bell called in the big blind. The flop came
and Bell fired out for 110,000, which Katz called. The
fell on the turn, Bell bet 375,000 and after a few moments of deliberation Katz announced all in. "Call," Bell said, and the crowd gathered close to see the hands.

Bell had flopped two pair with
, while Katz had turned a smaller two pair with K-Q. Katz need to see paint to have any chance of survival, and it was perhaps a final cruel blow that the card on the river was the
. Katz was eliminated in tenth place, and Bell will need a shovel to stuff all his chips into his bag as play concludes for the night.

We'll be posting final chip counts once the players and floor finish bagging them. Our final table begins at 2pm PDT -- if you stayed with us this long I'm sure you'll join us tomorrow afternoon. I mean...this afternoon.
To the overwhelming delight of everyone in the room, Nathan Doudney moved his last handful of chips into the middle of the pot and got three callers. The hand was checked down and the table watched the board come
. Doudney turned over
and no one was able to beat his top pair. Will this be the hand that launches Nathan Doudney to the bracelet? Only time will tell. Lots, and lots, of time.
Doudney moved in from the cutoff and Ditzin called on the button. His
left Doudney and his
needing an ace. Which duly arrived on the
flop. But Ditzin was holding the
and that's what won him the pot when the
spiked on the turn. Losing that pot left Doudney with just 29,000, barely enough to pay a single big blind.
Under the gun Nicolas Levi went all in for 280,000. "OK, I'll be the hero," Adam Katz said as he made the call. He continued, "I know everyone's rooting for me."

But there's a large French contingent rooting Levi on and he said, "Not everyone here is rooting for you."

The action was folded around and before Katz showed his cards he said he had A-Q. "Ace-queen?" Levi asked, and as the players showed their cards he added, "That sounds good to me."

Yes, both players had A-Q, neither player flopped a flush draw and by the time the turn card was placed on the table the pot was gonna be chopped up. And about 50 sleepy people groaned in unison.
On the button Adam Katz raised to 62,000 and Duncan Bell surveyed the situation for about a minute before announcing raise. He carefully measured out 227,000 and pushed it into the middle of the pot, and about 30 seconds later Katz announced he was all in.

As the crowd gathered around the table edged closer, Bell flipped over one of his cards--the
--as he pushed them into the muck.
There hasn't been much to report on here inside the Amazon Room as most play around the table consists of one player raising and everyone else folding around. There's been the occasional reraise, which has led to folds and nothing more. We haven't seen a flop in over thirty minutes of play, but as soon as we do, we'll report it.
We're back from break and we'll play until one more player is eliminated. Or until the sun expands and engulfs the solar system. Whichever comes first.