Event 30 - $2,500 Pot Limit Omaha
Day 1 Completed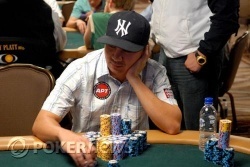 436 players started today's tournament and, by day's end, just 63 were left. Such is nature of Pot-Limit Omaha where pots build quickly and chip leads are won and lost just as fast.

Many notable names left the game early, including Barry Greenstein, Gavin Griffin, Katja Thater, Greg Raymer, Erick Lindgren, and Daniel Negreanu. Not all of the big names fell short though, with folks like John Juanda, J.C. Tran, Farzad Bonyadi, Joe Beevers and Phil Ivey - fresh off of collecting his seventh career bracelet - advancing to Day 2.

Jesse Rios established an early chip lead, but fell back into the pack during the middle of the day. A late run in the final levels lifted him back among the leaders where he sits as one of the big stacks going into Day 2.

Day 1 Chip Leaders

J.C. Tran - 177,000
Jesse Rios - 110,000
Theo Jorgensen - 107,000
The slow down in action that started in the middle of the last level has continued through the rest of the night, and the pace shows no sign of picking up before we're done for the day.

There have been very few hands played past the flop over the past level, and players now have just six more hands left before they bag up their chips and call it a day.
On a three way flop of
, action checked to Mark Tademy who bet 3,100. Phil Ivey was next to act from the small blind and he raised, forcing the big blind out of the hand. Tademy made the call and turned over
for two pair while Ivey showed
for an inside straight draw.
The
didn't change much on the turn and the
on the river made Tademy's full house.
After the hand, Ivey had slipped back to 36,500.
Level:

10
Blinds:

600/1,200
Ante:

0
After a series of raises, Isaac Baron's opponent called for 11,500 to see a flop that came
. When Baron pushed all in for another 9,600, his opponent called again.
Baron:
Opponent:
The
on the turn put Baron behind, but the
on the river restored his lead, giving him aces up, which was enough to double his chip stack to 49,000.
Dan Heimiller held on for awhile after getting crippled by Theo Jorgensen, but he just couldn't fight back from such a short stack.
After he and Michael Kiner each checked the flop of
, Heimiller pushed all in when the
landed on fourth street. Kiner called and the hands were shown.
Kiner:
Heimiller:
The
on the river brought no help for Heimiller, while Kiner padded his stack to 30,000.
The long hours are starting to take a toll on the action as players are tightening up their games with a shrinking field and less than 90 minutes left to play.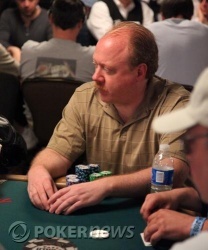 On a flop of
, Dan Heimiller bet out 7,000 and got raised to 31,000 by Theo Jorgensen. Heimiller re-raised all in and Jorgensen called.
Heimiller:
Jorgensen:
When the
fell on fourth street, Jorgensen made his flush and took the pot after the
came on the river.
The pot put Jurgensen among the chip leaders with 129,000 while Heimiller is on life support with just 3,000.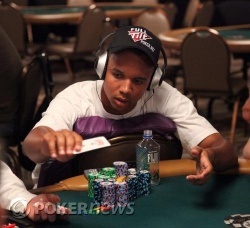 Here are the latest counts from around the room.

J.C. Tran - 138,000
Lee Watkinson - 32,000
Jessie Rios - 59,000
Amnon Filippi - 36,000
Phil Ivey - 72,000
Noah Boeken - 45,000
Dan Heimiller - 59,000
Andy Bloch - 48,000
Eli Elezra - 68,000
Darryll Fish - 15,000
Mitch Mitchelson - 36,000
John Juanda - 64,000
Leif Force - 70,000
Joe Beevers - 22,000
Farzad Bonyadi - 30,000